Patrick Damphier's jangling "Odd Man Out" ft. Molly Parden shines with all the humble glitz and unassuming glamour of a guy still figuring things out.
— —
Here's to the wanderers and wonderers, and all the in-betweeners: Patrick Damphier's "Odd Man Out" shines with infectious energy in its jangling embrace of keeping outside the norm and going against the grain. An underground or underdog anthem depending on how you hear it, "Odd Man Out" affirms Damphier's place as an artist-to-watch over the coming year.
I've been sort of wonderin'
Not enough to matter -just
Sort of wonderin'
Somewhere in between thinking and not
Somewhere in between getting and got
Atwood Magazine is proud to be premiering Patrick Damphier's live video for "Odd Man Out" featuring Molly Parden. The latest in a string of recent releases off Damphier's upcoming debut album Say I'm Pretty (out February 1, 2019 via yK Records), "Odd Man Out" captures all the humble glitz and unassuming glamour of a fast-rising Nashville presence.
A former touring member of The Mynabirds, Paper Rival, Lionlimb and many more indie and not-so-indie greats, Patrick Damphier introduced his effusive indie rock solo artistry less than a year ago with his debut single "Under My Door" / "I'm With You." With the former song an upbeat burst of warmth and the latter track a heavy, moodier and heartfelt finger-picked ballad, this entrance immediately exposed two coequal sides to Damphier's established musicianship. He has the uncanny ability to inject an endearing jangle-pop charm into everything he touches – and it is with this quality in mind that we embrace "Odd Man Out" as a truly great pop/rock song.
Similar to Damphier's "Killers in the Closet" video released in late November (which featured fellow Nashville singer/songwriter Jessie Baylin), "Odd Man Out" presents a live band performance aganst a monochromatic backdrop. Stunning yellow colors the scene as Damphier plays alongside the very talented Nashvillian Molly Parden and bandmates Rollum Haas, Rodrigo Avendano, Charlie Shea, and Todd Bolden. It's an excitingly colorful display for a song that aches with emotion.
"The video for "Odd Man Out" was filmed the same day as the "Killers In The Closet" video," Patrick Damphier tells Atwood Magazine. "Joshua Shoemaker captured both performances back to back in one take. He's actually made all the videos related to this album. Working with him is effortless and fun. Also, I wanna thank the rest of the band that played that tune with me: Rollum Haas, Rodrigo Avendano, Todd Bolden and Charlie Shea."
Odd – Man – Out
Choosin' sides, choosin' sides
Odd – Man – Out
You decide, you decide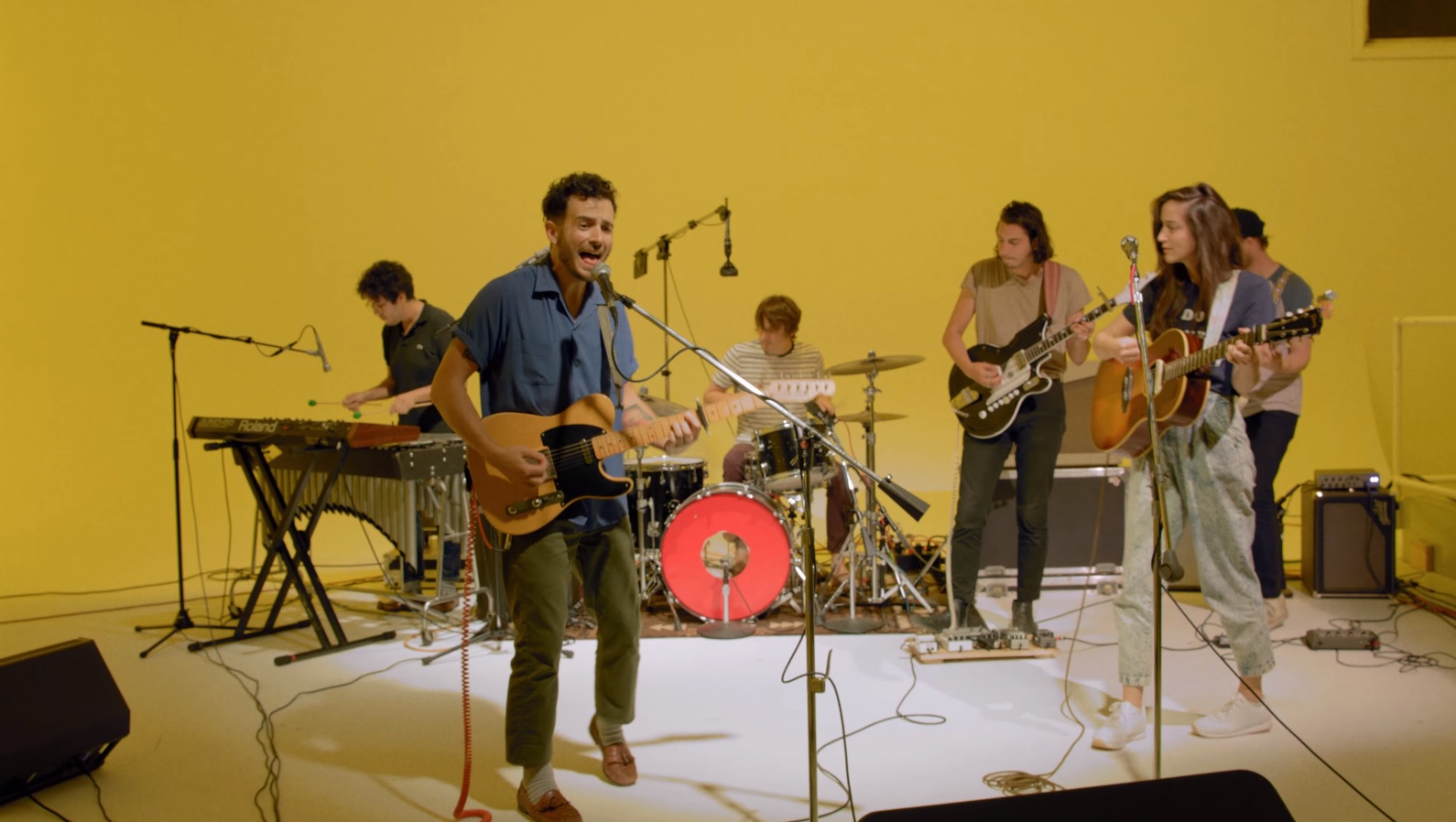 i've been sort of tryin'
not enough to matter – just
sort of tryin'
somewhere in between honest and not
somewhere in between the shooting and shot
"Odd Man Out" owns an emphatic, but wayward sense of self – of perhaps being caught between wanting and committing to being. Damphier commands the stage with seemingly effortless charisma as he sings a confessional protest, though who he's really singing to will, for the time being, go unanswered.
On guitar and vocals next to Damphier stands Molly Parden, the singer/songwriter whose arresting lyricism and tasteful folk rock sweetness has made her a singer/songwriter staple within and outside of the Music City. "I first heard Molly Parden in 2016 when I was sittin' alone at a bakery in Nashville. There was one tiny speaker at the opposite end of the room that was so quiet I couldn't make out any words or what was really goin' on with the music. As faint as it was, there was some inexplicable quality about the voice I was heavily connecting with. I walked up to the speaker and used that Shazam app to find out who it was. When my phone told me it was Molly, I immediately reached out and asked if she'd wanna sing on my record and she was kind enough to oblige. We've done a buncha work together since. I just wrapped up mixing her album, so look for that this year. She's such a special artist."
We couldn't agree more with Damphier's assessment; Parden lends a gentle harmonized echo to "Odd Man Out" that helps elevate an already heightened experience. Stream "Odd Man Out" exclusively on Atwood Magazine, and stay tuned for more from this bustling solo artistry very soon: Patrick Damphier's debut album Say I'm Pretty is out February 1, 2019!
Stream: "Odd Man Out" – Patrick Damphier ft Molly Parden
— —
— — — —
? © Satellite June
video © Joshua Shoemaker
:: Stream Patrick Damphier ::