Greta Van Fleet frontman Josh Kiszka gives insight into Greta Van Fleet's journey and the sonic and narrative complexities to be found within their new album, 'The Battle at Garden's Gate.'

by guest writer Lilly Eason
'The Battle at Garden's Gate' – Greta Van Fleet
---
Obviously, [our intention is] to bring some sort of hope or light into the world, and to do something good, you know? For people. We touch on a lot of human themes – that's really what a lot of our work is, literarily.
On April 16th, Greta Van Fleet's second LP, The Battle At Garden's Gate, revealed itself to be an instrumentally and narratively complex step away from the band's 2017 release, From the Fires. Though the album is beloved as an initial introduction to the band, it seems that they've traded the simple-but-catchy formula for one which attempts to explore the depths of what this group is capable of. Frontman Josh Kizska joked about the simplicity of songs from that introductory EP as compared to this new project, saying, "we were afraid that people wouldn't understand what we were getting at so we intentionally kept it more simple, like in a song with 'Highway Tune' that doesn't even have a fucking chorus."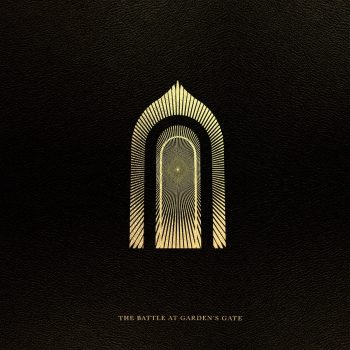 This apprehension and fear of not being understood was, according to Kiszka, a roadblock in attempting the intricate conglomeration of socio-political/eco-centric/ narrative-based themes which are present in The Battle At Garden's Gate. Even since the release of their previous LP, Anthem of the Peaceful Army, Kiszka revealed that the greatest change for the band was "the confidence to be able to make this music."
He reiterated, "I think we were a little bit hesitant or maybe a little bit concerned about putting something out like what The Battle at Garden's Gate would be…there is a lot of trepidation, maybe a bit of intimidation that goes on when you step into this big world."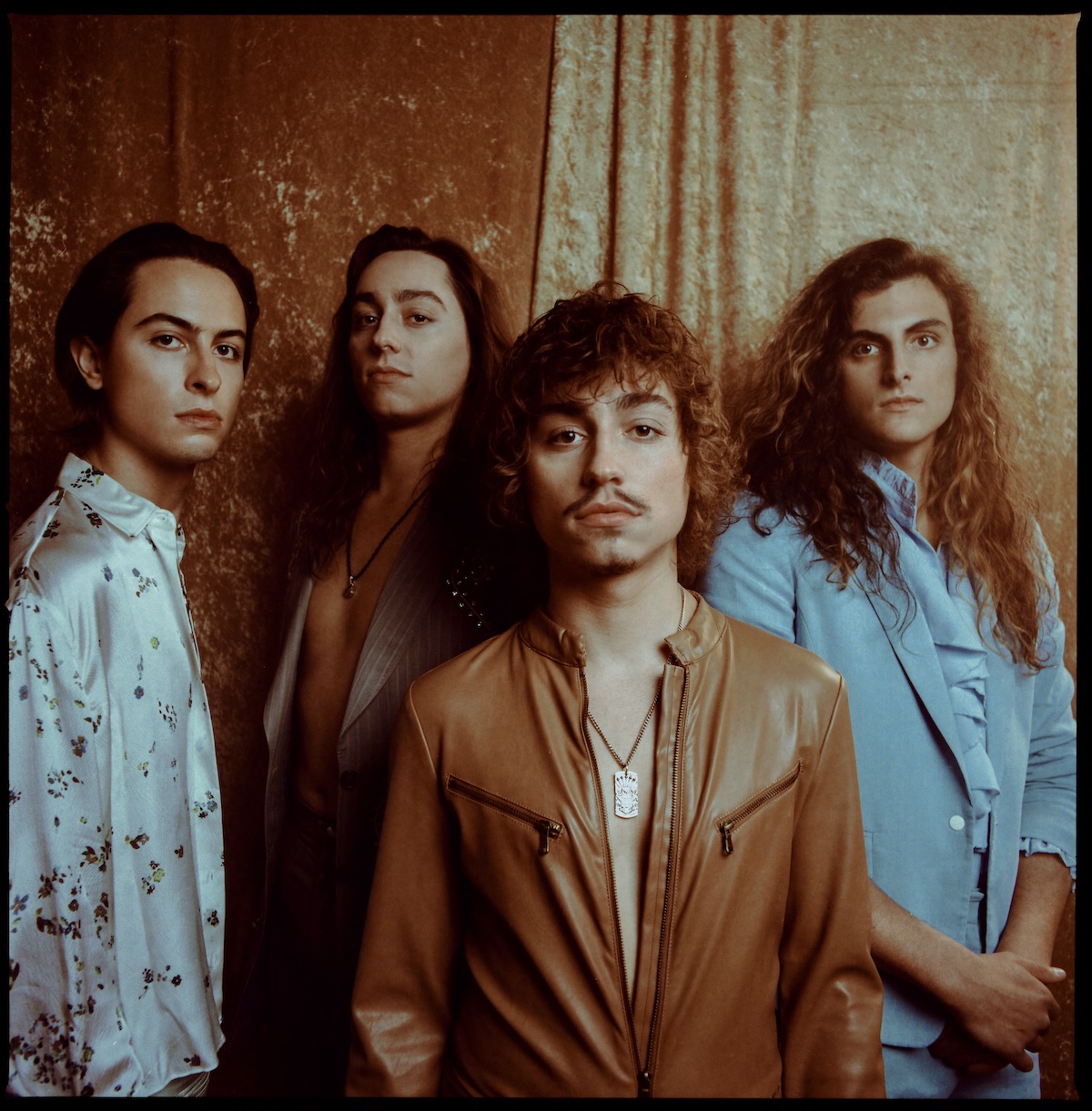 I think we were a little bit hesitant or maybe a little bit concerned about putting something out like what 'The Battle at Garden's Gate' would be…there is a lot of trepidation, maybe a bit of intimidation that goes on when you step into this big world.
And it sure is a big world for four Michigan boys who were performing with Elton John before half of them could legally buy a beer. Since the release of From the Fires, Greta Van Fleet has been on an all-gas-no-breaks rocket ride straight upwards. Having toured around the world with the likes of Metallica and performed on SNL, The Tonight Show, and The Late Show (to name a few noteworthy resume-builders), the change and growth which these guys have incurred in the last four years has been swift. "It certainly has given us a lot of perspective," Kiszka mentioned, when asked about the quick growth of the band. "It has been an extremely rapid process. So you're kind of forced to try and perceive things that are challenging to you when you're put in front of the world…you feel a bit like you're under a magnifying glass when the sun is out."
Even with the pressure of the quick thrust into the sun, though, the group has been gifted, not only with a platform to expand and create, but also to learn. With the opportunity to travel the world and spread one's own message, there's an inevitable exchange of ideas between oneself and those who're being reached. "[When] absorbing different cultures," Kiszka said, "you're exposed to these political or philosophical or spiritual themes, and it's a process that's sometimes a lot. I think we could just as easily turn off, but I think there's something more important about understanding the things around us. Of course you have to search for whatever your original takeaway from that is, so I suppose that every day is a kind of new adventure, and I think that all translates into the end product of the work."
For Kiszka, who writes a majority of the vocal elements of Greta Van Fleet's catalogue, the maturation that comes with both the courage to express oneself and visceral, worldly experiences translates really effectively in the band's most recent release. "Heat Above," for example, is the opening track of The Battle at Garden's Gate but was originally written about five years ago. In each album which GVF has produced, they seem to have a keen awareness of the importance of a powerful opening statement; the opening riff of "Safari Song," followed by that piercing cry is the quintessential example of the energy which exists within From the Fires. Similarly, the quiet, synthetic orchestration of "Age of Man" fades listeners into Anthem of the Peaceful Army slowly, bringing about a sense of awakening with the organ component in the chorus.
---
Now, with "Heat Above," that organ component is brought to the foreground, opening the song with a slow, "swirling vortex that encases you and travels straight through your third eye, through the eye of the gate," as Kiszka put it. Though this song wasn't created with the intention of opening the album, there was something about it that just felt right. "About three quarters of the way through we realized that it was an important track to open the album, but I think it's such a testament to the sonic nature of this particular album." Though the song was created years ago, it's that sonic nature that's so important to the synthesis of a good album and "Heat Above" compliments the sonic nature of Battle exceptionally.
"Light My Love" is another standout track, less for its orchestrative properties but more because of its thematic singularity. Though songs like "Flower Power," "Highway Tune," and "Lover, Leaver" all feature an essence of attraction and romance, Greta Van Fleet rarely touches on typical heteronormative romantic themes, choosing to focus more on greater messages of natural and humanistic harmony. "Light My Love," as evident from the title, suggests something inherently romantic and breaks away from the album as one of the only tracks that does that, yet "love" is still an interpretive concept in this particular piece.
Yes, there is the literal interpretation, "but it is one of those really naturalist things that draws from the space of nature or the importance of nature as the foundation of existence, in that we're talking about the human organism being the extension of one's environment." Similarly, the contrast of the light piano line which opens the song with the full-band force that filters under illuminates that dual meaning of "love" in this song; it's a soft, simple beginning that's quickly met with power. Kiszka mentioned that song has more to do with the intelligence of love than any singular romantic narrative.
---
The two songs also suit Battle in that they introduce the necessity for context to this album. The lyrical maturity of those songs as well as most of Battle's other tracks suggests a sine qua non of background information on what Greta Van Fleet is attempting to do with their work, though it isn't always abundantly obvious from listening to a small collection of their songs. There's something literary about the titles of their most recent two releases, Anthem of the Peaceful Army and The Battle at Garden's Gate.
The second verse of "Heat Above" mentions "they march to battle, hear the drums pound/we do not fight for war/but to save the lives of those who do so." The aforementioned "they" prompts the question- what is this guy talking about?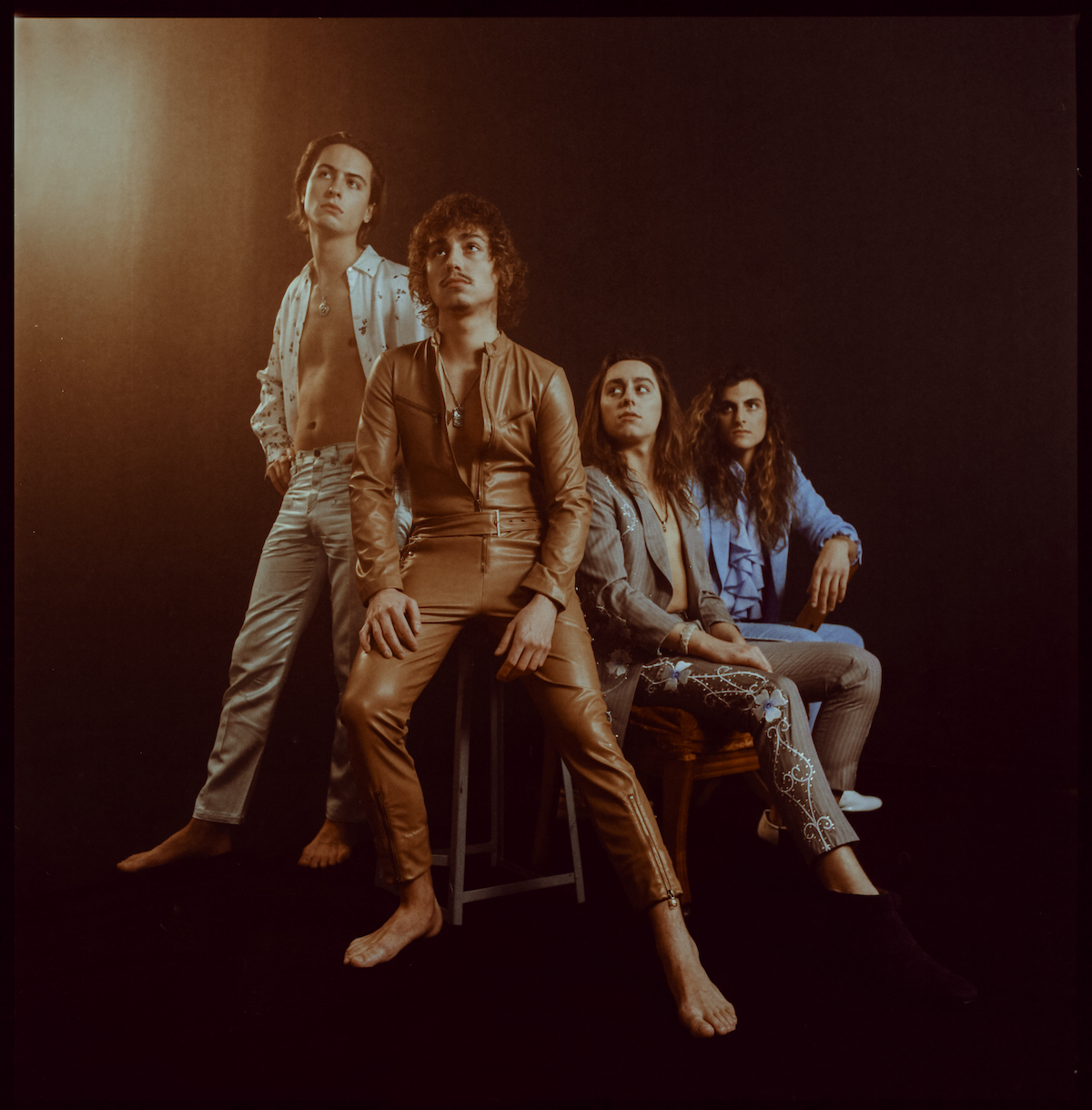 Kiszka mentioned an element of Mahayana Bhuddist philosophy called the "trichiliocosm," which proposes that the universe is made up of thousands of worlds and subsequently, thousands of realities.
This concept is a drawing point for Kiszka, who envisions another world in his songs called the "Infosonicosm." It's a place that incorporates the ancient and the modern, characters who seek salvation, the "natural" world, and wars of religion and industry that threaten that natural order. Kiszka says that the invention of this universe is "a solution to communicating complicated themes" from which he can use building blocks to communicate meaning.
This brings about the conceptual element of Greta Van Fleet's work, though it's not conceptual in the Tommy or Dark Side of the Moon sense. "There is something inherently conceptual about our work and that's not something that was intentional, necessarily. I think it was just sort of the outcome of eclectic influences that were the foundation of our sound and over time, it polished into that sort of thing." Going back to Kiszka's need for confidence before creating such a complex foundation for what he and the band produce, it's clear that a context is necessary so that when making artistic decisions, there's something to pull from. Kiszka says that this universe that he draws from is still in its infancy, that's still building out, calling it a "scintillating thread which creates this really strange fabric, one piece at a time."
Though Kiszka still has some world building to do on the Infosonicosm, he mentioned a few specific elements of the universe, including its dystopian nature.
It's a place where ancient history is still prevalent but the ongoing, modern history of the place is continuing to evolve. It's a place that's not totally unlike our own world with "an underground civilization convinced that their leader is a god," where, to quote the song "Stardust Chords," "weeds of war [are] caving the floor and the renaissance is born." "And maybe it's some place that people dream to see," and it's a world that bleeds into itself. "Drifters of the high-ridge plains existed in 'Brave New World' and now exist in 'Tears of Rain', and then 'Tears of Rain' drifts into 'Heat Above' and everything bleeds into the next thing."
Though there's a lot of narrative forethought that comes with this album, Kiszka's intentions for the piece are the same as they've been since he and the band began, to "bring some sort of hope or light into the world and do something good." He particularly noted something mentioned by bassist Sam Kiszka in an interview for Rolling Stone, in which Sam said that elements of the album intended to "break down walls and not build new ones." "It's a spirit or attitude," Josh remarked, "that's present in the entire piece. There's a bit of rebellion about it, you know, but I think that's the way we feel."
---
There's something not entirely simple about The Battle at Garden's Gate.
Between the necessity for context, a dynamic and complex instrumental element, and dense themes, this album takes work to try to "get." "You have to put people in front of themes that challenge them," Kiszka said, "that's why this [album] is something that you can't entirely color as escapist." Though the album draws on an internal narrative created by the band itself, it doesn't cut listeners off from drawing their own conclusions on the meaning of this work. As with all art, artists go into their creations with personal intentions but relinquish the right to perfectly dictate those intentions when the art is in the hands of the consumer. When asked more about his and the band's intentions, Kiszka chuckled a bit. "We laugh about the idea of legacy, because we don't particularly see any great importance concerning one's self-legacy. It's really more about what we've done in achieving some sort of progress in terms of the way that people are experiencing art or the way they view the world. If we can bring a little light in and make the world just a little better, I think that's all that matters, I think that's the pretty honest intent."
— —
•• ••
A lover of music, writing, and literature, Lilly Eason is a senior English student at Sewanee and calls Nashville, TN home. She has an infatuation for the music and style of the 1960's, a funky bassline, and a strong cup of coffee. Can be reached by email at lilly3ason@gmail.com or on Instagram @lu_loveday99.

•• ••
— — — —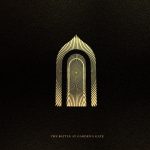 ? © Matthew Daniel Siskin
:: Stream Greta Van Fleet ::
---