How a classic trip game and Happy.'s "I Call Shotgun" shed light on your summer love story.
— —
Wildly proclaiming, "I call shotgun!" is the approved method of declaring oneself supreme right-hand rider on an adventure. According to tradition, the fastest and loudest declaration of "I call shotgun" will earn the winning adventurer the ability to ride along in the front row. A seat with a view from which to experience each scene of the trip, while not sharing the power/responsibility of the driver.
The prize is perspective, not control. Riding shotgun is about trust.
Interestingly, perspective is also what you'll gain while watching the video for "I Call Shotgun" by South Carolina's up-and-coming indie pop punk band, Happy, which Atwood Magazine is proud to be premiering today.
Watch: "I Call Shotgun" – Happy.
---
Happy. was formed in 2016 with the creative goal to "provide a sense of nostalgia for listeners with a sound that is full of infectious melodic hooks, oozing with catchy harmonies." According to singer and lead guitarist Tate Logan, "We are spreading the message that you can create and achieve your own definition of happy. You don't have to compare yourself to others or be afraid to think outside of the box or try new things or be who you are." The atmosphere and music that Happy. create fits the needs of growing empaths young and old. It allows the listener to feel emotionally supported, while simultaneously deciding to enjoy life's adventures, regardless of difficult or uncomfortable challenges.
Feels like the right time
feels like the right place
to tell you everything
but you don't wanna hear
what I gotta say
I'm begging for your attention
I'm running in circles again
how did we get so stagnant?
there's gotta be
more to life than this
all my songs sound so tragic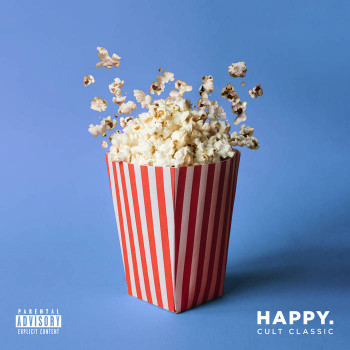 Released in July, "I Call Shotgun" is the fourth single off Happy.'s upcoming debut album Cult Classic (available September 7, 2018 via Rude Records). Happy. have been dropping retro 2000's-esque punk singles like petals on summer's stage.  Preceded by "Don't Overdose and Drive," "Winona Ryder," and "Fishtank," "I Call Shotgun" joins this upbeat yet emotive picnic and brings a generous offering of reminiscent relationship angst-citement (excitement + angst) .
According to Happy., "'I Call Shotgun' is about feeling like you have no control in a relationship. Like riding passenger [shotgun] in a car, you aren't in control, no matter how much you try." However, "I Call Shotgun" balances out its somewhat tortured lyrics with punktified upbeat and sparkly guitar riffings.  The hit of sweetness makes good sense, because sometimes riding along is exactly what you want and need "to learn to share control, and take second seat to people, and balance better."
It's the perfect bite: The combination of sweet and awkward high school scenes and lyrics like, 
Feels like the right time
feels like the right place
to tell you everything
but you don't wanna hear
what I gotta say
make the video for "I Call Shotgun" the perfect end of summer eye-full.
Starring band members:
Tate Logan – "the nerd"
(Vocals/Rhythm Guitar),
Jack Eskridge – "the cool loner/rebel boy"
(guitar)
Caleb Rucker – "The Principal"
(Drums)
Sean Bowick – "the jock"
(Bass)
The scene is set in the nostalgic style of "Saved by the Bell," and its slightly more mature cousin, "Beverly Hills 90210." Oh yes, and there is a burgeoning love story: The kind that many of us have experienced, as Happy. tell Atwood Magazine, "where things are still very new and exciting, and there is obviously a mutual interest, but the idea of wanting something more could possibly end things all together because the other person is not on the same page." Neither of you know who is driving and who is riding shotgun.  It's the kind of situation that offers the option to either crash and burn, or ride along smoothly. Not both.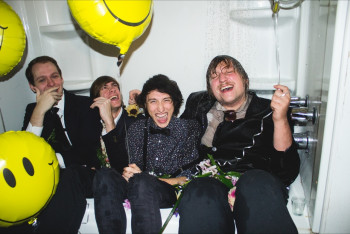 From our understanding, yet passive perspective (because we are riding shotgun), we can only hope that the story takes our preferred turns. What a relief to see [spoiler alert] cute-blue-haired-pixie-glasses-girl join waxy-bleach-blonde-haired-skinny-glasses-boy in the pool to lend social support after "the jock" pushes him overboard in a poolside "Westside Story" style scuffle. The good guy wins! Hurrah!
1 day at a time is how I'll take it
2 songs 'til you get to my house
3 cigarettes away from a break-up
4 times we've had this same conversation
5 days short of a week since you've called me
6 people told me you said 'Hello'
7 minutes with you would feel like heaven
But count on me to let you go
And just as the good guy wins in the "I Call Shotgun" music video, Happy. are succeeding, too: The band is fulfilling their goal, to create "music that promotes positivity, personal growth, and self-defined happiness."
It's what the world needs now.
Watch: "I Call Shotgun" – Happy.
— —
— — — —
? © 2018
:: Stream Happy. ::