Dan Forrest opens up about Buddie's sonically and emotionally charged sophomore album 'Agitator,' a soaring, spirited, and soul-stirring indie rock album that's sure to light a fire in us all.
Stream: "Labyrinth" – Buddie
---
Step too close to Buddie's sophomore album, and you just might get burned.
Not literally, of course; that's not quite how sound works.
But Agitator is without a doubt a scorcher: A record borne from an inner flame and sonic heat that Buddie couldn't possibly keep to themselves. The burning inside Dan Forrest and his band boils out through eleven searing songs exploring life from an intimate and global lens. Raw passion and charged emotion coalesce on Agitator, a soaring, spirited, and soul-stirring indie rock album that's sure to light a fire in us all.
Standing in queue under skies colored blue in the city
Bricks on the ground feet all click or they pound as we wait
Grateful to wait as we place all our faith in a science
A sought after sigh of relief through our teeth in parade
And yet the whole world won't even know we went
It's class warfare and that'll come our way again
– "Class Warfare," Buddie
Released April 21, 2023 via Crafted Sounds, Agitator is, true to its name, a feisty disruptor. Buddie's second full-length album finds the project of songwriter Philadelphian Dan Forrest once again coming to life through community and collaboration. Working together with the band from his first album – comprised of guitraist Danielle Farley, bassist Brian Thomas, and drummer David Dean, among many others – Forrest channels his innermost reflections and reckonings into a spellbinding eruption of alternative angst.
The successor to 2020's debut album Diving and 2022's EP Transplant, Agitator is at once charming and churning. The record arrives in the wake of major life changes and even greater existential crises threatening us all, as Forrest explores his recent move from Philadelphia to Vancouver (to begin a graduate degree in sustainability) – a theme he first took on in Transplant – while also delving deep into climate change and the longstanding societal structures that divide us, break us down, and keep us from enacting longterm positive social changes throughout our communities.
There's a lot to unpack on this roller-coaster record that effortlessly demands repeat listens.
Agitator is without a doubt a captivating return for Buddie, who first arrived hot on the scene in 2018, ready to roll with raw vigor and deep intent.
"They're like a young 1990s Weezer, just figuring things out and otherwise making it up as they go along," wrote Atwood Magazine in February 2019, "only in this case, it's with an incredibly keen mind for lyrical vulnerability and fuzzy, jammy rock goodness. "The band's debut EP Change of Scenery was hailed as a "refreshing dip in the deep end of raw DIY rock," and paved the way for the more finessed, sonically invigorating Diving.
Forrest and Buddie have kept exceptionally busy these past three years, and it shows – both in the new music's lyrical and melodic strengths, and in the technical prowess of the band's tight, turbulent performances.
"The songs were mostly written from 2020 through 2021," Forrest tells Atwood Magazine. "COVID-19 lockdowns and social isolation were high on everyone's minds, but the third thing I felt strongly was how fragile (and broken and unjust…) the systems that keep society running are. Lyrically, the record mostly hops between the 1) gratitude I felt for my closest friends and family and the memories I collect, and 2) pointing out social and environmental injustices (and gesturing at some possible pathways forward)."
"Having decided to move to Vancouver, BC for grad school, the haste of tracking the record became a major factor down the stretch. I think the original vision was to keep going where Diving left off: big pop choruses, fuzz guitars, some off-kilter, grunge-y chord changes, maybe bring in more of our acoustic and folk influences, and combine those things to make something new. I think we did a lot of that. However, on Diving we spent a bit more time in the studio, tracking guitars, playing with effects, manipulating guitar tones, and messing with wacky layers. Given the turnaround time of tracking and getting Brian, David, and Danielle's parts (and eventually Andy Silverman and Tim McMonigle too!) down before I left, we kept things pretty minimalist. The lyrics and songwriting came further to the fore. Otherwise, it's a straightforward guitar-rock record!"
Agitator is a more subdued, crisp, and clear record. It lets the melodies and lyrics shine. It feels more cohesive, even though we didn't aim for anything specific.
---
Forrest describes Agitator as a record of "urgency, change, and optimism."
The title itself speaks to the intent behind its tracks: "An agitator is someone who calls for change," Forrest explains, "who wants people to question how things are, and envision something better."
That's what these song are: Unapologetically honest and unfiltered observations of what this life is really like, and little glimpses into what it could be. Highlights range from the firebrand "Class Warfare" and impassioned, the emotionally charged "Game of Global Consequence" to the achingly beautiful, harmony-fueled "Worried," the anxious fever dream "Move On," and the spellbinding, cathartic finale, "Restive Summer."
Baffled by the incapacities
In your old apartment, your whole life in totality
With the outside world set ablaze
Struggle put the populace in a daze
They know it's a mess
But they're in love with it
Hoarding resources for generations
Pay to stifle change
And prolong suffering
They know it's a game of global consequence
---
"Initially, my favorites were 'We'll Never Break,' 'Restive Summer,' and 'Ugly in the End,'" Forrest says, "but songs like 'Game of Global Consequence' and 'Move On' grew on me a bunch for their slow builds and cathartic moments. [My] overall favorite messages lay in songs like 'Class Warfare,' 'Game of Global Consequence,' and 'Way Up,' but my favorite lyrics are in the feeling these lines from "We'll Never Break" capture.":
Laying in bed and it's three in the morning
Talking and pouring what's inside out
We'll forget time forget all obligation
Closed eyes are making us fill the room
I'll ask out loud if you feel what I'm feeling
Say "if you close your eyes, do you feel small, do you lose your body?"
And when all time and all space are forgotten
And our voices fill the dark
Then we know
We'll never break

---




Agitator finds the perfect balance between catchy, fuzzy indie rock and anxious, emphatic call-to-action.
It's in-your-face and loud, but never overbearing. Buddie's songs really do run the gamut in scope and perspective, but whether he's singing about his own mental health, communication styles, and trust issues, or the ways in which the wealthy maintain power, contort the media, and control the lower classes, Dan Forrest is candid, honest, and unrelenting. The turmoil he feels inside transforms into an empowering turbulence we can feel throughout the chasms of Agitator.
"Many of us think about climate change, biodiversity loss, and deep social inequities. I hope people can also see that they're all linked through social and governance systems that maintain wealth, power, control, and hierarchy: White supremacy, patriarchy, heteronormativity and more. Solving these crises means changing the ways we think and live, not just some fancy tech fix," Forrest shares.
"I also hope people can feel empowered – not defeated – in light of the magnitude of cultural and policy change that's happening in response to these issues. Change is happening (look at all the young social justice and climate activists!), and better futures are possible. I hope the music channels the frustration but also that optimism!"




For the artist himself, making this album has further solidified his own drives as he embraced what matters most, and found a new home – for himself, and for Buddie – in the process.
"I took away that the social experiences of creating, playing, listening, and appreciating music are most important to me," he adds. "It's hard to form deep, meaningful connections in an isolated, individualistic, constantly changing world (including my own life changes, through long-distance moves). I'll keep making and sharing music no matter what, for its potential to create real, lasting relationships. And to be SO fun!"
Experience the full record via our below stream, and peek inside Buddie's Agitator with Atwood Magazine as Dan Forrest goes track-by-track through the music and lyrics of his band's sophomore album!
— —
Stream: 'Agitator' – Buddie
:: Inside Agitator ::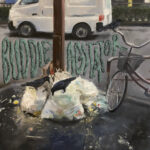 — —
Break of the Sun
Break of the Sun felt fitting as an opener for the obvious sunrise/new day metaphor in the lyrics, but I picked it as track 1 primarily because of the music. The song nearly covers the full dynamic range of the record and introduces people of what's to come. I wrote it immediately after witnessing the most moving sunrise of my life over Vermont's mountains, surrounded by (biological and chosen) family.
Class Warfare
Though it was written during 2020 and 2021, most of the songs on Agitator don't deal directly with the COVID-19 pandemic. However, the pandemic emphasized the fragility and inequity of our societies. Class Warfare speaks to the logic the rich use to justify hoarding resources for self-preservation. The uber wealthy's plan at every scale (individual, social groups, businesses, governments, etc.) when societies break down is self-preservation at the expense of everyone else.
Game of Global Consequence
Game of Global Consequence elaborates on the above by describing corporations and wealthy politicians' tactics to maintain power: the mythology of the American Dream for poor, white America. You can garner approval and votes if you make people feel like they're "in the club", when really, they too are being exploited.
We'll Never Break
We'll Never Break is about reassuring someone that you'll always be there, willing to learn, grow, and change with them. It takes work to communicate deeply and re-establish trust when uncertainty in an early-pandemic existence bred insecurity, stress, and anxiety. It's easy to take love and confidence in relationships with life-partners, close family, or friends for granted. Making time to state our feelings outright – maybe while laying side-by-side in bed in the dark, or walking together, such that our eyes don't distract us from our thoughts – can help us to feel warm and safe again.
Worried
In Worried, I speak about the anxious feeling I had in 2020, noticing the passage of time, aging, and sitting with the fact that my mid-twenties were disrupted, plans thrown out. To deal with it and motivate myself, I focused on a moment of joy: reconnecting with my closest friends and family during my backyard wedding. Finding love and joy during struggle and envisioning a future you want can, together, drive you to feel good and do great things. I try to channel that – to envision a future I want and find activities at the intersection of joy and resistance – to guide my life now.
Way Up
Way Up. I took a trip to the Philippines for my friend/coworker's wedding and COVID-19 lockdowns took hold in the Philippines just days before our scheduled flight home. In 'Way Up', I reflect on the privilege of escaping back to the US from Duterte's Philippines – having seen the struggle and stress already endured by Filipinos through early lockdowns', knowing it would only get worse – while also recognizing that, in a hierarchical world, I'm also subject to the wealthy elite's tactics for self-preservation, using their power to maintain comfort and shelter themselves from crises.
Move On
Move On speaks to the irony (and horror) in people complaining on Facebook about noise from a MOVE demonstration, when these same politeness-policing tactics boiled up to the infamous MOVE bombing on Philadelphia's Osage Avenue on May 13, 1985. If you don't know much about this story, I highly recommend listening to this CBC podcast!
Backwards Behind
Backwards Behind can be summed up by the cliche "ignorance is bliss."
Ugly in the End
Ugly in the End is the simplest feeling I aimed to capture on the album. We can appreciate the aesthetic beauty in signs of ecological destruction. Air pollution makes beautiful sunsets, and bioluminescent algae thrive in warming oceans. It's eerie and beautiful. It's a sign that might scare us, while still feeling reverent.
Labyrinth
Labyrinth is about breaking away from the dominant western views of "the good life" and embracing ideals that run counter. I found my happy place while camping on a farm in rural PA with my closest community, staring into outer space, playing music, and getting lost in a corn maze. Where so much of our culture incentives wealth and material consumption, eurocentric ideals of aesthetics, fast-paced lifestyles, constant work, and high achievement, I hope to share my vision of the "good life" – where my happiness and fulfillment come from: love, friendship, and community, disconnecting from the overstimulation and embracing the present, finding serenity, and living sustainably.
Restive Summer
Restive Summer is about a struggle in a relationship, realizing the cause of a fight or pain runs deep, and letting the emotions and magnitude of the change needed wash over me. I hoped writing the song would motivate me to learn and better myself.
— —
:: stream/purchase XXX here ::
:: connect with XXX here ::
— — — —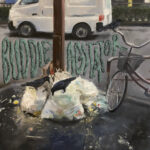 © 2023
:: Stream Buddie ::
---