Hello June's intimate alternative warmth shines bright on their passion-fueled and dynamic self-titled debut album.
— —
Hello June's intimate alternative warmth is the perfect way to shake off the summer and slip into autumn. Moody, impassioned, poetic, and beat-driven, the band's debut album Hello June invites us to dwell in a range of reflections and emotions; to take time out for ourselves, while never forgetting our responsibilities to others. It's a truly immersive musical experience, and one we can't wait to spend endless hours with over the months and years to come.
Stream: 'Hello June' – Hello June
---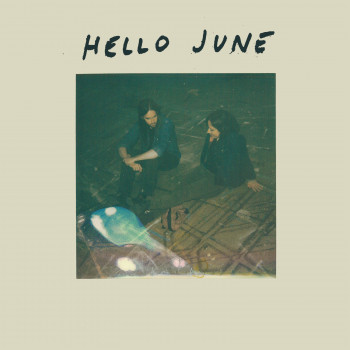 As soon as you find out
As soon as you hear
That there's life up on Mars
That there's more out there
I'll catch a plane
Or I'll walk there
I would fill all your jars with honey
Carry bees into the new country
And I would buy you water
In some arbitrary, odd number
– "Mars," Hello June
Atwood Magazine is proud to be premiering Hello June's self-titled debut album Hello June (independently out this Friday, September 28, 2018). Formed in 2013, the West Virginia indie rock band centered around Sarah Rudy (guitar/vocals) and Whit Alexander (drums) have spent the past five years honing a craft that was recently hailed by NPR as "worthy of national attention."
Though some of their releases date as far back as 2013, Hello June's 2017 song "Dance" and subsequent EP Spruce proved an ideal setup for this year's full-length, laying the groundwork for a sonic identity that refuses to be boxed into any single string of text. Echoing grunge, shoegaze, dream pop, and more influences, Hello June is a passionate, captivating roller-coaster of multimodal feeling.
Listeners are immediately drenched in the band's melancholic palette as opener "Mars" contemplates the possibility associated with starting a new world – a world that would build upon this one's misgivings and mistakes. Sarah Rudy's expressive voice leads the band's valiant charge into the dark; her honest words and moving inflections demand our attention as they pour into our ears, valiantly riding a rush of guitars, bass, and drums.
---
The songs that follow find Hello June at ease in a universe of their own design: The somber "Stranger" aches with a weary, worn-down weight, while single "Candy Rain" picks up with a sweet and catchy celebratory tone. Hello June's songs are special, in that they can be felt and interpreted in a number of ways. The same track might bring joy to one listener, and sorrow to another; "Less Than Nothing" is a magnificent example of this quality in action: With evocative metaphorical imagery and a dynamic pulse, this song can send a listener down different roads, depending on their circumstances.
All the black cats in black hats in this room
Two hundred million dollar spoon
And we raise ours to take what is owed
To see what is left, and to leave the rest
Now we bow our heads to pray
For all the pills we're built to spill
And all the words we'll never say
Cause god forbid, yeah, god forbid
There is something in his room
A ghost of someone still in bloom
The TV's on; he talks to me
He says he will never leave
He says he will never leave
– "Less Than Nothing," Hello June
The best music is the kind you can make your own over time, and Hello June is ready to become a key part of all of our stories. Hearty, expansive, and original, West Virginia's Hello June have gone above and beyond with their long-awaited debut. Experience the full record via our exclusive stream, and peek inside Hello June with Atwood Magazine as the band provide their personal take on the music and lyrics of their self-titled debut album!
Stream: 'Hello June' – Hello June
:: Inside Hello June ::
— —
Mars
"Mars" is a response to the reality of living in a society that is, in many ways and forms, resistant to personal wholeness. It is an imagining of a new start, where honest pursuits of happiness are respected and valued. The sense of community and togetherness in erasing those boundaries is also at the heart of the song.
Stranger
For two years, I was working a job that had me traveling heavily – so I was usually exhausted, spreading myself thin, and constantly having to remind myself that things would get better. I felt passionate about creating and about writing what would become this record, and I pushed through those years knowing that things would eventually change for the better. I also walked away from an unhealthy relationship during that time, and "Stranger" encompasses both of these concepts to me – the need for personal growth and freedom within relationships, and my desire to live a creative life which can easily be stifled by the lull of tiredness and the 9-5 work week.
Candy Rain
Candy Rain was my attempt to bottle a beautiful, colorful night in the midst of a relationship that was transgressive and new. Some of my closest friends gathered in my house with a piñata, and the resulting night was bright, full of laughter and organic, genuine connectedness. I was picking up candy bits from my carpet for weeks after.
Less Than Nothing
I'm not able to neatly summarize this song. It's certainly shaped by poverty and addiction in Appalachia. The song reflects a personal awareness of widespread despair, as well as the connection to the greedy elements of our society that will take from the people that have no faces.
Problem
Problem is about allowing myself or perhaps forcing myself to marinate in loss. It is about the openness to being changed by that loss. It's a song of resilience, musically and thematically.
War
To me, "War" is triumphant and hopeful. It's about feeling empowered to speak when you didn't feel able to do so before. It's about the undeniable strength of so many women and their ability to persist regardless of setbacks and hardship.
Momma
I wrote this song after watching my mother apologize too many times for trying to get a perfect picture of the moon. I grew up watching my mother so very unselfishly take care of my sister and me – things weren't always easy, but she always remained strong. In my eyes, she has every right to take every second that she feels necessary to complete any task she deems worthy. The song is representative of the strength that she displayed and taught me and it's a story of overcoming and the strength that comes with persevering.
Handshakes
"Handshakes" was written from a dream I had where I was trapped in a cold, dark lifeless woods/area. In the dream, I searched and took all my neighbors' matches, lighters, firewood and supplies in hopes of staying warm enough to survive. I sought out people that I knew loved and cared about me and guided them to these safety spots. The dream was vivid and left me feeling a sense of appreciation for the people that have sheltered me during certain storms.
— —
— — — —
? © Kevin Jack
:: Stream Hello June ::
[soundcloud url="https://api.soundcloud.com/playlists/597682446?secret_token=s-AXz0m" params="color=ff5500&auto_play=false&hide_related=false&show_comments=true&show_user=true&show_reposts=false" width="100%" height="350″ iframe="true" /]