A joyful, nostalgic listen, Harry Katz and the Pistachios' "Oh Yes!" promises to lift our spirits every time we press play.
"OH YES!" – Harry Katz and the Pistachios
---
With a name like Harry Katz and the Pistachios we instantly know this band will be colorful and quirky in the best kind of way.
The group definitely lives up to the name. Their upbeat, swinging surf sound will have listeners exclaiming, "oh yes!" and wonder of wonders, the project just released a single titled exactly that.
"Oh Yes!" is a true breath of fresh air. With animated horns, groovy electric guitar and Katz's deep growl, the track transports you straight to those eccentric retro vibes a la Rocky Horror. The female voices effortlessly complement his tone. The visuals possess that same unique flavor with the '60s/'70s esthetic. The tune has a Broadway musical feel so it is only fitting the video takes place in a theater. Songs from musicals can be really fun and feel-good pieces. "Oh Yes!" has that same infectious quality.
Katz's offering conveys a humorous tone. That light-hearted nature matches the kind of guy he is in real life. A prime example is this quote from the musician, "This project is about sticking with traditions and following through with what I started. Though, I think in another life to save money I would be Harry Katz and the Pretzels. I picked an expensive nut." "Oh Yes!" details the spontaneity of saying yes, but it's also about voicing your needs.
Is this a safe space to tell you how I feel
Oh yes
The future is what we are after
Let's go out and get it babe
Oh Yes
The New York native began his career as a bass player in a punk band. Once Katz was ready for a change, he headed out west. He performed live all throughout Los Angeles and audiences really resonated with his sound. Now Harry Katz and the Pistachios will be performing as a 10-piece with a residency at The Silverlake Lounge. Atwood Magazine had the pleasure of speaking to the rock outfit discussing their bold style, band name and a lot more!
— —
"OH YES!" – Harry Katz and the Pistachios
A CONVERSATION WITH HARRY KATZ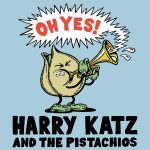 Atwood Magazine: Your project exudes a classic surf swing feel. How was Harry Katz and the Pistachios conceived and how did you develop your unique style?
Harry Katz: So my story goes that I was a bass player for other people's bands. I played in punk bands, and I played in rock and roll bands. I was always the backup guy. I never sing, I just really played bass. Then I started, like hitchhiking around, doing a lot of traveling. I ended up without a band. So I started to play these songs, busking on the street. I would play guitar, and kind of yell over the traffic. I decided to take these songs that I've written on the road, and play them the way that I always imagined them. So I started doing that and it was mostly a live project with all my friends from other bands backing me up. I was still playing in other bands. Every time someone has a new band they have a new name, and no one's heard of them. So whenever I was going to dig into my catalog of songs, I would call it Harry Katz and the Pistachios. Then about five years ago, I decided that Harry Katz and the Pistachios was not going to be a side project, I was going to go to the studio and finish the songs. People always responded to it, people always dance to it. I felt like I owed it to the people that had liked those songs to do it all the way through.
I love the name. Is there a special meaning behind your group title?
Harry Katz: I really like the way I think of the pistachios. In the end of The Muppet Movie they have their play. If something's not working, they're like, it is not working, and then Kermit realizes, oh, if I just include all the different people from my trip, it becomes this bigger thing. So what I like about the Pistachios is this idea that it's a group thing. I like that idea of snowballing. Adding people and having other people join us and people come and go. Besides that, it's just my favorite nut. It's a really healthy source of protein.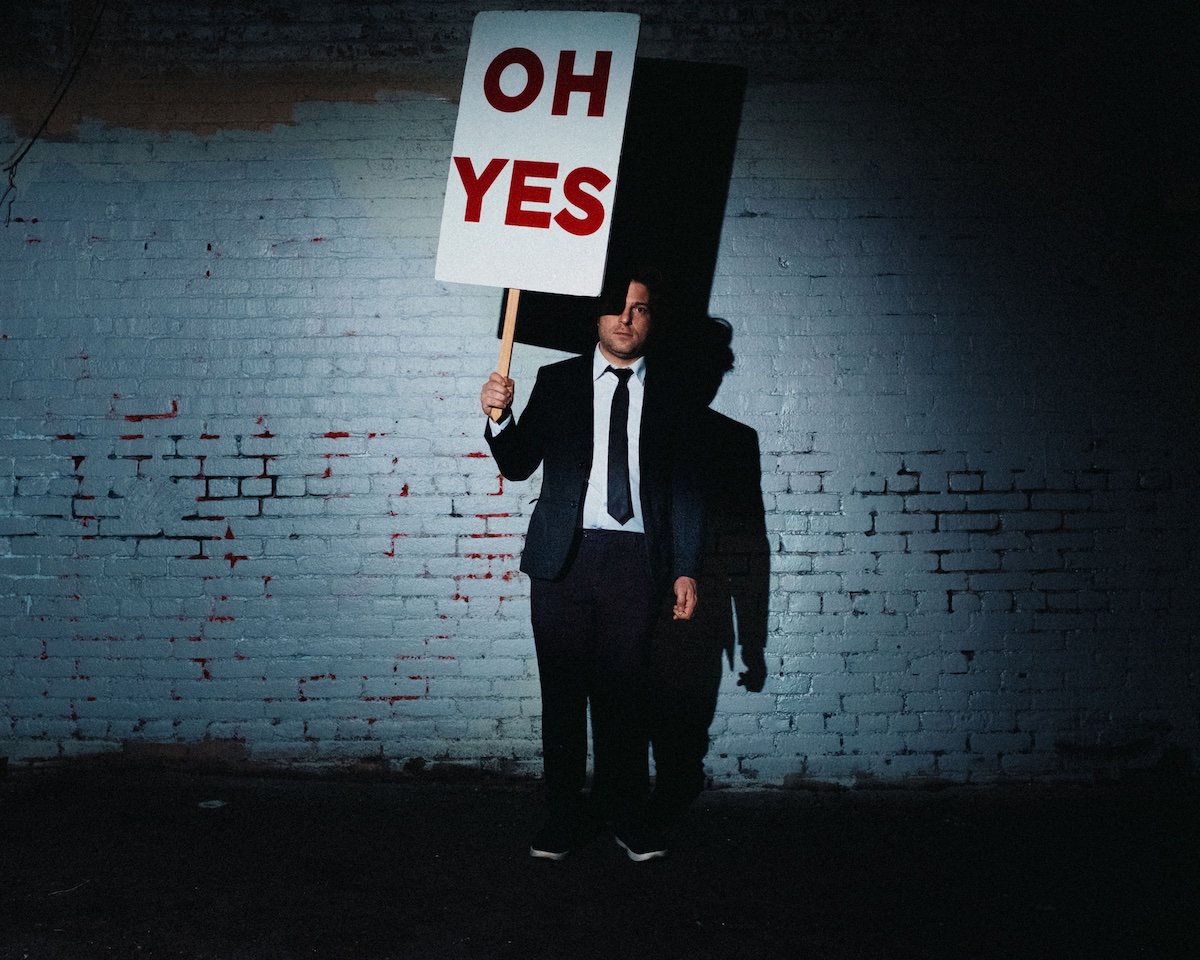 "Oh Yes!" is the first single off your upcoming debut album and evokes vibes of cult, campy musicals like Rocky Horror Picture Show and Little Shop of Horrors. How was the song concocted sonically?
Harry Katz: So the song started pretty different than it ended up. It started pretty simply as a duet. Then when we started doing it with a bigger band, it really developed through playing it live. We have these big red signs that we hold up and everyone yells "oh, yes." This call and response became really important. The lyrics developed from having that relationship with the audience that felt like if I was having people say, oh yes, I wanted to give them the best thing to say oh, yes to. So I re-crafted the lyrics to be more mindful of the audience. I'm definitely inspired by things like Little Shop of Horrors and Rocky Horror Picture Show. I always joke that I'd like for a Halloween show to perform Little Shop of Horrors, and instead of the plant we'll have a giant pistachio.
"Oh Yes!" is all about open communication and saying yes to love. What inspired the meaning of this distinct tune?
Harry Katz: I think that there is so much music that's so sad. There's a lot of down tempo stuff. And, you know, we live in pretty bleak times. I don't see "Oh Yes!" as escapism. I think that sometimes escapism goes too far. But I think there's still a lot of power in the joy of humanity. I personally in my life, try to keep my eyes open for opportunities and say yes to the things that make me happy. Also making sure to give space to the people around me to say yes to what they want. There is so much pressure to accommodate to other people.
Are you the type of person that says yes a lot in your own life?
Harry Katz: I do try to say yes. I'm always trying to push myself outside of my comfort zone and to grow as a person. It's difficult, but I think knowing boundaries is also super important. What you say no to verses what you say yes to, those are both really powerful. I do try to say yes to life.
What advice would you give to those who struggle to embrace life to learn how to say yes to new opportunities?
Harry Katz: I think a lot of it has to do with what we're able to hear at the time. There's a lot of opportunities. This is an anecdote from the movie business, but very early on, I met someone, and I was so determined to make a movie that I wanted to make. We sat down and had dinner, and he pitched me the movie he wanted to make. I was thinking okay, well, this is what I'm trying to do. We kind of left it at that. But if I could go back, I would just say yes. I would be like, yes, let's do what you want to do. I don't think I was able to hear the opportunity from that. When you ask questions, and you say yes to people, I think there's a wanting to hear what people are saying more clearly. Sometimes the world is a lot bigger than you think.
The visuals fit the single's feel perfectly as it gives off a vintage vibe and a satirical, comedic air. How was the video's concept constructed?
Harry Katz: I had actually gotten a bad review of the song that said it sounds like a bad off Broadway play. I love that. That just feels so right. Sometimes people don't like about it exactly what's great about it. The director, Darryl Gilmore, he's an old friend of mine. We've worked on films together since 2014. He's come to a lot of shows and wanted to make something. We had an idea for a whip pan camera shot. That was the whole idea, but we agreed to make it and so we would talk on the phone every day. Then it snowballed. I was like, Well, what about this place? We thought, oh yeah let's do it. We developed it out of that DIY fun. That was part of the spontaneity and the fun of the sessions themselves.
What would you say was your favorite part of creating the video?
Harry Katz: My new favorite hobby is editing. I love it. Darryl and I sat together for 4 days, 10-hour days just going through the edit together. It was a blast. The choreography was also really fun to work on. I love the girls in it. They were just amazing to work with. The whole process was really enjoyable, but I personally loved sitting and working on the edit.
Who are some musical talents that truly inspire you?
Harry Katz: I'm really into a lot of music that's out now. There's a guy Izaak Opatz. Him and this guy Jeffrey Lewis are probably my favorite contemporary songwriters. I think that they are just genius level lyricists. I also love the classics. I grew up on a lot of Tom Waits and Leonard Cohen. A lot of soul music, old rock and roll blues like BB King. Seeing BB King live was really inspirational. One of the reasons why I have Harry Katz and the Pistachios is because I saw BB King playing. He had these pockets filled with guitar picks and he would hand out guitar picks to the audience. So I was like, wouldn't it be great if I did that with pistachios?
Finally, who are some artists currently on your playlist you can recommend to our readers?
Harry Katz: MAWD and Gilbert Louie Ray who plays drums in the video.
— —
"OH YES!" – Harry Katz and the Pistachios
— — — —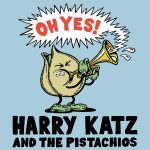 ? © Lee Citron
:: Stream Harry Katz & The Pistachios  ::
---