Irish-Iranian artist Glassio rises above his misfortunes, concocting the daring, dance-driven song, "Magazines."
Stream: "Magazines" – Glassio
---
I've always been inspired by the idea of applying a melodic sweetness to the dance floor, and using dance music as a vessel to bring other genres together.
If any song had the power to uplift us in these difficult times, it would be Glassio's infectious new single, "Magazines" (out September 1, 2021). Atwood Magazine spoke with the Irish-Iranian talent in February of 2020, diving into his other funk-fueled hit "Are You Having Fun Without Me?" Glassio's latest release has the same upbeat, wistful air. His delightful dream-pop/electro sound catches the ears of listeners. "Magazines" is especially compelling for its very relatable concept: many of us constantly compare ourselves to images of perfection that don't really exist. With consistent scrolling on social media, it is easy to get sucked into that negative cycle. Glassio encourages us break free from those toxic standards.
You're keeping busy so I wanted to die
You're keeping busy so I wanted to try and go dancing
Like a beautiful dream
Just take me rolling poly oly to the ocean with your magazine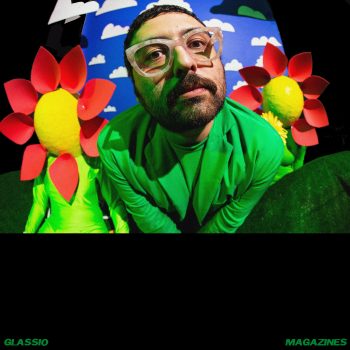 But "Magazines" is about more than just the harmful ways we judge ourselves based on others. The song was conceived as a way to deal with the many struggles that Glassio (aka Sam Rad) was facing. Before he could finish the tune, he confronted his biggest hardship yet. COVID has tragically taken many lives and Rad's father was unfortunately one of them. As difficult as it was to carry on, he pushed through and a magnificent creation came out of that. There is so much raw vocal emotion contrasted by the light, danceable arrangement.
Glassio will soon be releasing a sophomore record entitled See You Shine. This album explores leaving a small town behind for something new. With all the adversities Rad has faced, he is coming out so much stronger and more self-aware. "Magazines" is the start of a beautiful transformation toward healing. Atwood spoke with Rad about his signature style, destructive perceptions of perfection, and more.
— —
A CONVERSATION WITH GLASSIO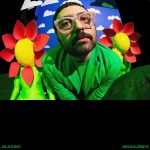 Atwood Magazine: Fans have fallen in love with your dreamy indie-pop/dance sound. What drew you to this musical style?
Glassio: It took years for me to get to this point sonically, through working with different bands throughout my time in NYC and making music in different genres. I grew up loving a lot of relaxing, melodic music. 10cc, Enya, and Simon & Garfunkel were some of the artists that first got me into music when I was 13. So, I think I have had a natural inclination to harness those sounds in an upbeat, dance/pop-sphere. It's something that comes very naturally to me. I've always been inspired by the idea of applying a melodic sweetness to the dance floor, and using dance music as a vessel to bring other genres together.
Your infectious track "Magazines" radiates with glossy synths and warm, comforting vocals. How was this quirky track constructed?
Glassio: I remember working on a sequencer pattern on the ARP 2600 (my go-to synth as of late) one morning last Summer, and coming up with a sound that was sort of reminiscent of one of the synth sounds you'd hear on the song "Cowgirl" by British electronic duo Underworld (a huge influence of mine). So I began playing around with it, changing the chords, and started singing a melody I had been humming to myself after waking up that morning. The melody felt like something Pete Seeger or The Kingston Trio would have written. It had a 60s folk/country quality to it that just felt so cool on top of this late 80s/early 90s acid-house inspired sequencer pattern. I immediately felt a rush from singing it over the sequencer, so I got straight to building a demo for the song.
The tune is all about embracing your faults and digging yourself out of the darkness. You wrote this song as you were going through a rough patch and finished the tune after losing your father to COVID. I'm sure that could not have been easy. How has creating this song helped you to cope with the devastation you have faced?
Glassio: Working on this song and all the other music off the album has been vital in keeping me grounded through this loss. My dad heard all of these songs in their draft format shortly before he passed in January (unbeknownst to us, he had about a month to live with the music). I don't usually send my family my music until it's done, but he was persistent in asking to hear these new songs, and I'm so thankful that I sent him everything when I did. He loved these new songs, and thought they were my best. Finishing this new music has allowed me to continue having a conversation with him. It all ended very abruptly and having this body of work has created a unique landscape to be creative in as I finish the music. I'm a very spiritual person; I am finding signs in the music and in the way I am envisioning the final product that have convinced me fully that I'm not finishing this alone, and that he is listening.
The song also reminds others to not compare themselves to unrealistic ideas of perfection. In what ways do you find yourself falling into a comparison trap and how can you combat that?
Glassio: It is difficult to be vigilant in avoiding comparing yourself to others. Obviously, Instagram and social media make that even harder — especially when most of your friends are musicians or you follow a bunch of people in your field. I have found it helpful to remind myself to have faith in the fact that everything you go through in life is fateful and meant to take place. My story and past is unique to me, and therefore, my future will be unique to me too. That perspective has made it easier, for me, to accept my individuality and whatever is thrown my way.
You completed the track with your friend Dave Rublin of American Authors. What was it like working on the release together?
Glassio: It was incredibly cathartic working on this song with Dave in the same room after a year of isolation. We started scheduling some sessions this past spring. I played a bunch of songs off the record, and this one really stood out. I just remember playing the demo, and the two of us dancing and nodding in agreement that this was the one to finish together. He helped fully realize the potential of the song — we re-did vocals at his place, thickened the production, and gave the song the confidence booster it needed.
In your last interview with Atwood Magazine, you talked about how your Irish and Iranian heritage has influenced your music. Did your culture shape this single in any way?
Glassio: I'm not sure if it has had a direct impact, but I do attribute my discovery and appreciation of different genres to my somewhat nomadic upbringing. I would have never gotten into Underworld had my family not moved to the UK. I discovered their music at a record store there (pre-Spotify algorithm days) and fell in love with walking around a bleak suburb of London listening to their music. The same goes for folk and country music, which I got into when we lived in Central California. People's musical taste in the area we lived in introduced me to a lot of music that made sense with the rural environment around us, and that led to my love for artists like Townes Van Zandt and Jackson Browne.
Sometime in 2021 or 2022 you will release your sophomore record, See You Shine. The album pairs your passion for French-electronic music with an American singer-songwriter sound. What inspired the work's eclectic sonic melding?
Glassio: I was picturing the deserts of New Mexico and Arizona at sunset as a landscape for a lot of this new music. I was picturing them covered in glitter and envisioning a sort of disco-desert world for this new music (a lot of which hits harder than the songs off my previous record). I made a lot of these new songs in rural Ohio in the fall of 2020. Being in Ohio (and working out of a woodshop) inspired me to dive back into my love for Americana, which is what I would drive around listening to. At night, I'd watch the stars (something I'm not able to do in NYC), put on my headphones and listen to AIR and Joakim. Through osmosis, I began toying with the idea of mixing those two worlds together for this record.
You have opened for prominent electronic/dance acts Electric Youth and Miami Horror. Can you tell us what that experience was like?
Glassio: Complete full circle moments — especially opening for Electric Youth at Music Hall of Williamsburg in Brooklyn. They were one of the first bands that got me into electronic music when I was 18 and I wouldn't be making the music I make today without their initial influence on me. Music Hall of Williamsburg is my favorite venue in the world and has a special place in my heart. Back in 2011, I took the train to Williamsburg for the first time ever to see a show there. It was Darkside's first show. I immediately fell in love with the space and made it a goal to play there someday. So that show with Electric Youth was really special.
Finally, who are some musical talents that you truly admire?
Glassio: So many to name. I love John Grant's voice and songwriting. I'm obsessed with Joakim's production and synth work. I'm endlessly in awe of Laurie Anderson — Big Science is one of my favorite albums of all time. Scott Walker is one of my big influences. The Nite Flights album has been a huge treasure in my life. I'm completely inspired by the breadth of his work. You listen to his catalogue and slowly come to realize the influence he had on Bowie and so many others. Yazoo are a huge influence on me. I think Upstairs At Eric's is one of the most important albums of the 80s — the synth work on that album was revolutionary and paved the way for lots of early Houser and Techno.
— —
Stream: "Magazines" – Glassio
— — — —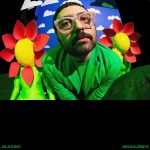 ? © Rachel Cabitt
:: Stream Glassio ::