Artistic progress and personal growth are showcased on Mabel's first (and slightly unexpected) mixtape, 'Ivy to Roses.'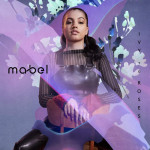 — —
Back in May, UK R&B singer-songwriter Mabel McVey released her first EP, Bedroom. It was a short collection of four tracks, and though the project wasn't flawless, it evidenced what the Stockholm-raised, London-based 21-year-old rising star was capable of. The record simultaneously led her supporters to believe that they wouldn't be hearing from Mabel for a while – surely she was back in the studio, unlikely to reemerge with a new, cohesive record until the beginning of next year, at earliest. So when her lead single "Begging" was dropped earlier this month, right before Mabel announced that a fresh collection of songs was scheduled for release October 13 (via Polydor), it was happily surprising.
Here at Atwood Magazine, each of the six, all-new tracks from Mabel's Ivy To Roses mixtape are deconstructed, analyzed and appreciated.
"Come Over"
Mabel kicks off Ivy To Roses with a simple, but endearing standard: four piano notes and her beautifully beckoning question: "Won't you come over?" There's an innocence to this introduction that's so obviously centered on the idea of piddling around with decent men who fall suspect to fuckboy antics, and for the most part, that goodness seems inherently connected with the way Mabel approaches the eye-roll-worthy subject that resonates with virtually every heterosexual, 20-something-year-old woman. Her voice is honeyed and more crystalline than ever, even as she's flinging sass with lines like "Don't turn your back on me, you should know better than to fuck with me" and "So when you call me up and tell me that you want to get together, that'd better come together," and it's this divergence of sonic sweetness and lyrical spice that makes "Come Over" not only a well-chosen opener, but one of Mabel's best tracks to date – it's production also carries the same pre-millennium pop aura that 2016's unforgettable "Thinking of You" boomed with.
"Begging"
One listen to "Begging" and its forerunner is enough to make Mabel's audience understand that she's the inquisitive type – with "Come Over," she was bluntly questioning why her boo wouldn't get his shit worked out, and the mixtape's lead single follows that familiar story. "You're not even trying, baby / When we touch it's not the same, so why you tryna make me stay?" Mabel ponders in the track's pre-chorus. The 21-year-old's voice is light, yet heavy with confidence as she vocally incites that a swift "pretty please" from her love interest isn't going to get him any closer to her heart again ("Go on tryna make me stay, I wanna see you on your knees"). Refreshingly, "Begging" is one of Mabel's most modern recordings – it's not just contemporary R&B, but 2017's R&B – and though throwback sounds are largely welcome in the pop canon, it's stimulating to hear the 21-year-old pull back on '90s homage.
"Ivy"
However, as quickly as Mabel flicks on her switch of modernity, she goes and turns it right back off with "Ivy," a three-and-a-half-minute long track with nothing but vocals and stripped piano. It doesn't exactly have the same quiet old-soul resonance as some of the UK singer's contemporaries (say, Daniel Caesar with "Won't Live Here" or Jorja Smith with "So Lonely"), mostly because Mabel's vocals are ever-so-slightly over-produced. In the chorus, she sings that her connection with her lover is "growing like ivy," and the pre-chorus vulnerably explains the issues draining Mabel: a local grapevine reports that something's up with her partner, but when it comes to telling her, silence prevails. Yet, she stays, reminding him that "I'm with you anyway." Indeed, "Ivy" represents an aspirational kind of love, but its lyrics are gently forlorn. In this sense, the histrionic vocal layering appearing at the tune's chorus – almost humorously Tupac-esque – doesn't really fit into the scheme of things. While Mabel's poised vocal performance appears to be usually stunning here, an acoustic approach to the R&B ballad could have done the lyrics more justice.
"Low Key"
Succeeding the downtempo of "Ivy" is Mabel's mixtape standout "Low Key," on which the artist continues fleshing out her girl-empowering songwriting: "You got it in your head that I'm using you," she sings to a boy, "but I really do enjoy the other things we do." This line is pulled from the pre-chorus of "Low Key" but it's as anthemic and memorable as an actual chorus, particularly as breakbeats and smooth backing harmonies paint a short film: driving through the city on a Saturday night, dressed to the nines, ready to seduce. The phrase "other things" is cheeky on Mabel's behalf, and summarily denotes what the entire, four-minute-long track is about: keeping sex casual. "Low Key" isn't the first time Mabel's engaged in this kind of discourse – Bedroom's "Finders Keepers" employed similar talking points of unabashed sensuality, no strings attached – but this particular offering is more of a sing-a-long jam than dance track.
"Roses"
Posing as the second half of the project's two-subject title, "Roses" is arguably the weakest song on Ivy To Roses and it's rather disappointing, the way Mabel chose to name her mixtape after its two bumpiest inclusions. There's obviously a connection between the tracks – "Ivy" explicates the rough, but navigable period of a relationship, whereas "Roses" recounts the aftermath of its conclusion – but the latter fails to be musically significant. Its start is sensible enough, with acoustic guitar falling under Mabel's words, "Who am I to question you're every move?/ But I know you better than you, you're coming home with an excuse." But shortly after, everything hits the rocks: spacey, electronic instrumentation detracts from Mabel's lyrics (in the same way that the over-production did on "Ivy"), and even her voice is unusually strained, not effortlessly soulful. And while the synths and drums are present, they fail to cater to the singer's expressed emotions – it's as though Mabel's pouring her heart out on an instrumental that's just not meant to be that deep. More than anything, the track is demo-ish.
"Weapon"
"Careful how you hold me, I'm a weapon," says Mabel toward the end of Ivy To Roses, and the statement is an audacious warning that wraps ups the singer-songwriter's message of "don't mess with me" strength. On "Weapon," she is exploring a few different sounds that deliciously form into a knot of pop, soul and hip-hop. As Mabel declares her prowess at looking out for herself in romantic situations, a bassline heaves under the spark of hi-hats and funky synthesizers – the midtempo track has a lot going on in a confident way, and it sonically reflects the cockiness that Mabel personifies with her language ("I have got enough to make it rain on you/ I am just tryna mess with your head").
In May, Mabel revealed that she wanted to make something special for her fans. "(I wanted to create) a body of work that really told a story," she told us, continuing, "it's so hard to gain supporters these days, but it's important to put little bodies of work out." At the time, it was unclear of what the songstress' said, tiny projects would be; Bedroom was a record focusing on experiences in learning and love, and its brevity was effective at making its audience crave more of her tales. So with Ivy To Roses, Mabel shouldn't have to worry about gaining more followers. For the most part, the empowered mixtape emulates a storybook, and stands out with a distinct strength that – as opposed to Bedroom – can prop itself up today's R&B canon just fine. With this latest project, Mabel further establishes her rising status as not only a vocalist, but most notably, a powerful narrator.
— —
— — — —
photo © Polydor Records