Recommended If You Like: The Eagles, Crosby Stills and Nash, The Beatles
There's something quaintly magical about The Morning Yells' latest release: With a warm, easy feeling and dreamy three-part harmonies, "She Knows Exactly What She's Doing" is a breathtakingly sweet folk rock ballad.
Wild as the sky
Troubled little child
Always dreams of letting you down
Makes you guess at everything
Never takes her medicine
Never let's you figure her out
Oh my roses
I believe I'm gone away
Hit that ruin switch
When everything's ok
"She Knows Exactly What She's Doing" – The Morning Yells
---
Atwood Magazine is proud to be premiering the in-studio video for "She Knows Exactly What She's Doing," off The Morning Yells' recently-released EP Proper Wilted (out 10/6/2017 via Golden Boy Records). The Los Angeles-based four-piece of siblings Laura Stancil and Phil​ ​Stancil and fellow multi-instrumentalists Curran McDowell and Trevor Smith, The Morning Yells self-identify as an Americana indie rock band. Their music is enchantingly diverse: Proper Wilted channels the sounds and textures of such '60s and '70s legends as Fleetwood Mac, The Eagles, Crosby Stills and Nash, and more.
"She Knows Exactly What She's Doing" (or "What She's Doing" for short) is a balancing act of folk and country influence, its many layers offering a colorfully vivid listening experience. The band's perfectly-coordinated harmonies evoke feelings of hope and possibility, passion and potential as they sing about someone who can't be tamed or controlled; someone who stride with confidence and grace.
She knows
She knows exactly what she's doing
She ain't gonna let you in
She knows exactly what she's doing
"We wanted to include this song on the EP because it showcases a certain aspect of our style that the other songs don't," explains Phil Stancil. "Three-part harmonies, 1960's country influenced rock, and our ability as a band to swap roles, whether it be Trevor singing the lead, Curran playing lap steel or guitar, or Laura taking a line on the piano."
"I had originally written the song on piano and heard it as a sort of Byrds kinda thing, but tucked it away for a bit thinking it might not work with the Yells," recalls Trevor Smith. "Laura, Phil and I were hanging one night and began messing with it on just guitar and vocals, and that's where the three part harmonies came in, which gave it a new life."
My friend
Bursting at the seams
Loves the minor keys
Love it when you turn it up loud
Always on my mind
One day at a time
Everything will work itself out
The in-studio video for "What She's Doing" provides spectacular insight into the band's dynamic. "Our friend Chris Phelps stopped by Station House Studio one day during the recording of our EP to take some footage of the process," Phil shares. "We happened to be working on "She Know Exactly What She's Doing", which was the only song we actually ran live together in one room. In this respect, this song proved the best option to get us recording together. We were on a pretty tight schedule that day, and Phelps was only able to get us doing a few takes. It was literally about 20 minutes between him coming into the studio, setting up, and running it, and then leaving so we could carry on with the task at hand. With the help of editor Vanessa Yuille, they were able to take that 20 minutes and turn it into something special." Stancil's explanation feels like an almost sheepish admission, but the fact that this piece is the result of short work speaks to The Morning Yells' talents.
Laura Stancil notes the inclusion of 12-string guitars, a Nashville high strung and a lap steel in the final studio edit. Everything flows perfectly together to create a poignant, dynamic exercise in melody and harmony. The Morning Yells may adapt sounds from decades past, but the fact that this is a young band on the rise makes "She Knows Exactly What She's Doing" and the rest of Proper Wilted all the more exciting: Their voices are fresh and full of potential.
Prepare to be swept off your feet with the beautiful music of The Morning Yells, exclusively on Atwood Magazine!
— —
— — — —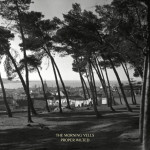 photo © Chase Bescey
video © Chris Phelps
:: Listen to The Morning Yells ::