With an enthralling ambient album on the way, Austin multi-instrumentalist Jesse Beaman opens up about his formative years, a cascade of new projects, and working with Interpol's Brandon Curtis on his new album, 'Mira.'
Stream: "Dancing with Ghosts" – Jesse Beaman
---
Instead of getting to the next loop and building fast, I want to create a vibe where the listener has to be patient to hear something develop slowly and gracefully.
Nicaraguan-American composer Jesse Beaman is preparing to release Mira, a brilliant album produced by Brandon Curtis, member of Interpol and leader of The Secret Machines. The tracks were mostly recorded in 2019, when Beaman spent a snowy winter month at Curtis' studio in  Vermont. But in a way, this is an album that has been more than ten years in the making, ever since Beaman began playing around with loop pedals to create instrumental pieces that seem to always be grasping at an otherworldly beauty. His journey as an artist is not only a testament to the resilient spirit of independent music, but also an example of how great things can take time and unfold slowly along a path that reveals a simple truth in every step: trusting the process always leads you to the place you need to be next.
The first single, "Dancing with Ghosts," gives us a taste of the unique elegant sound that Beaman has built throughout the years, blending electronica, ambient and modern piano compositions in a delicate way that manages to be layered and minimalist – melodic and experimental, all at once. I've had the pleasure of seeing Beaman record and perform up-close for a long time. We connected back in 2013 when I helped promote his first ever show in Mexico City. Since then, I have always been fascinated by his fluid approach to songwriting and natural talent for creating interesting sounds in unexpected ways.
With Mira on the horizon Beaman's career is entering a new stage.
This single marks the first time that the Austin, Texas based multi-instrumentalist is officially putting out music under his own name, after a decade of performing and touring as My Empty Phantom. You might be familiar with his former project from its energetic live shows and several dates supporting acts such as Juliana Barwick, White Denim or This Will Destroy You.
So I thought now would be a good time to call him and talk about his artistic evolution, the way he understands music and the reasons behind the very conscious decision to release music under his name. We began by talking about the early days, which were spent mainly on the road. Beaman recalls:
"I started to play shows around 2008 and I was actively touring pretty much from the beginning. In one of my first tours in 2010 I drove by myself in the winter all the way to New York, it was intense. I also drove around the whole country by myself once, doing many shows from coast to coast. It was probably the hardest thing I've done."
---
Beaman got his start doing things the opposite way than most artists do nowadays. He was touring before he even had an EP out. Throughout the rise of the streaming era, he was out there playing shows in the most DIY manner possible. Not many musicians can claim to have toured in 23 countries, including Australia, Romania or Perú without a manager or a booking agent. He belongs to the extremely rare breed of independent artists whose majority of followers on social media have actually been to a concert or engaged with his music in real life. That good old feeling of discovering a new artist by being blown away at a show and then getting home to look online for more. And yet, an audience was not the only thing that Beaman found on those nights of loud venues and forty-five minute midnight sets. He also began to connect with some of his personal heroes and establish friendships with artists he admired.
"When I was about 22 I was guerrilla touring like crazy. Not knowing where I was going to sleep. I just played shows and was like "let's just see what happens" and people would come up and say "are you staying anywhere? You should come stay with us." And then one day that happens to be someone like Tim Kinsella (of Joan Of Arc and Cap'n Jazz) who is a musician I really admire and he let me sleep on his couch. I feel in a way maybe he understood the journey I was on and how difficult it can be to be a musician."
That's the kind of cool romantic indie story that simply can not happen online. Independent music has camaraderie embedded in its essence, but it can only truly happen by being there to experience it, to receive and give back. Beaman's first connection to Brandon Curtis happened in a very similar circumstance while playing a show at The Monkey House in Vermont in 2016. Little by little, Beaman formed a community of extremely talented musicians that is more alive than ever today in projects that we'll get to in a bit. Some play in hugely successful bands and others have established themselves as cult acts, but the key point is that all of them are still involved in their local scene. It speaks volumes of artists like Kinsella or Curtis that they frequent their local venues and pay attention to whoever is on stage. And of course, it also says a lot about the quality of Beaman's performances that time after time he managed to catch the ear of experienced producers and musicians. They were drawn to the intricate textures he created all by himself using loop pedals and jumping from one instrument to the next.
Looping has been immensely important for Jesse Beaman, who is a completely self taught multi-instrumentalist.
He picked up the drums as a teenager, followed by piano and finally guitar, developing a unique style on each one. Loop pedals became sort of his fourth instrument, an essential tool for composing and for playing My Empty Phantom shows. I asked Beaman about how looping has evolved in his music and how it comes across in the new album:
"I'm now using looping pedals with other instruments that I never did before like piano, synthesizers and drum beats. It is still in my sound, but I'm doing it differently now. I'm trying to be a little more patient with it. In the past, I felt kind of anxious on stage, like "oh I better get to the next thing." But I think a lot of that was that I didn't know how to be patient with each instrument. Now I realize you can spend four minutes doing interesting things with just one instrument. You just have to be really creative and that's where I'm trying to head. Instead of getting to the next loop and building fast, I want to create a vibe where the listener has to be patient to hear something develop slowly and gracefully."
Slow and graceful are good adjectives to describe "Dancing with Ghosts." The single features pulsing rhythms, hypnotic melodies and experimental textures, which come together seamlessly. It flows from a bold start with hints of electronica into an ethereal ending with soft pianos and distant loops. It feels like staring at a cloud that moves ever so subtly. Small transformations happen moment after moment, until it is impossible to remember where you started. Its beauty is not in a final form but in the natural ease of the process.
I have a theory why Beaman's music flows so smoothly, like a succession of sounds that never feel contained within a structure.
Whenever he comes to visit, it is common to find him at our studio in Mexico City banging on the drumset or any old keyboard he finds. Even when he is just playing around, he seems to be in a state of full immersion, as if channeling different frequencies, searching for the right one. And then it happens: out of nowhere, in the middle of unorganized notes, he'll come up with a melody that cuts deep and leaves you speechless.
I believe Beaman isn't out searching for songs, he is just trying to find music. Not thinking in technical terms of scales and rhythm, but as something that already exists floating around somewhere undefined waiting to be carved out of thin air. The true art is not coming up with a full track, but finding that one melody that works. The loop that will carry the weight of whatever comes next. When I asked him about this, he didn't really confirm my theory, but put things in much simpler terms:
"I like to loop stuff all day and when I find something that works it hits me really hard. I feel it. There's a feeling of excitement. It excites me to make something that I feel and actually want to share. A sense that other people will feel something because I feel something."
What he is describing is empathy. He's acting as a listener and playing at the same time. Again, as if the music came from somewhere else and he was just the guy who's good at finding it. For Jesse, songs come way later. I imagine it's a more mechanical process of thinking "Ok, now how do I turn this little snippet of music into a song that people can listen to?." To me, this also explains why Beaman's work has evolved more and more into minimalism. As My Empty Phantom, Beaman relied a lot on the post-rock aesthetics of big explosions and epic crescendos, but now his songs aren't trying to get somewhere because they are already there. The more you understand that the original melody works by itself, the more you realize that not much else needs to be added.
"I've always really been into minimalist music, I just never really knew how to do it. It's hard to be confident in minimal melodies, but there's something so powerful about it. I like all the music I've made in the past and I stand behind it, but sometimes I'll hear like a piano part and think "wow that piano was way more powerful than all five of these instruments I put on one track. I think before I was trying to produce distorted sounds that had melodies hidden buried in the distortion, but now I'm more confident and I want the melody to come through clearly."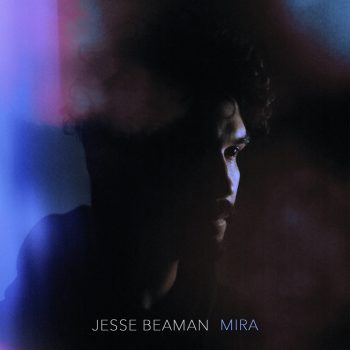 That might just be the perfect metaphor to explain why it makes sense for him to start fresh with a new project.
If My Empty Phantom was the distortion that concealed the melody, then Jesse Beaman is the melody itself, coming across crystal clear on each track in Mira. The album title has a nod to his My Empty Phantom roots. "Mira" is the name of a giant red star, referencing the 2012 EP Red Giants. It also means "peace," "wonder" and "ocean" in different languages. All words that fit perfectly with this moment of transition and the feelings that Beaman evokes with his music. Here's him explaining how he came to the decision:
"There was a shift for sure. I could feel it while I was starting to work on the record. It became clear that this was the album I could leave My Empty Phantom behind with Brandon helping me shape a sound. It was hard for me to do it because it felt like I had built something over a long time under this moniker, so it feels a bit like starting over, but at the same time it feels like shedding skin, which is good. I'm in a better flow with music than ever, so I want my music to become a part of me even more and stand behind it more."
This album isn't the only thing that Beaman is standing behind at the moment. The pandemic forced him to take a break from touring and venture into new territories and challenges. In 2020 he co-founded MAX / MIN, a production company and record label, alongside Brandon Curtis. On top of Beaman and Curtis' own projects, the label's roster already includes exciting acts such as Interpol's Sam Fogarino, long-time Andrew Bird collaborator DOSH and The Nunnery. This is how the idea to start MAX / MIN came about:
"We were just about to share the album with different labels around the time the pandemic got real in March, so that threw everything for a loop. It obviously wasn't the right time to be reaching out to labels, so me and Brandon thought maybe we should just start our own. We really got into planning it and getting other artists involved, and I built a small roster of musicians that I had met over the years."
More recently, MAX / MIN shared the first track by Tepo Magico, a collective which functions as a sort of in-house band led by Jesse. The list of people who have signed up to contribute reads like a psych-post-alt-rock supergroup with names like Joe Berry (M83), Steve Terebecki (White Denim) and Jeremy Galindo (This Will Destroy You). Tepo Magico's philosophy is one of openness and collaboration:
"I'm trying to make that a project where I take ideas and then let them go, let other people really do their thing. It's incredible to have talented people that I admire musically and personally work on stuff with me. It will be always a rotating lineup of people chiming in on ideas that I have or ideas that they're working on. And it gives freedom to my solo music because it makes me feel I'm not just trapped in that sound. It Iets me explore other sounds, which has always been important to me, but I'm just starting to get to now."
As I said, great things can take time and there are many places that after years of hard work Beaman is only arriving at now. MAX / MIN, Tepo Magico and, above all, Mira are the culmination of all those years of pouring his heart out on tight stages every night. There's still a "Do It Yourself" energy to how he is doing things, but it is emerging from a more grounded, visionary and mature perspective. It now means forming a label. It means the joy of experimenting with like minded musicians. It means being so proud of an album that there's no fear in starting over.
If things go well, Beaman might be on his way to be a renowned modern composer, more suited for the theatres where artists like Olafur Arnalds or Nils Frahm play, but looking back I realize that there is absolutely no rush and no point in aiming for it. Patience has always been Jesse's game. It was patience that allowed him to take all the steps to get to where he is and it was patience that made him understand music in a different way. So it makes perfect sense that only now –more than ten years after he started uploading music to Soundcloud and playing shows around the US – Jesse Beaman has finally arrived at his debut album… and having been lucky enough to listen to it in advance before its July 16th release date, I can tell you what a mesmerizing work of art it is.
— —
— — — —
? © Kate Meyer
:: Stream Jesse Beaman ::
---