Combing through Nas' last few albums yields enough strong material to form a worthy sequel to 2002's The Lost Tapes.
•• •• •• ••
As Illmatic turns 25 this year, its author will deservedly be thrust back into the spotlight. He's recently been performing the album alongside the National Symphony Orchestra, who have translated hip-hop instrumentation into a classical score with astonishing fluidity, and the hip-hop press has widely taken note of this celebrated debut having reached its first quarter-century.
Why is it, though, that it's taken Illmatic's anniversary to bring Nas back into the spotlight, rather than to keep him in it? Simply and unfortunately, a paucity of new material has doomed the rap legend to second-tier relevance in recent years. Seven years have gone by since 2012's Life is Good, and a seven-track EP is largely all we've seen from Nas during the interim— and even that was far from his most universally-acclaimed project.
Listen: The Lost Tapes 2 – Nas
---
Released July 2019, The Lost Tapes 2 doesn't really break this trend, as it largely consists of discarded tracks from Nas' past albums— even going as far back as 1999's I Am…— rather than any freshly-recorded vocals. Such a concept may seem rather scrappy, but it's also reminiscent of the strategy behind the original Lost Tapes album from 2002, which endures as one of the finest hidden gems from Nas' bulky catalogue. While this new release inevitably lacks the cohesion of a proper LP recorded in one take, enough meaningful material and curiosity value have been salvaged here to make The Lost Tapes 2 worth a spin.
Nas gets things started on a strong note with "No Bad Energy," which is bolstered by a hypnotic choir wailing ominously over the rapper's assurances that "I'm oblivious to you skeptics," and other boasts to that effect. Nas' descriptions of rappers who have "never shot nobody but be shooting people in their rhymes" echo the theme of hip-hop being capable of verbal violence and devastation that he previously explored on fan favorites such as "Got Ur Self A…" and "One Mic." It's a powerful metaphor that lifts this first track to standout status.
---
Other early numbers benefit from Nas' nimble flow, including "Jarreau of Rap (Skatt Attack)," which features an unusually playful chorus ("Melody, harmony, melody, steadily," he bounces along) from the usually dead-serious urban storyteller. Nas maintains this bold display of energy on "Lost Freestyle," as he describes "smackin' up the dude with the gun, take the jewels and the funds," all so that this rich man's "war with the bloodsuckers of the poor" can be brought to an end. It's a concept that evokes the hunger of the emerging 20-year-old MC who was "robbin' foreigners, take their wallets and jewels, and wrip they green cards" way back in '94. His concern for the well-being of the New York projects where he was raised remains strong narrative fodder.
One element that should make The Lost Tapes 2 enjoyable for longtime Nas fans is the fun in guessing which old albums these various outtakes were pulled from. It's pretty easy to tell which record "Beautiful Life" was once destined to be on (hint: "life is good, I must admit it," the chorus goes) and one imagines that the tracks that dive into hip-hop history may have previously been intended for 2006's Hip Hop is Dead, an album that served as a reminder for younger rap artists to remember and honor their musical heritage.
"Queensbridge Politics" was recorded much later on, as reflected by references to the 2017 passing of Nas' fellow Queens MC, Prodigy of Mobb Deep, and the vandalism of his murals around town. Yet this track was made largely in the template of Hip Hop is Dead tracks like "Who Killed It?" in its cinematic overview of the emergence and evolution of rap music. "The early 80's, we babies… [Marly Marl] was changing hip-hop," Nas reflects. "Then came the Juice Crew and the who's who: G Rap, Rakim and [Big Daddy Kane], beats made in the QU." Nas clearly knows how to honor his fellow giants of the genre— sprinkling a few Biggie and 2Pac lyrical bites across The Lost Tapes 2 advances that cause in its own right.
---
No one could realistically expect an album of this nature to be consistently stunning, and when it does falter in the home stretch, it's usually due to lackluster production and too-familiar narrative themes that pale in comparison to better tracks in the rapper's stash. Two songs that suffer from the former flaw are "You Mean the World to Me" and "Adult Beat," both of which are bogged down by sluggish beats. The last of these two is especially a missed opportunity, given how much more energetic material its author, Swizz Beatz, has managed to cook up over the years.
Despite a few missteps of this nature, most of the production is relatively solid. Many of Nas' past collaborators— RZA, Kanye West and the Alchemist among them— maintain their chemistry with the MC this time around, with several gems emerging such as the science-fictiony instrumental on "Lost Freestyle." The guest vocalists do their part to help as well, with Ne-Yo prodigy RaVaughn proving to be quite the stunner on both "Royalty" and "Beautiful Life."
The Lost Tapes 2 won't rank near the top of Nas' discography any time soon, nor is it quite as astonishing as the original Lost Tapes compilation. But given how sporadic Nas' output has been this past decade, there's still plenty to appreciate in this mostly satisfying collection of previously unreleased material. For the most part, it's good that Nas gave this stuff a second chance.
— —
— — — —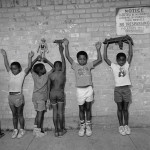 ? © Mary Ellen Mark
:: The Lost Tapes 2 – Nas ::