Jack Gray is at his most personal with intimate debut EP 'Nights Like This', an exploration of life's sudden transitions soaked in gorgeous pop balladry and emotional nuance.
— —
Listen: Nights Like This EP – Jack Gray
Life is what we make it – that's how the saying goes, but the journey it provides, especially the one into adulthood, isn't nearly quite so simple. More often than not, an outpouring of questions and fear can overwhelm us, leading to feelings of isolation. 20-year-old Jack Gray tackles these intense feelings and major defining moments with power and grace on his emotionally packed debut EP Nights Like This, a personal dive into the stories of Gray's life and the experiences that made him who he is today.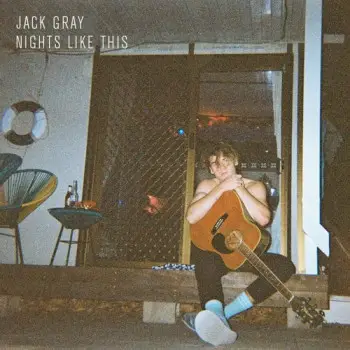 Atwood Magazine is proud to be premiering Nights Like This, Australia-based singer-songwriter and producer Jack Gray's highly anticipated debut EP! With gorgeous pop balladry, touches of soul, and tremendous electronic flair, Gray showcases not only his strong sense of musicality but his openness as well, something that most starting and established musicians still struggle to find.
Out May 31, 2019 via Warner Music Australia, Nights Like This was born out of the sudden transitions life threw at Gray, resulting in numerous sources of inspiration and reflection. With opening track "Fools," listeners are taken to a soundscape of lush synths and charismatic storytelling, providing a perfect introduction into what the rest of the EP has in store. Halfway in is the pop-rock anthem of "Down Side of Up," a deeper look into the personal woes of unrequited love, surrounded by an infectious melody that will charm any listener.
What I'm trying to say to people is that they're not alone.
Then there's "Bullet," one of the more raw tracks on the EP. Discussions about suicide are often uncomfortable, but so deeply important. Gray is at his most vulnerable and honest with this track, openly discussing the rough times in which a number of his peers ended their own lives. It's a powerful track that paints a vivid image of the journey surrounding both sides of the conversation.
Get further insight into the EP with our exclusive interview with Jack Gray, and stream Nights Like This for an endearing and melodic exploration into the moments that make life truly special.
Listen: Nights Like This EP – Jack Gray
:: Meet Jack Gray ::
Atwood Magazine: Hey Jack, it's great to connect with you! We're honored to be introducing your EP to the world. To begin, what was your musical upbringing like? When did you start making music?
Jack Gray: Thank you for taking the time to talk to me and sharing my debut EP with your readers! Honestly, I can't remember a time in my life when I wasn't surrounded by music. I grew up in a small town in Australia and my entire family had always been musical. My dad was in a band and many of my relatives played instruments. Some of my earliest memories were from pretending to be a "roadie" with my dad's pub band, setting up instruments, watching them practice, filling in when I got the chance. I went to my first concert with my dad at age 8.  
How did you grow into this sound we're hearing on your EP? Was it a conscious decision to make pop-styled big choruses and bouncy beat-driven songs, or did it happen naturally?
Jack Gray: I think songwriting for everyone who writes and produces music is an evolutionary journey. Inspiration comes from all around you, the food you eat, the conversations you have with your friends, the news stories you read, the colors you see on the posters as you walk thru town – – any influence you experience forms the creative choices you make and the emotions you feel. This particular EP was written at a key moment in my journey that was punctuated by transition. I had made the decision to stop being a student of music and jump fully into making my own music.  I had just signed a publishing deal and moved from my town to Sydney. So when I listen back to this collection of songs, I hear transition. I hear the solitude of many of the emotions I was feeling at the time.    
An inevitable connection I made upon my first listen was to The 1975. While that band has had a noticeable impact on an entire generation of artists, can you talk about some other acts who inspired you while you were creating these songs?
Jack Gray: BØRNS, Frank Ocean, Ballpark Music.
If every record has a story, what, would you say, is yours to tell in 'Nights Like This'? (Said better: what story are you telling?)
Jack Gray: Every musical influence I valued growing up was from a storyteller – so to me, music embodies just that: Stories. Nights Like This is my first effort in following in the footprints of some pretty big shoes, so I'm excited about it. I hope that the songs on this EP help people understand their own stories. Most of the songs on this EP deal with a variety of emotions that I dealt with as I started dating, new relationships, isolating relationships, relationships that were influenced by distance, a relationship where mistakes were made.  
The more chances I have to play these songs live around the world and talk to people who were in the audience, the more I realize what I'm trying to say to people is that they're not alone. We've all faced these tough choices, we've all made mistakes.
The only exception to this commonality is "Bullet" – that's a song I wanted to include on this EP because it was a very powerful memory from my youth and I wanted to talk through it. "Bullet" essentially played out on record as the emotional struggle I was fighting with inside my own head. It's a song about two sides of a very hard time in my life. Every story has two sides, and I hope people hear that when they hear this song.  
What inspired the EP's name, Nights Like This? What do you imagine when you hear or think about these words?
Jack Gray: Nights Like This is a lyric from "Bullet." To me, the line signifies an attempt at a solution, that a good night out with people you love and who love you is what life's about.  
There's something special about the first songs on records, as they sort of introduce what's to come. With that in mind, why open with opens with "Fools"?
Jack Gray: So most of my songs start with an emotion or a story that's bubbling inside my head, it's the usual way I start to write, however, "Fools" started from a completely different place. That track started as a guitar riff. Once I acknowledged that musically I loved that riff – – I built the song around it – – so to me, "Fools" was an interesting jump off point. It was the first song that I had written almost backwards to what comes most naturally to me. So why not – – first EP, trying new things, felt very natural.
Pardon the pun... There's something intoxicating about "Drunk Talk." Is this song based on a true story? Either way, what are you proudest about with this song?
Jack Gray: I love a good pun – – no reason to ever pardon that! "Drunk Talk" was written very late one night with my mates. My publisher has this unbelievable recording set up in an Airstream on the eastern coast of Australia. It's the best place on earth to get writers block. The solution was alway to grab a cold beer and go clear your head on the beach. After about an hour staring at the moon, my head is always full of ideas. Unfortunately, on that particular night, my head was full of something else ….. and being true to my journey – – I wrote a song about what was in my head that night …… too much beer.  
I personally love "Down Side of Up." You create a whole vibe and tale in barely two minutes. How did this song come to be?
Jack Gray: "Down Side of Up" is a fun song. I almost didn't include the record on the EP because there is a second half to that song that just wasn't ready to share with the world. It's a song about having something great happen to you – – in this case, I found a girl I was really into – – but every "up" emotion has a downside ….. and again, in this case, she didn't know who the hell I was, hence, the "Downside" of being "Up". The second half of the song is the "Upside" of "Down" but I'm not in love with it yet, so who knows it may never see the light of day. But I will say, I'm deep into rehearsing for my first headline tour, and I've worked in a new bridge that going to be dope live. It might be one of my favorite parts of the set. We'll see, check in with me on the 30th of June and I'll fill you in.  
"Bullet" creates this sensation of late night intimacy in a song that's either about losing yourself in your work and being disconnected from friends, or about suicide.. or both. How did you start this song; did you know what you wanted to say and write about?
Jack Gray: I think I mentioned before, this song is super important to me. It's a record that deals with a particular time in my life that was rough. The town I grew up in fell on tough times and for a number of reasons, an unusual number of young people chose to take their own lives. I was with my mom in town, and standing in line at a coffee shop, and I overheard a conversation where a relative of one of the victims used the word selfish. It threw me because I never imagined someone would be called selfish when dealing with overwhelming depression or despair. I just couldn't reconcile it. So I set out to write a song about both sides of that emotion, both sides of that person's journey and the journey of those around them.  
Your EP ends on a heavy note with "Take Our Time," a somber reflection on some of the darkest themes in the whole record. The beauty of this song is how it can relate to every form of loss, so my question to you is, how did you come to the conclusion of the chorus? What inspired those words and why do they mean so much to you?
Jack Gray: I love that you interpret "Take Our Time" as heavy. Emotionally, that song is the happiest song on the album. It's a song about the hopeful side of a long distance relationship, that to make something special work, you simply can't move too fast, make choices that don't have the best interest of both people in mind. We all have friends and love one's who live far away from, but I'm a big believer in the idea that if it's meant to be, it will be. And to me that's hopeful. My friends have always called me the optimist in my group, so I imagine I wear that label with pride.  
What's the significance of ending the record with "Take Our Time?" Why leave there?
Jack Gray: I ended the EP with that song because it's the most simple. Musically, the song is very pure to me.  
Jack Gray: Thank you for saying that. It means a lot to me when people hear the songs for the emotions I was feeling at the time I wrote those songs. But I think the aspect that I'm most proud of is that every sound you hear on this EP was played by me.   I produced every song. I wanted this first EP to feel like an embodiment of my musical journey up to that time in my life. While I'm so lucky to be able to travel the world, perform these songs, write and collaborate on new songs with people who have much more experience than I do, it was important that this EP be all me. I started this journey alone in my bedroom in Mackay, Australia, and it was important that this EP sonically said that to me as a musician, songwriter and producer. I might be the only one that hears it, but that's okay, it felt right.  
Who else should folks be listening to, whether friends of yours locally, or other artists you're personally discovering these days?
Jack Gray: Rex Orange County, Role Model, The Temper Trap. It's such a great time in music – it's so much easier to discover great bands and great songs.  
Thanks so much, Jack! Last question: What should folks listening to your EP for the very first time know about it, as they begin their journey?
Jack Gray: I can only hope listeners are inspired, whatever that means to them. I never want to tell people what to think or what to feel, I can only put my own experience out into the world.
— —
? © Allegra Messina
:: Stream Jack Gray ::