On finding inner peace and solace in the present, UK singer-songwriter Matt Maltese explores 'Driving Just To Drive,' reflecting on his unique place in the world and what makes human existence meaningful.

Stream: 'Driving Just to Drive' – Matt Maltese
---
Defining happiness is an elusive and subjective task.
Without a concrete definition, attaining happiness feels like an unrealistic, utopian goal — that is, until you realize that what you're actually searching for is a balance between peace and progress. For Reading-born, London-based Matt Maltese, the pursuit of happiness is still ongoing, but he's getting there, and that's what gets him through his days. Though it's a feat much easier said than done, finding joy is not as complex a process as one might think, and as Maltese discovered, true happiness is closer to reality than far-fetched ambition.
Exploring themes of love and life across eleven tracks, Matt Maltese's fourth record is more than meets the eye. A sonic storybook of personal nostalgia and self-continuity, Driving Just To Drive (released April 28, 2023, via Nettwerk Music Group) provides a sincere glimpse into Maltese's past and examines how it's shaped his present. Marking the beginning of a new chapter, but it's not quite the end of an old story, Driving Just To Drive is a natural continuation of the singer-songwriter's artistic and personal growth, as he links self-discovery with universal truth.
Embracing the highs and lows of life and finding magic in the mundane minutiae, LP4 highlights Maltese's penchant for melancholy rumination, with occasional moments that take a turn for the more optimistic. An homage to his hometown of Reading and a nod to his youth, he reflects on the things that have changed and the things that haven't. Bridging sentimental memories with present identity, the singer-songwriter has found peace with who he was, and as a result, is coming to understand who he is and who he's yet to become.
Maltese isn't one to shy away from vulnerability and existentialism, and this proves true not only in Driving Just To Drive's lyrical content, but also in what he shares in our thirty-minute conversation. "I think we are mostly made up of the love we give as people," he reveals. "Do we help the human experience around us? Do we give experiences? Do we share experiences? Do we give kindness? Are we generous in spirit… The human experience is incredibly serious, but it's also insanity…  it's finding that balance where you have to not sweat the small stuff, but also take life seriously, as much as you can take it seriously."
Despite his introspective nature and philosophical propensity, he doesn't claim to have all the answers, much less all the "right" answers.
There's really only one thing he's certain of: It's the little things that count.
"The tiny things are really good," Maltese admits. "Not looking for such a big answer to life is quite key. Whether it's happiness or peacefulness, I think it's about accepting the spirit inside you and working with that, rather than trying to change the actual core of yourself. That would be impossible."
Living in the moment is not a bad thing, and as the artist has learned, joy can be found everywhere, every day. Signing in from Atlanta, Georgia, Matt Maltese indulged Atwood Magazine in a refreshing conversation on where he'd "Drive Just To Drive," the music/social media nexus, and what keeps him grounded in a world of groundlessness.
— —
"Driving Just to Drive" – Matt Maltese
A CONVERSATION WITH MATT MALTESE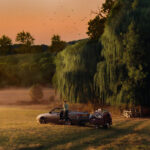 ATWOOD MAGAZINE: YOU JUST PLAYED AT SHAKY KNEES FESTIVAL IN GEORGIA, WHICH I'M PRETTY SURE WAS YOUR FIRST APPEARANCE SINCE RELEASING "DRIVING JUST TO DRIVE." WHAT ARE YOUR FEELINGS POST-RELEASE, AND HOW HAS THE RECEPTION BEEN?
Matt Maltese: That's right! A lot of relief. It's quite nice, especially when you've had something to yourself for so long, and you kind of feel like the songs even grow a bit old. When you put it out, it's just this whole new lease of life. It's nice when you get very nice things said about it. I feel like the reaction has been lovely from my listeners. I feel pretty relieved.
YOU'VE GAINED THIS POSITIVE REPUTATION AS A FIGURE OF GRIEF AND YEARNING AMONG FANS, SINCE MOST OF YOUR WORK REVOLVES AROUND THE THEME OF LOVE. GIVEN THAT YOUR LATEST ALBUM REFLECTS ON PERSONAL FREEDOM, DID YOU FIND YOU HAVE A PREFERENCE FOR SONGWRITING ABOUT LOVE AND HEARTBREAK? ARE THESE THEMES EASIER TO WRITE ABOUT, MORE FAMILIAR, OR DO THEY INSPIRE YOU DIFFERENTLY?
Matt Maltese: In the Western world, at least, the matters of the heart are the only really painful things that our hearts go through. I'd say that love and heartbreak are very big things in my life. They're truly the core of our experiences as living beings. I can't think of anything else I'd rather write about. Most songs out there are interlinked with love. Love is just there, whether it's a love of a feeling or another person. I think I may be quite a bit more explicit about it.
FOR YOU, IS LOVE SOMETHING THAT'S TOO MUCH OR NOT ENOUGH?
Matt Maltese: It's all we have, so I think it has to be enough.
YOU'VE MENTIONED THAT YOU OFTEN FIND YOURSELF LIVING IN A BUILDING-BLOCK MINDSET, WHERE YOU HAVE TO COMPLETE ONE TASK IN ORDER TO MOVE ON TO ANOTHER, AND SO ON. DO YOU THINK YOU'VE GROWN FROM THIS MINDSET AS TIME'S GONE BY, OR HAVE YOU EXPERIENCED ANY MOMENTS OF FEELING STUCK IN THE PROCESS?
Matt Maltese: I'm constantly trying to find that balance like everyone is. There are a lot of predetermined ideas we have about our lives that we have to reinterpret and change. I think the healthiest thing is to be open to any outcome. I try to live by that as much as possible. I still definitely do things to help the version of myself tomorrow. Before, I just would get really nihilistic if I didn't think about tomorrow at all, but you don't have control over something past a certain point. That's something I'm definitely always trying to be wary of.
WHAT WAS THE HARDEST PART ABOUT CREATING THIS RECORD?
Matt Maltese: Every time I make records, the hardest part is finishing stuff. It's just the worst. It's so hard to turn the page on something and be like, "This is how it's gonna be." I find it just as hard every single time. But, it wouldn't be worthwhile work if it wasn't difficult.
YOU ALSO COLLABORATED WITH A PRODUCER FOR THE FIRST TIME IN A WHILE. HOW HAS THIS AFFECTED NAVIGATING THE CREATIVE PROCESS?
Matt Maltese: It definitely helped the recorded side of the record — having someone who has a wealth of expertise that I don't and has their own style. I like Josh's style, and we have a similar mindset about things. It was an extra bit of support through the record and a pair of ears that I really trust. I still feel like I was incredibly obsessed with the recording side, and I can never fully let go, but I did a pretty good job at letting go a bit.
WHEN YOU'RE WORKING WITH SOMEONE ELSE, HOW DO YOU ENSURE THAT WHAT YOU WANT TO COMMUNICATE REMAINS EMOTIONALLY AUTHENTIC?
Matt Maltese: I never really collaborate on lyrics, and I think that's the core of the emotional authenticity, as you say. I guess that is quite a given with the process, even when I have someone I'm with. Another thing is just constantly having conversations and being transparent about what you like, what you don't like, what is you, and what isn't you. It's really hard to say those things and feel those things. It's a lot easier now, four albums in, to know what feels like me and what doesn't. But, I'd say that's been a process, one that everyone sort of has to go through. A lot of people have to have a strong idea of what they are right at the beginning, which can be hard.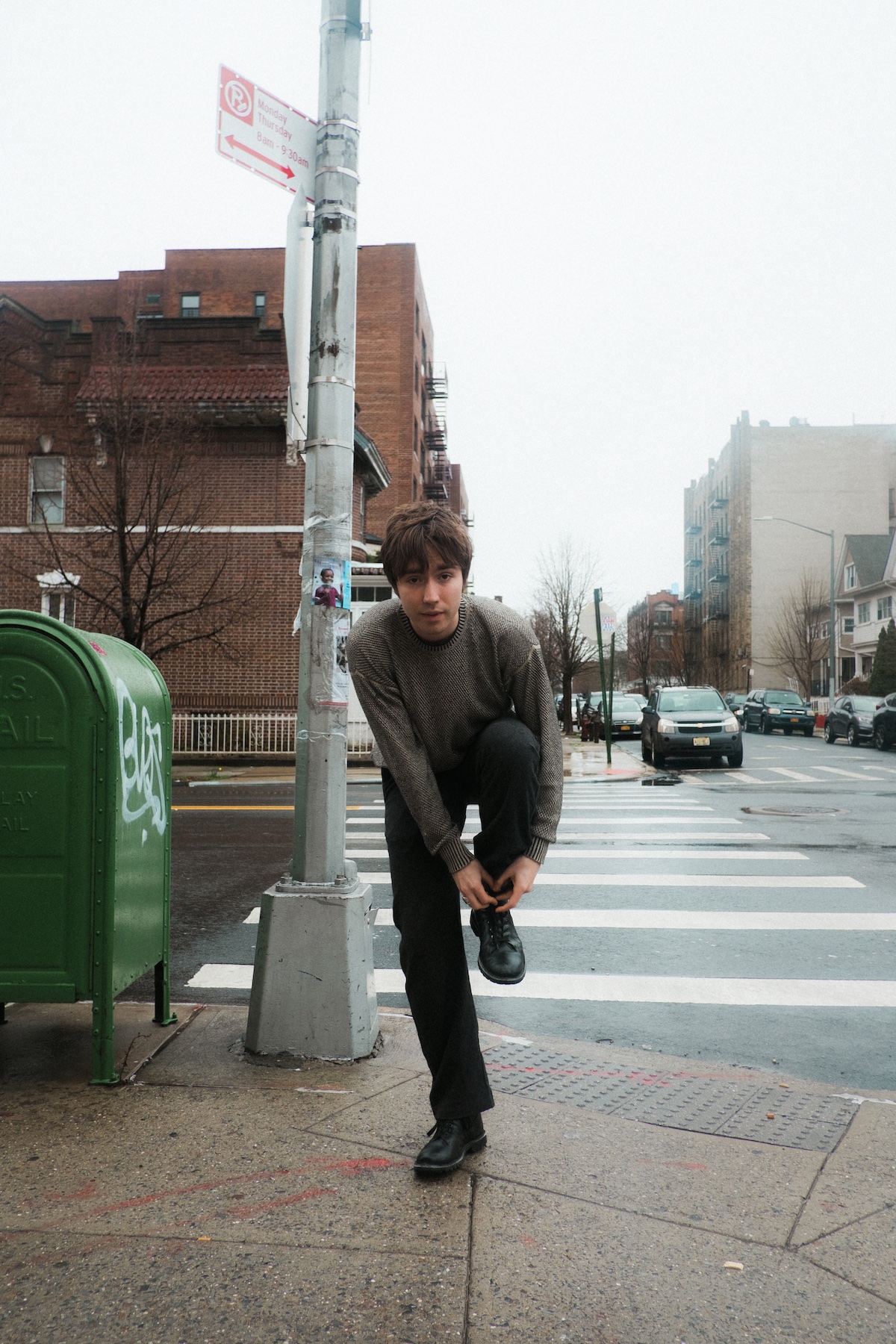 WOULD YOU SAY THE EASIER PART WAS COMING UP WITH AN IDEA FOR THE SONG, BUT THE HARDER PART WAS FINISHING?
Matt Maltese: Oh my God, definitely. I feel like coming up with ideas is the fun part, because it sort of can be anything when you're coming up with them. That's exciting! The labour comes in finishing stuff, and even finishing the writing. Sometimes you can write 75% of the song and think it's great, then there's just the painful 25%.
THE SONG TITLE "IRONY WOULD HAVE IT" SOUNDS PRETTY LIGHTHEARTED, BUT IT OFFERS A RELATIVELY PERSONAL INSIGHT INTO YOUR PAST. ONE OF THE LYRICS WAS, "LIFE CAN FILL YOU WITH FEAR / BUT IT AIN'T JUST SUFFERING." I THINK IF WE WERE HONEST, THOUGH, THERE'S STILL BEEN A GOOD AMOUNT OF SUFFERING. WHAT ARE A FEW THINGS THAT ALLEVIATE YOUR FEARS (EVEN IF JUST MOMENTARILY) AND WHAT ARE A FEW THINGS IN YOUR LIFE THAT YOU APPRECIATE RIGHT NOW?
Matt Maltese: Good question. There is so much suffering. It's just a funny world right now, and I think trying to make my thoughts smaller helps me not think so much about everything all at once. Just focusing on being kind to your community, whether that's a community of friends, or a town you live in, or the person you're with, or your family, and trying to give as much as you take. When you need to switch off, escape, and not think about stuff, it's not a bad thing. Everyone's allowed to check out a bit when they need to. It's balance. It's knowing your limits of how much you can be emotionally involved with the issues that surround you — being very real about those boundaries. None of us are useful if we all just have nervous breakdowns. We need to find our limits, work out how much we can help, and find where we have to draw the line with the people close to us or with world issues. There's so much.
DO YOU THINK THAT'S SOMETHING YOU LEARNED THROUGH MAKING THIS ALBUM, OR DO YOU THINK IT'S SOMETHING YOU'VE LEARNED THROUGHOUT YOUR ENTIRE CAREER?
Matt Maltese: That understanding has come over the last few years, for sure. A lot of the third album, and COVID especially, was a turning point for me and all of us in this in this generation. A lot of those thoughts I just expressed started forming around that time, when it truly was all too much to comprehend and deal with for everyone.
DESPERATION TO FIND YOUR PLACE IN THIS WORLD IS A VERY UNIVERSAL FEELING. I'M SURE MANY OF US WERE ABLE TO RESONATE WITH THE QUESTION YOU ASK ON "WIDOWS," BEING, "WE'RE BORN ON EARTH, AND THEN WHAT?" WHAT DO YOU BELIEVE YOUR PURPOSE ON THIS EARTH IS IF YOU FEEL THERE IS ONE?
Matt Maltese: I think we are mostly made up of the love we give as people. Do we help the human experience around us? Do we give experiences? Do we share experiences? Do we give kindness? Are we generous in spirit? I think those are some things that you can be sure of. I think being more selfless is definitely the whole point of human existence. It's still an open question for me. The human experience is incredibly serious, but it's also insanity. It's a one in a trillion chance that we genetically evolved to be what we are, to be conscious, and to know of our existence. That's a very strange thing, all these ideas of what you leave behind. You can look at them in a really existential, nihilistic way, like, "Well, in 10 million years, we might not even be around, so what does it matter what I do?" But, I think it's finding that balance where you have to not sweat the small stuff, but also take life seriously, as much as you can take it seriously.
IS IT DIFFICULT PUTTING ART INTO THE WORLD ATTACHED TO SUCH PERSONAL AND INTIMATE EMOTIONS AND EXPERIENCES?
Matt Maltese: I'd say it's what I signed up for. Vulnerability to the public is definitely a complicated emotional process. I definitely think that it's hard, but it's as hard as most jobs are for everyone as well. Part of the difficulty of this job is that you have to reveal things you don't want to reveal to yourself, but that's the whole point. I'm useless in this job if I don't do that as well.
THOSE PAST FEW QUESTIONS WERE SUPER LOADED, SO I'LL VEER OFF THE ROAD AND ASK ABOUT SOMETHING MORE FUN. A FEW YEARS AGO, YOU WROTE A LOVE LETTER TO WILL SHARPE. IT BEGAN WITH, "I THINK THIS IS MY FIRST LOVE LETTER," AND ENDED WITH, "WAITING IMPATIENTLY FOR WHAT YOU DO NEXT." HAVE YOU SEEN HIS ROLE IN WHITE LOTUS?
Matt Maltese: I did! Good question, I'm glad you've read that article. I love him. I also love Aubrey Plaza, so it was like the perfect dysfunctional relationship.
WHAT DID YOU LIKE MOST ABOUT THE SHOW?
Matt Maltese: I mean, so much. I really liked the first season, but I think the second season being set in Sicily was incredibly special. This is everyone's answer, but, spoiler alert, Jennifer Coolidge's character arc and the way in which her story ends were just incredible. It was such an incredible twist, and such a haphazard, stumbled, ridiculous ending. She's kind of my favourite part of that whole show. What can I say that hasn't been said about Jennifer Coolidge? Amazing, amazing show.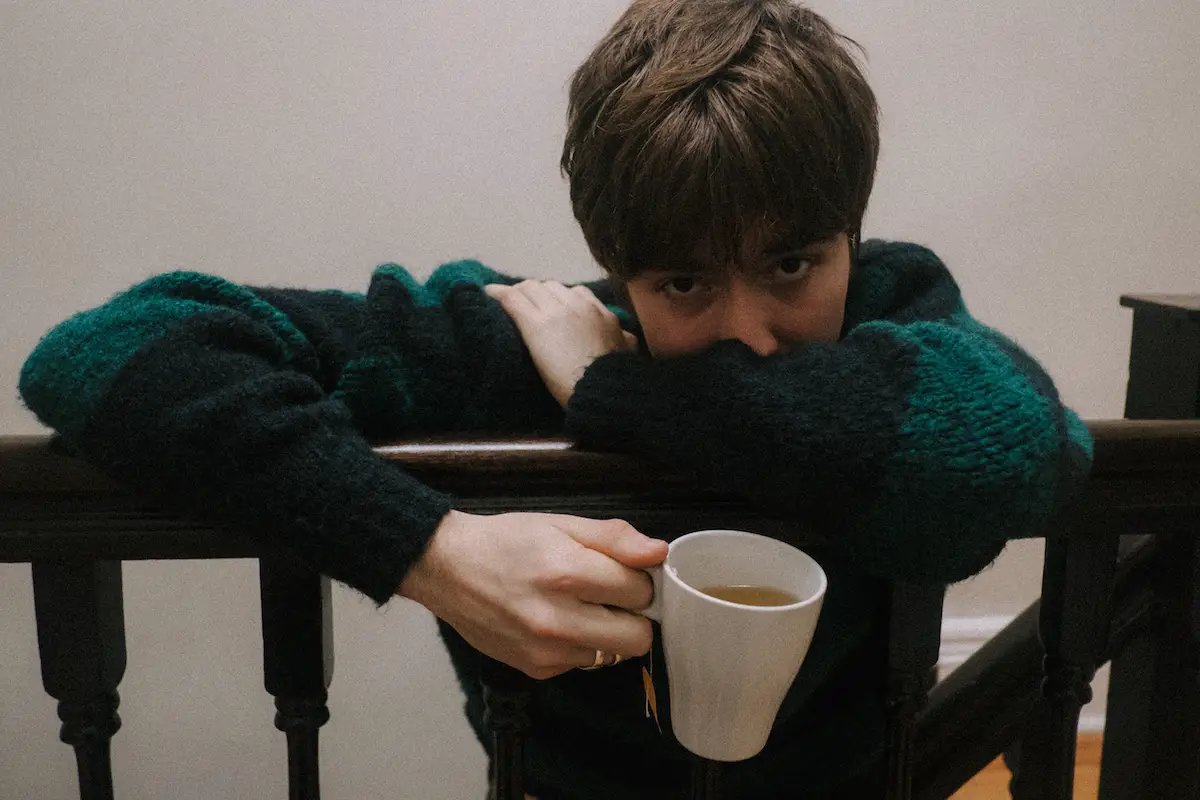 AND, BACK TO THE TOPIC OF MUSIC. YOU PREVIOUSLY MENTIONED THAT THE SUCCESS OF YOUR MUSIC AND HOW IT WENT VIRAL FELT REALLY RANDOM. DESPITE GETTING RECOGNITION FROM PEOPLE LIKE V OF BTS, HAVE YOU EXPERIENCED FEELINGS OF IMPOSTOR SYNDROME TOWARDS YOUR WORK AND HOW FAST YOU GREW?
Matt Maltese: I definitely worked through those feelings a lot. I didn't necessarily feel them more when I had sort of pop stars saying they liked my music, mostly because it was quite old music from three or four years ago as well. Who knows why that didn't aggravate that feeling? I think I more feel impostor syndrome when I actually think about my job and the fact that my friends don't get to get up and write a song, and that be their job. That feels undeserved sometimes, and it just feels like a really lucky genetic lottery that gave me the ability to do that. And then, of course, the lottery of just existing as a middle-class person. I think being allowed to explore this career and having singing lessons as a kid is where the imposter syndrome comes from, rather than Doja Cat and V saying they like my music.
WHAT ARE YOUR THOUGHTS ON THE ROLE OF SOCIAL MEDIA IN MUSIC'S ATTAINMENT OF SUCCESS?
Matt Maltese: I do think about this a bit. I think that there are such wonderful things that have happened because of it. Obviously, some things have aggravated some pretty unhealthy behaviors and feelings. I find that the thing I hate the most about social media is the time hole it is, even if you're really conscious of not spending that much time on it. It's staying in all of our lives. The way it has opened up opportunities is second to none as well. Before, for people to be discovered, it was a lot more about connections or contacts. To break artists, it was about paying lots and lots of money to things like radio and press. I love that TikTok has blown all of that wide open. But, I'd also say that it also increases the need for celebrity to be attached to the art. I just think that some of the most wonderful music was made by people who are quite introverted, shy, and don't necessarily appear to know how to use social media in a way that will increase their awareness. There are absolutely people who have suffered and people who have gained. It's difficult to say, "Is the internet bad or good?" because it just exists. We have it, and it's about how we change our relationship with it.
ON YOUR LATEST PROJECT, DRIVING JUST TO DRIVE, YOU EMBRACE THE SENSELESS AND ENJOYABLE MUNDANE OF EVERY DAY. WHERE WOULD YOU DRIVE TO FIND THE MOST PEACE OF MIND AND HAPPINESS?
Matt Maltese: It's mainly based on this one drive I used to do back home in Reading. I would drive through Caversham, then past this long road to Maidenhead through Shiplake. It's like a proper home county drive-through. Lots of green space, old houses, and grand architectural houses. It's almost past George Harrison's house. I think that's because that's the general area I grew up. That is the one that I can't replace because I just have so many memories and nostalgia attached to it. The "Driving Just To Drive" video is basically a section of that drive. I filmed the music video for "Mother" around that area with my mom. I definitely tried to make some of the content link with this album and be true to where I'm singing about.
PEOPLE WHO'VE BEEN LISTENING FOR A WHILE KNOW THAT YOU'VE PERFORMED PARTS OF "HELLO BLACK DOG" SINCE AROUND 2018 OR 2019. THE CHORUS IS SUPER INTENSE AND EERIE, WHICH IS SIMILAR TO "AS THE WORLD CAVES IN." WHAT DO YOU THINK MADE YOU FEEL THE MOST HOPELESS DURING THE TIME YOU WROTE IT?
Matt Maltese: I think we kind of repress these feelings. That song is written in such an intense way that I almost can't remember feeling that intense. It's the same with "As The World Caves In." I think we all have these really intense windows, and then we kind of just push them out a bit. At that time, I was younger, and I definitely felt a bit more helpless. My mechanisms to approach the world weren't as strong as they might be now. I'm not saying that I'm totally devoid of melancholy and sadness sometimes, but I also think that there's something ridiculously melodramatic about that song in a funny way. That was almost my way of trying to tackle it. It was like, "Be the most intense, make the most intense piece of music," and that almost makes it all okay. I'm glad it exists, and I hope that acts as one of those songs we go back to that are just so incredibly intense and bombastic. Something like "Nothing Compares 2 U" by Sinéad O'Connor, which is such a big and kind of ridiculous song. I definitely like songs like that, so I'm happy it's on this record.
MANY OF YOUR SONGS CARRY AMBIGUOUS MEANINGS AND ARE OPEN TO INTERPRETATION. DO YOU EVER FEEL ANXIOUS ABOUT HOW YOUR MUSIC MIGHT BE UNDERSTOOD? ARE THERE ANY SONGS THAT YOU DON'T WANT PEOPLE TO MISINTERPRET, OR ANY SONGS THAT YOU THINK ARE BEST LEFT UNSPOKEN FOR?
Matt Maltese: I don't feel too bothered by how people interpret things. I kind of feel like it's none of my business. I like to explain the process often, but I also feel like explaining the subject matter and what I meant by that is almost doing what the song is supposed to have done. Whatever the song does to you and makes you think of, that's as much of a job as it can do. I think the footnotes of me saying what it should be is a pointless exercise, which I have never tried to do to anyone.
IT'S COMMON FOR YOUR ALBUMS TO INCLUDE SONGS ABOUT HEARTBREAK OR THE COMPLEXITIES OF LOVE. "BUT LEAVING IS" DIVES INTO THE INTRICACIES OF ROMANTIC DISAPPOINTMENT, WHICH LEADS ME TO WONDER HOW YOUR PERCEPTION OF LOVE HAS CHANGED OVER TIME.
Matt Maltese: I've just gotten older. Everyone has a different relationship with especially romantic love as they get older. I've had my time exploring different ways of having romantic love in my life. Maybe I feel a bit more mild-tempered with that. I think that it's never just love that brings us together in a romantic sense. It's life outlook, it's how you go about your day, your circumstances, your background, what you carry with you, and what you don't. I guess I'm a bit more aware just from being older. Just love alone isn't enough, but it's obviously such an essential part of it. There are so many other variables.
WHAT IS SOMETHING PRESENT YOU WOULD OR SHOULD SAY TO PAST YOU, IN THAT REGARD OR ANY OTHER REGARD?
Matt Maltese: Try and relax. That is what I'd say.
LAST, THIS ALBUM IS A RECOLLECTION OF YOU GETTING CLOSER TO FINDING HAPPINESS. IT'S GREAT THAT YOU'RE COMING TO FIND PEACE WITHIN YOURSELF. WHAT HAS HELPED CONTRIBUTE TO THIS HAPPINESS, AND WHAT WOULD YOU SAY IS YOUR FORMULA FOR EMBRACING JOY?
Matt Maltese: The tiny things are really good. Not looking for such a big answer to life is quite key. Whether it's happiness or peacefulness, I think it's about accepting the spirit inside you and working with that, rather than trying to change the actual core of yourself. That would be impossible. As much self-awareness as possible is important so that you can feel the most comfort in your skin and body. That's something that is constantly hard to do in a world where we're aware of so many narratives, people, and celebrities. I mean, it's not something that I've mastered. I definitely haven't mastered happiness, but looking for the tiny joys, doing what you can, and reminding yourself that you've done great for existing another day helps.
— —
— — — —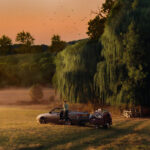 © Reed Schick

:: Stream Matt Maltese ::
---