London duo Joseph Lawrence & The Garden mesmerize with debut single "Eclipse," showcasing their unique and eerie sound.
— —
Streaming services give listeners an unfathomably endless amount of music to listen to, so it takes something special to stand out. Joseph Lawrence & The Garden's debut single "Eclipse" (06/01/2018 via Bettini Records) does just that by creating a track that interlaces intricate production with an unyielding soulful vocal. It's exceptionally rare that a debut track has such an intense sense of identity and magnetism.
Something like an eclipse
You came and then left
You ran away with my love
The rare sight of your grace
Is something I can't
Explain, come again
"Eclipse" – Joseph Lawrence & The Garden
---
Joseph Lawrence & The Garden is comprised of vocalist Joseph Lawrence and instrumentalist Gibbi (The Garden), who met by chance a few years ago. It's evident from this track alone that this partnership was meant to be. The duo have such a deep understanding of each other, with this track's instrumentation perfectly complementing Joseph Lawrence's intense, impassioned vocal.
my love burns for you
My love yearns for you
I haven't slept, only wept
Like an eclipse
Came then you left
my love it burns for
My love it yearns for you
I haven't slept
Only wept thinking of you
The track's video explores vocalist Joseph Lawrence navigating different ways of dealing with losing a lover set within a modern apartment. Beautifully shot and supremely stylish, this is a textbook example of a video which is itself a work of art but doesn't detract from the song itself in any way. Key lyrics are represented throughout the video in a seamless way, both hinting at their origin and emphasizing their importance in the context of the track.
Influences from the likes of Kendrick Lamar and James Blake can be found throughout the track, with a particular homage paid to James Blake's intoxicatingly haunting style. Although, the duo makes their influences apparent in their work, like the two aforementioned artists, Joseph Lawrence and The Garden manage to craft a sound that's as exceptional as it is unique.
Like the white behind the dark
You hid from reach
So unaware of my
Dying need for your essence
Without you I'm
Weak, Cold all alone
I kept the sheets in the bedroom
In case you'd appear
The ones you love
You were never a stranger
You were warmth
You was love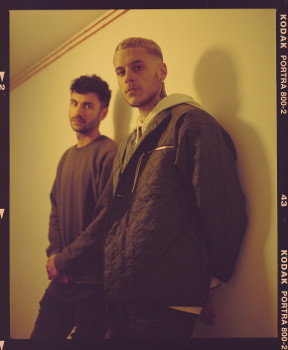 One of the most striking features of "Eclipse" is the overlap of vocals on the chorus, which serves to create a sense of undeniable confusion. This acts as a powerful metaphor for the bewilderment and befuddlement that plagues your mind while going through a break-up while also sounding sonically satisfying.
Joseph Lawrence & The Garden recently played a sold-out show at London's The Islington, having only released this track, showing the demand for their unique enchanting sound. You can almost hear that the duo produced the track themselves through the strength of the understanding of their sound that's evident throughout the track.
'Eclipse' offers an intoxicating introducing to Joseph Lawrence & The Garden, and sparks interest to see what they decide to release next. If their next track manages to retain the astounding production and uniqueness of "Eclipse," then it'll surely be another triumph for this emerging duo!
— —
— — — —
? © 2018
:: Joseph Lawrence & The Garden ::