Dallas-based singer/songwriter Juliana Madrid dives into the vulnerable, visceral depths of her self-titled debut EP, an achingly intimate and unapologetically raw coming-of-age record.
Stream: "Pretend" – Astronaut
---
Achingly intimate and unapologetically raw, Juliana Madrid's debut EP is a vulnerable and visceral indie pop unveiling: Radiant and tender, cinematic and stirring, the self-titled Juliana Madrid EP delves deep into the singer/songwriter's depths to reveal a singular artistry. Coming of age with a fresh voice, an open heart, and an ear for irresistibly catchy hooks, Madrid has all but ensured we'll be paying extra special attention to her in the months and years to come.
When I walk in I know
I'll be standing on my own
Then I got lost in your face
Even though its not my particular taste
Well I figured if I go i'll catch a ride
with her, you know
Ill get us out and get us in
Don't worry we'll play pretend
Missionary is alright
Don't be scared its just tonight
I figured Mary's got a ride
To the place going now
Released August 29, 2022 via Neon Gold Records, Juliana Madrid EP is a dynamic, cathartic, and deeply personal introduction. A 21-year-old singer/songwriter from Dallas, Texas, Madrid fuses indie folk, alternative, and pop influences together into spellbinding songs rich with heart, melody, and perspective. Having only debuted earlier this year, this self-titled EP – produced by GRAMMY nominated artist Benjamin Ruttner (½ of electronic duo The Knocks) – truly is the first longform expression of who she is and what she's capable of.
"My EP is basically a giant diary entry," Madrid tells Atwood Magazine. "It touches on recent heartbreak, religion, feeling alone, and partying. All the ingredients are there to make up who I am today, and the story of me is the only one I was trying to tell with this record."
"It was really just to make music that I loved and that felt genuine to who I am," she says of the process. "That vision never changed, and I could not be happier with the outcome. I feel like I kind of touch all the bases musically, having some more rocky songs and then the more sad, acoustic ones. Obviously I am a very new artist still figuring myself and my sound out, so having this versatility early on makes me really excited for the future of my music and where it will go."
Used to drive down south
Put your fingers in my mouth
We were drinking, seventeen
Now it's rinse, repeat
Treat my body so routine
Did you see it, losing me?
If I'm too young to fall in love
Then tell me what the fuck that was
You can find another hero for your cause
I'm done let me off the cross
Don't crucify me
It's all so underwhelming
And I want a refund
'Cause nothing really happens for a reason
And I'm no savior
– "Savior," Juliana Madrid
From the EP's electric, hard-hitting opener "Pretend" and the soaring, high-energy songs "Savior" and "Peppermint," to the more subdued emotional outpouring "Astronaut," the stirring religion-rejection "Madonna," and the contemplative acoustic closer "Clover," this EP has a little something for everyone: Lovers of searing rock anthems, gentle pop ballads, intense inner reckonings, and all the in-betweens are sure to fall for at least one of Juliana Madrid's songs.
"Madrid wears her heart on her sleeve in song; she holds nothing back in a confessional outpouring of raw, unfiltered and honest reckoning," Atwood Magazine wrote in adding Madrid's hauntingly intimate song "Astronaut" to our 68th Editor's Picks.
"Few songs process personal growth in real time with as much emotional intelligence as Madrid brings to "Astronaut." In under five minutes' time, she unpacks her mistakes and delves into the ramifications of her actions and behaviors while reflecting on the utter fragility of intimacy and love… ultimately coming to the poetic conclusion, 'I knew I had athletics to lie, but didn't know I'd jump so high.' It's a powerful admission of fault, and just the kind of acceptance she needs to allow for growth and evolve into a better version of herself. "Astronaut" doesn't blast off into space; in fact, it dives headfirst into human depths. Even though she stays firmly grounded on earth, Juliana Madrid soars in this song."
I'm selfish as sh*t and concerned with perception
how people would think of me now
the nuance in truth removed for your protection
makes it all so one sided and shrunk down
and if you ever meet a real astronaut
afraid of walking on the moon
he'd understand me an awful lot
and why I hurt you
---
For her part, Madrid cites EP opener "Pretend" as a personal favorite from both a music and lyrics perspective – although it's an admittedly tough call. "Picking a favorite song is like picking your favorite child," she laughs, "but I will say 'Pretend' is the most fun to dance to. My favorite lyric is "missionary is alright" from [that] song… With the lyrics, I wanted to capture that feeling of walking into a party and knowing absolutely no one but your one friend who invited you out. But you're there, you find someone to commiserate with, and choose to actually for once have fun even, if you have to fake your way through it at the beginning."
From end to end, the Juliana Madrid EP is an exhilarating, and very special, introductory EP. Madrid sets the air on fire with her energetic beats and charismatic vocals, displaying a wisdom far beyond her years and ultimately lighting an inspiring fire within her audience that lingers long after the music's over. As she sings in the fervently charged "Peppermint," "Ignorance is pretty but it's never really bliss, is it you or all the chaos I miss?" Coming-of-age anthems never felt quite this delightfully dramatic and utterly raw.
Lookin' like a stranger
Think you dyed your hair
I know it isn't major but I still kinda care
Ignorance is pretty but it's never really bliss
Is it you or all the chaos I miss
Man, I wake up and I pinch my skin
Yeah, I watch the color rush back in
The scent, of jealousy and peppermint
I can taste it, can you taste it, when I look at you
– "Peppermint," Juliana Madrid
"My only hope for anyone who listens to any of my songs is to leave them with a feeling, whatever it may be," Madrid shares. "Even if they hate it. I'd rather that than any apathetic attitude towards the music. Throughout the creation of this EP, I think the most important takeaway for me is learning that balance of taking others advice versus trusting my gut. It is really tricky sometimes when you get the opportunity to work with such great artists to remember that you are good at what you do, and you wouldn't be here if you weren't."
Experience the full record via our below stream, and peek inside Juliana Madrid's self-titled EP with Atwood Magazine as the artist goes track-by-track through the music and lyrics of her debut!
— —
Stream: 'Juliana Madrid EP' – Juliana Madrid
:: Inside Juliana Madrid EP ::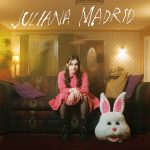 — —
PRETEND
This song is really special to me because it was written completely remote with my producer Ben. It started from this simple drum beat he had sent me. Instantly I picked up my guitar and started playing this progression and melody with these lyrics that started to flow out. It is SO rare for me (and I think a lot of musicians) to get that instantaneous connection and love for a song that hasn't even been fully written yet. With the lyrics, I wanted to capture that feeling of walking into a party and knowing absolutely no one but your one friend who invited you out. But you're there, you find someone to commiserate with, and choose to actually for once have fun even, if you have to fake your way through it at the beginning.
SAVIOR
Savior was written when I was fresh out my first long relationship. It's about having this intense love that slowly fades after realizing how much you have been giving up of yourself throughout it. You know there will never be enough to give to this other person, and it has left you drained. It then develops into an apathetic attitude towards this fading love, eventually leading to the end.
PEPPERMINT
In this song I wanted to convey all the feelings u can have from just a single moment. In this case – a brief interaction with an ex lover – how weird it can be to see someone out of the blue u knew so well, now as a near stranger. For the writing process, this song started with the line "I pinch my skin just to watch the pigment rush back in," an old lyric of mine I hadn't been able to place in any other song. To me this line is a simple reminder that you're alive. To appreciate where you are and to be in the moment- something I often forget.
ASTRONAUT
Astronaut is a song about a young relationship, a first love. Learning how to communicate and the ground rules of a partnership with someone. Deeper than that, it's about taking a step back and acknowledging your own flaws. The music really emulates this with the minimal production at the beginning, eventually leading to this crescendo of heightened emotions once the strings and drums come in.
MADONNA
My producer Ben and I had been writing all day and didn't really get anything we liked. Towards the end of the night he put on this instrumental he had from a while ago and initially we both got really excited about it – we went outside for a bit to get out of the studio then came back in and immediately started writing to it. Overall, Madonna has this undertone of rejecting religion, but also the way I see it is this girl has a not so great significant other that keeps messing up and she's over it, but the other person is still trying to win her back despite the fact that they know they're holding her back. So she's kinda kicking herself in the head for it, but chooses to stay anyway as she's slowly giving parts of herself away, piece by piece.
SOAK
This song was written with my good friend Alex Winston and my producer Ben. Soak is arguably the most anthemic feeling tracks on my EP, which is ironic due to the subject matter. I like to think of it as this great anti-social anthem that I'm sure most people can relate to in one one way or another.
CLOVER
With "Clover," I had spent all day locked up in my room writing and really coming up with nothing. At around 1 in the morning, right before almost giving up, I started playing this progression. The melodies and lyrics sort of just came out with it. Sometimes with songwriting the meaning of the word vomit you spit out while working isn't always clear – and sometimes it never is until edits are made – but what a lot of people don't realize is that songwriters often assign meaning later rather than going into the session with one already in mind. So now looking back at the lyrics to "Clover," it really feels like this plea to my current self sent from my future self, saying, "Hey you're actually doing okay right now, let's not screw it up. Can we PLEASE just stay like this?"
— —
— — — —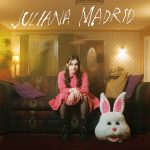 ? © Benjamin Ruttner
:: Stream Juliana Madrid ::
---