JØUR explores the weight and influence of her inner balance on debut 'Chiaroscuro', a dazzlingly fresh alt-pop album dwelling in darkness and reflection.
— —
Humanity is, at its core, a dynamic juxtaposition: We are selfish, yet selfless; strong, yet fragile; enduring, yet transient. Every one of us carries these opposing qualities that are reflected, to a greater degree, throughout the inner and outer workings of our society – but ultimately, it all comes down to the delicate balance within each individual. Minnesota's JØUR explores the power, weight, and influence of her own inner balance on debut Chiaroscuro, a dazzlingly fresh alt-pop album dwelling in darkness and reflection.
If you were here would it be more clear?
If you were here would it be more clear?
Every dream's just a nightmare
Blame the devil if you dare
I don't think I know what's right
Or even know if there's light
It leaves me wondering
I don't know how to touch your heart
Or how to reach you through the dark
It keeps me wandering
– "Wandering," JØUR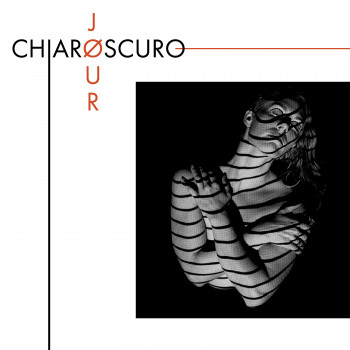 Atwood Magazine is proud to be premiering JØUR's debut album Chiaroscuro, independently out October 5, 2018. The moniker for Twin Cities multidisciplinary artist Jourdan Myers, JØUR crafts an urgent electronic/alternative pop sound with profound emotional breadth and depth. Since debuting a little less than a year ago, she has received buzzworthy praise for her powerhouse vocals and lyrical tenacity, which flow together through caverns of glistening synths and glowing guitars, heavy drums, and pulsing bass lines.
All told, JØUR has established herself as one of 2018's most exciting independent artists-to-watch, unveiling evocative and provocative songs in the lead-up to this moment – the highly-anticipated release of a record full of ambient and emotional thrust.
Per Merriam Webster, the term "chiaroscuro" refers to "the interplay or contrast of dissimilar qualities," and notably "the arrangement or treatment of light and dark parts in a pictorial work of art." It is also referred to as "the interplay of light and shadow on or as if on a surface" and "the quality of being veiled or partly in shadow."
JØUR could not have chosen a better word to describe her turbulent, emphatic debut. Writing yesterday on social media, the artist noted, "This is light and darkness. This is how light creates form from darkness. This is existing in the in between – not fully known, not fully hidden. This is Chiaroscuro."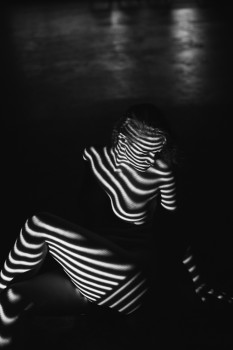 Opening with the rock energy and drive of "Black Hole," Chiaroscuro explores the descent into one's own inner darkness through loss and disruption. Her vocals are immediately gripping, dancing through sweet and fierce timbres with agile elegance. Yet her journey is just beginning: "One More Night" is a sweet, bittersweet reflection on a cherished relationship before its anticipated demise. JØUR's enchanting single "American Nightmare" offers a resonating rebuke to the American Dream, challenging us to confront our own failings as members of a greater community. In "Hollow Horse," JØUR continues to break down our personal bias and tendency to fool ourselves.
We weren't here yesterday
We were frozen
Somewhere in history
We were chosen
Beware the ground on which you stand
Dust storms are formed
from grains of sand
Don't make me turn the lights out
I'm scared of what I'll see
Don't wanna fall asleep
and have the American Dream
– "American Nightmare," JØUR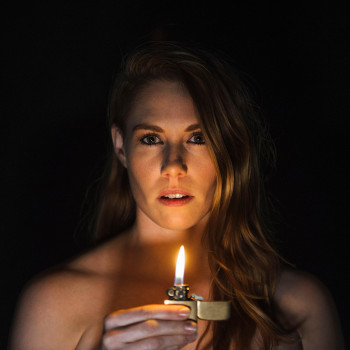 Many of Chiaroscuro's songs rest on layers mellow, dark, and ambient sounds, but JØUR proves she can cut to the soul just as easily through a stripped-down sound. "The War Inside," "Revolution," and her especially powerful closer "Wandering" send shivers down the spine through softer, acoustic soundscapes that further highlight her vocal prowess – and it is in these tracks that we fully grasp the might of this stellar, awe-inspiring newcomer.
Between the head and the heart, the light and the dark, the minimal and the massive, JØUR pushes us toward self-awareness and understanding. Her words are our words; indeed, they are anyone's to own. Whereas she may sing of one relationship, one night, or one moment, her musical musings on emotion and experience are intentionally obscure, allowing us to see life through her eyes and hear her music as though we, too, are its co-creators – delicately perched on the fence of darkness and light, dipping ourselves into one and the other as the scales tip in either direction. A touching and fiery debut, Chiaroscuro reveals the darkness in all of us, observing how it drives us, molds us, and shapes us into beings of light.
Experience the full record via our exclusive stream, and peek inside JØUR's Chiaroscuro with Atwood Magazine as the artist goes track-by-track through the music and lyrics of her debut album!
Stream: 'Chiaroscuro' – JØUR
:: Inside Chiaroscuro ::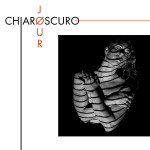 — —
Black Hole
Originally I wrote this song about a bad lover, who strings you along and keeps you hooked, when you should really just walk away. But the more I listen to it, I realize it can be about anything that you love that takes and takes and never gives anything back, including hobbies, jobs, friends, habits…the list goes on.
One More Night
This song anticipates the bittersweet end of a relationship, pretending for that one last night that everything is good and right, knowing you have to walk away.
American Nightmare
The American Dream as it has been defined for me, has proved to be my worst nightmare. Also, our country is living in its own version of the American Nightmare these days. Hopefully we wake up soon.
Hollow Horse
Pride comes before the fall. We can deceive ourselves, but the truth will catch up to us.
The War Inside
I don't want to come right out and say this song is about addiction, but I did care deeply for someone whose life was wrapped up in unhealthy coping mechanisms and it broke my heart. I knew I couldn't fix them, and they never wanted to be helped.
Danger Game
There is a painting by Klimt called "The Kiss" which to some in Austria, it's home country, is quite commercialized and cliché. However, when I saw it for the first time, it completely arrested me, and I knew I needed to create music in response. It took a long time to find it, but Danger Game is my musical response to this work of art.
Revolution
Oh my heart. This song is particularly meaningful to me in the society we face today. It deals with all the robust movements we find ourselves needing desperately to champion because of oppression, violence, and harassment. Find your own meaning from it, be it #MeToo, gun violence, immigration, or any number of dire issues in our world; however, I wrote "Revolution" specifically in response to minorities in my neighborhood being murdered by police.
Cut
Apparently there is a theme of unhealthy relationships in my life (which I am working on with professional help). And you can add this to the list of songs about partners I have trouble leaving, even when I'm being used, manipulated, or silenced.
Slip Away
I have existential questions.
Wandering
"Wandering" further explores my existential dilemmas.
— — — —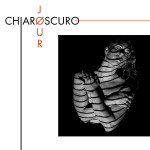 ? © Hilary Olson
:: Stream Chiaroscuro ::
---