Echoing with emotional disarray and life imbalance, Family And Friends' new single "PRSM" asserts bold dynamics and melodies as the band come into their own with a memorable, moving sound.
Nothing's lost, but something's missing…
— —
Prisms offer a special sort of naturally-occuring magic: In breaking light into its constituent spectral colors, they reveal a part of the world that exists beyond our grasp – a reality we are each a part of, but do not experience for more than the occasional and fleeting moment. How fitting, then, that a song named "PRSM" would represent a pivotal transformation for a young, rising band: Echoing with emotional disarray and life imbalance, Family And Friends' new single "PRSM" asserts bold dynamics and melodies as the band come into their own with a memorable, moving sound.
Close the blinds, and lock the door
You're not welcome anymore
Life is brief, and talk is cheap
But it's more than we can afford
You say we're wasting away our youth
I say we could all use a little time
Your mouth was asking for the truth,
Your eyes were begging for a lie
Listen: "PRSM" – Family And Friends
[soundcloud url="https://api.soundcloud.com/tracks/443853405?secret_token=s-sAqFO" params="color=ff5500&auto_play=true&hide_related=false&show_comments=true&show_user=true&show_reposts=false" width="100%" height="166″ iframe="true" /]
---
Atwood Magazine is proud to be premiering "PRSM," the latest single off Family And Friends' upcoming debut album, Felix Culpa (out June 8, 2018). Based in Athens, Georgia, Family And Friends identify as an "indie folk/rock collective," which was certainly true for their debut EP, but their new music falls outside any easily-definable space. Embracing the studio's instrumental capabilities and indulging in experimentation, the band's debut album is a dazzling, expansive explosion of intimate and frenetic energies. Consisting of Mike MacDonald (guitar, vocals), Casey Harper (vocals), David "Tuna" Fortuna (bass), Ryan Houchens (drums, vocals), Alejandro Rios (drums), and JP McKenzie (electric guitar), Family And Friends are a surefire artist to watch as they make their biggest splash yet this year.
If words alone won't convince you, then "PRSM" is an indisputable dealmaker. The song bursts with a warm radiance as the band narrate a story of instability and strife. Frontman Mike MacDonald sings with heavy-hearted confidence as he works his way through a dire situation:
Nothing's lost, but something's missing
Just an endless well to keep you wishing
Try, I try, but I can't make sense of it
Held it to the light to find,
I'm just another color in your prism
"Lyrically, most of my writing comes from what I'm going through at the time," MacDonald tells Atwood Magazine. "It's equal parts actively searching for something and passively giving the inspiration opportunity to manifest. At the time of writing this album and 'PRSM' specifically, I found myself in a period of intense questioning. The way in which I viewed the world was evolving and changing, and I had no concrete answers. Nothing seemed to make sense anymore. Everything seemed to fall on some constantly evolving gray scale."
He continues, "At the same time, I was struggling to balance work stress with deteriorating relationships and just felt overwhelmed by it all. For me, 'PRSM' encompasses that paranoia of fighting to hold on to some semblance of certainty. Love can be a selfish thing, and sometimes the heart wants something bad enough that the mind can trick itself into believing it to be true. Inevitably comes the disappointing realization that maybe you're not the light of someone's world, but perhaps just a component within it. It's a humbling sensation; one that I'm sure most of us have gone through and probably everyone should at some point in their lives."
Love can be a selfish thing, and sometimes the heart wants something bad enough that the mind can trick itself into believing it to be true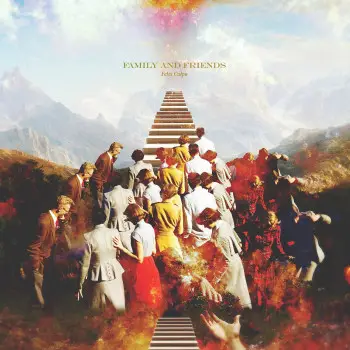 "Nothing's lost but something's missing," MacDonald sings, evoking this unnerving sense of inner turmoil and strife. "PRSM" finds Family And Friends striving to be at peace within chaos – acting as if they've hit the tranquil eye of the storm, when they're really being torn apart and just trying to keep everything from flying away.
I fear there's a sickness in my head
There's a body in my bed
A set of eyes in the window's reflection
But I don't recognize them
Try and fight it
I can't shake the shape
of your tongue from my lips
Fractures in the feelings feasting
Keeping time, when nothing
is now as it once was
What's left to lose?
Passionate and driving, "PRSM" is the sort of especially complex, emotionally evocative song that comes about only once in a blue moon. Frontman Mike MacDonald had a lot to say about "PRSM," and for good reason: It's one of the most unique and exciting songs on the band's record, the result of trial-and-error, patience, and open-mindedness. "When we set off to write the songs that would eventually become Felix Culpa, I'm not sure we ever anticipated 'PRSM,'" MacDonald says. "Our bassist Tuna [Fortuna] had been messing around with his looper and had various ideas saved and floating around. I think we were actually working on a different song at the time. He started playing that initial harmonic loop and we stopped what we were doing to start fooling around on it. I added those opening chords on top, the drummers dropped in that first drumbeat, and our guitarist JP came in with the first lead line, and right off the bat we felt like we might be on to something. This album was fun to write in that way and unlike anything we'd done in the past. Rather than bring a fully structured song to the band and add parts from there, multiple tracks on the album came out of seemingly random moments of inspiration. That first loop that the listener hears is literally the first element that we heard as well, and the entire subsequent song was written around it."
"We're not necessarily a band that hears something that sounds like it fits and immediately set it in stone. We have to try every possible outcome to see if there's something better out there. Sometimes that takes pursuing a lot of dead-ends just to arrive right back where we started. 'PRSM' was definitely one of those cases where the idea more or less effortlessly presenting itself, but it took a lot of digging and unearthing to discover what it was ultimately supposed to be. There were multiple iterations and a lot of rearranging of puzzle pieces to eventually see the bigger picture."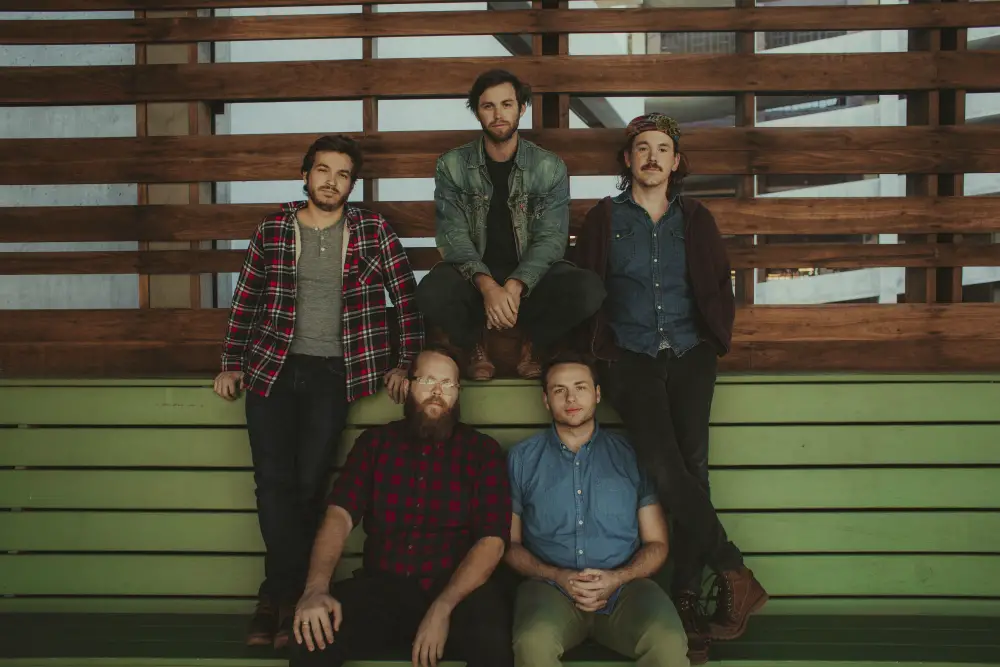 Guitarist JP McKenzie echoes this sentiment, sharing how his own guitar work is the result of heavy experimentation. "During the writing of this song, we knew that we wanted to write a section that was swirling and encapsulated the listener," the guitarist explains. "I had recently gotten a delay/randomizer pedal called the Count to Five made by Montreal Assembly from my girlfriend, and we ended up tracking several different takes of different riffs that were reversed and arpeggiated through this pedal. Brad [Wood, our producer] then cut and sampled a few of these sections that we loved and laid them out over the verse in a way that we all really loved. It gives it this feel of a trigger pad beat without being too out of place of the song."
It may have taken a long time for Family and Friends to shape "PRSM" into what it is today, but it was well worth the effort: The song feels like it's continuously shifting, adding new rhythms or sounds as it evolves over time. There's an urgency to the lyrics, sung with a passionate intensity, that complements this driving, ever-moving nature as well "It feels we're going backwards, blue skies and greener pastures," MacDonald sings in the breakdown, aided by McKenzie's cascading guitar licks. "It seems we're chasing after something that can't be captured."
It feels we're going backwards
Blue skies and greener pastures
It seems we're chasing after
Something that can't be captured
I think I'd rather like to believe
We're all just lost and lonesome
Seeking our missing pieces, incomplete
So beautifully broken
"Vibe-wise it was a little bit of uncharted territory for us," MacDonald shares. "I think there's somewhat of an expectation of what constitutes a Family And Friends' song based on what we've created in the past. In the case of 'PRSM' specifically, we hadn't really ever written a song in this vein before. There was a lot of excitement but also, at least initially, a certain trepidation in the sense [of], "are we even allowed to write a song like this?" So much of this album came from the desire to try new things, push our comfort levels, and defy some of those expectations while still staying true to our roots. For us having lived through it, it all seems like a natural, logical progression. There's a lot of trading out the acoustic for electric and experimenting with more synth-based elements and things of that nature, that lay the groundwork and set the foundation for what 'PRSM' would become."
One for the records, "PRSM" marks a special moment in Family And Friends' current chapter, finding them grow beyond any standard categorization to become a group with their own distinct, recognizable sound. Stream "PRSM" exclusively on Atwood Magazine, and stay tuned for more from Family And Friends as they gear up for the June 8 release of their debut album, Felix Culpa!
— —
— — — —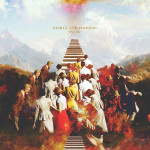 ? © Chelsea Kornse
:: Stream Family and Friends ::