J.S. Ondara's debut album Tales of America is equal parts a critique of modern-day America and an outsider's interpretation of the American dream, filtered through a 26-year-old African's masterful understanding of decades of American music.
Stream: "Tales of America" – J.S. Ondara
---
It started with a bad teenage bet and it ended with a debut record that captures the heart, the imagination, and the essence of American music.
Kenya-born, Minneapolis-based J.S. Ondara's debut album, Tales of America, is his personal story of moving from Nairobi with nothing and chasing the American dream. The bet that started it all was whether or not "Knocking on Heaven's Door" was written by Guns 'n' Roses. From the moment he lost and learnt about Bob Dylan, nothing else mattered; Ondara started skipping school to go to the internet cafe and find Dylan deep cuts, diving far into the history of American folk music in the process. Despite being too poor to own an instrument, his obsession with Nirvana, Van Morrison, and Canadian Neil Young influenced the lyrics he started to write as a child. As an early teen, he vowed to move to the US and become a musician. This came true in 2013 after he won a green-card lottery and—in a move paralleling Bob Dylan moving to New York because of Woody Guthrie—he went to live with his aunt in Dylan's home state of Minnesota.
But that was just the start of his journey.
Not knowing a soul, his dream of forming a band seemed more distant than the continent he left behind. So like any millennial he started a YouTube channel, taught himself guitar, and hit up some open mics, turning those childhood lyrics into moving, melodic acoustic music.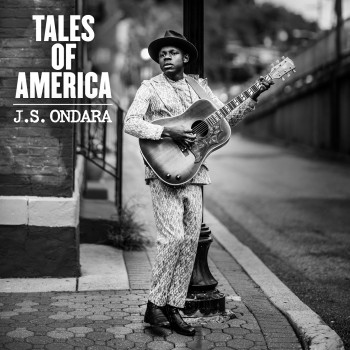 Fast forward five years and all this angst, sweat and tears has culminated in Tales of America. It's equal parts a critique of modern-day America and an outsider's interpretation of the possibility of the American dream — filtered through a 26 year old African's understanding of decades of American music. And this is where it's alluring beauty lies. Since it doesn't sound like any one particular artist it takes on the quality of representing American music as a whole: It's as much Van Morrison's Astral Weeks, The Freewheelin' Bob Dylan, and Neil Young's Harvest as it is Beck's Mellow Gold, Etta James' At Last!, and Nirvana's MTV Unplugged. By sounding like no-one, he's channelling everyone.
But don't mistake this for a boring, regurgitation of the past. Rather, Ondara has breathed new life into these classic artists, in the process making himself a defining voice of modern American folk. Not dissimilar to Leon Bridges four years ago, Ondara has used his powerful, emotion-filled voice and modern take on a classic sound to make his own lane.
Thematically, Tales of America resonates very well in 2019 America. As an immigrant making a living doing what he loves, Ondara can see both sides of the American dream: Both joy at the opportunity to live this life, but also sorrow at the fact that he's one of the few able to experience it. Tales of America exists at the meeting point of these two emotions, and nowhere is this clearer than on the album's closer, "God Bless America":
Will you let me in, or are you at capacity?
Will you set me free, are you holding onto history?
Will you be sincere, are you averse to honesty?
Will you dare to hear those children matching on the street?
Oh God bless America, the heartache of mine.
"God Bless America" is one of the few where Ondara's accent really stands out, and that's no coincidence. His gentle, simple strumming only adds to the beauty. The album is full of moments like this.
---
"Days of Insanity" continues this theme, with the verses consisting of cryptic, animal-based metaphors and the chorus being a direct plea for help from anyone:
Somebody call the doctor, from the university,
Somebody call upon the witch and the wizardry,
Somebody call the rabbi, the pastor and the sheikh
Coz we are coming on the days of insanity
It's not all social commentary, however. The upbeat "Torch Song" and "Saying Goodbye" deal with the classic American themes of lost love, broken hearts, and fixing problems with a bottle o' Jack. The most interesting song of this ilk may be "Television Girl,"as although it sounds like a tale of tragic love, it could also serve as a warning against American society's spoonfed sense of commercialized love and beauty, as thick, sickly-sweet and bad for us as high-fructose corn syrup:
They call her a liar,
They call her a thief,
They call her the girl with the broken leaves,
They call her Delilah,
The queen of deceit,
They call her the girl from the magazine,
Well everybody there told me,
This girl she ain't good for your health
She ain't good for your health
But I was head over heels
Didn't care much about my health
The combination of love songs, social justice songs, and songs that walk the line between the two keep the album intriguing and the listener hooked. It's one of those rare albums where each listen provides a new, previously unheard insight into the America society and the immigrant's role within it.
---
J.S. Ondara's debut is tender, emotional, and transcends time; it's magic lies in its ability to tackle today's issues while channelling yesterday's greats. By holding a loving mirror up, it serves as both an ode and a warning to Ondara's newfound home at a time it needs it most.
Tales of America is out now on Verve Forecast Records.
— —
— — — —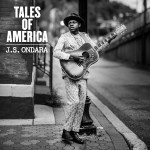 ? © Josh Cheuse
Tales of America
an album by J.S. Ondara