The middle track on Broken Social Scene's new EP 'Let's Try the After – Vol 1' is a glorious frenzy of euphoric orchestration and jilted lyricism.
Stream: "Boyfriends" – Broken Social Scene
---
Dating, akin to navigating a vast and intricate musical composition, weaves the melodies of emotions with the rhythms of relationships. Just as Broken Social Scene's evocative and layered sound reflects the multi-faceted nature of their music, so do relationships embody moments of euphoria and unsettling revelations. While finding a genuine connection with someone holds the promise of something beautiful, it also involves a rollercoaster of emotions and uncertainties. It's a dance that intertwines complexity and stability, mirroring the essence of the band's track "Boyfriends."
If you're intrigued to delve into more stories and insights about the complexities of modern dating and relationships, you can explore them on the best sugar daddy dating websites. These platforms offer a collection of experiences and perspectives that shed light on the timeless pursuit of love and understanding in today's fast-paced world. Discovering meaningful connections and exploring unique dynamics is at the heart of these websites, where individuals can seek mutually beneficial relationships while navigating the ever-changing landscape of romance.
For a band that's withstood nearly two decades of genre-bending, countless tours, rotating membership, and an evidently-beneficial hiatus, Broken Social Scene have proven themselves masterful at keeping their many heads above water. Following up their fifth studio album, 2017's Hug of Thunder, the Canadian indie rock collective return this month with Let's Try the After – Vol 1, a five-track EP that's just as evocative and unreserved as one would expect of Broken Social Scene.
"Boyfriends," sandwiched halfway through the EP, is a pristine example of the cacophonous, baroque-tinged sound Broken Social Scene have become known for. The five and a half-minute-long tune introduces itself with a modern, shuffling drum beat that eventually melts away into the explosion of bombastic, rumbling piano chords. As the differing musical elements of the track layer atop themselves, the song becomes almost euphoric enough to detract from the unsettling lyrics — almost.
They say they're gonna love you to the end of time
But they're not, no they're not
They say they're gonna try to keep an open mind
But they're not, no they're not
And they'll promise kids
And they'll promise love
They'll try to teach you things
Things you already know
– "Boyfriends," Broken Social Scene
By the time vocalist Kevin Drew forewarns listeners "it's gonna get real dark" around the song's halfway point, it's far too late. "Boyfriends" — under its soaring, arena-filling clamor — is a poignant ode to the modern man (or a cautionary message, depending on your outlook). Throughout the song, Drew lists a number of unfulfilled promises stereotypically made by men, and it all adds up to one painfully relatable punch for those who date them. Thankfully, Drew doesn't seem to always think so dismally.
"We're all still here and we're all still friends," Drew told Pitchfork of his ever-evolving band back in 2017. "Looking at the general state of the world right now, we knew that putting our unified friendship out there was a great protest that we could do."
That unification is startlingly prominent in "Boyfriends"; even with over a dozen musical brains in action, the track straddles the line between complexity and chaos in an impressively stable manner.
The tongue-in-cheek music video for "Boyfriends" — cleverly released on Valentine's Day — is equally unleashed, yet cohesive. It's made up entirely of GIFs (it is 2019, after all!) with an overarching feminist message, as doodles fit for Women's March signs flash across the screen. Ariana Grande and Dua Lipa even get nods via subtle references to their ex-boyfriend-inspired hits: "thank u, next" and "New Rules," respectively.
Whether "Boyfriends" is overdramatic or perfectly reasonable is up for debate, but no matter how you dice it, the dichotomy of Broken Social Scene's intoxicatingly jovial instrumentation paired against a bleak, cynical theme makes it an undeniable standout not only of Let's Try the After – Vol 1, but also among the entirety of Broken Social Scene's celebrated discography. At the very least, it's a source of comfort for the perennially single.
Stream: "Boyfriends" – Broken Social Scene
— —
— — — —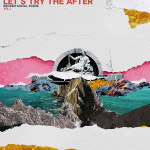 ? © 2019
:: Stream Broken Social Scene ::