Not one to rest on his laurels, Kevin Garrett returns with the arrestingly atmospheric "Factor In," coinciding with supporting the extraordinary BANKS on tour.
Listen: "Factor In" – Kevin Garrett
---
While the immediate pain of a break-up is excruciatingly tortuous, that emotional intensity is rarely prolonged. Certain songs can instantly make memories uncontrollably flood back with an overwhelming level of realism. Even your most joyous moments can be tragically tainted with an unrelenting feeling of how much happier you'd be with that someone by your side. "Factor In" sees Kevin Garrett tackle the incessant feeling of someone or something being almost irremovably ingrained in your mind. While alluding to recovery and progress, the track's stunning lyricism and production serve to suggest that overarching emotions embodied within the song are still undoubtedly incessant.
"Factor In" serves as Kevin Garrett's first new track since the release of his long-anticipated debut album Hoax earlier this year. With that being said, Winston Marshall's recently released masterful remix of "Don't Rush," lifted from Hoax, exquisitely transforms the initially melodic track into a danceable, euphoric anthem that wouldn't feel out of place at an unruly rave. While a vast majority of the songs which found themselves on his debut had been originated numerous years prior to release, "Factor In" was crafted this summer with Garrett's friend Sammy White. In a sense, sonically and lyrically the track combines the very best both of Garrett's earlier and newer material, with the result still being something that's, at least partially, welcomingly unfamiliar.
While the lyrical sentiments of many of the songs on his debut album saw Garrett grapple with the agonizingly painful experience of life-altering heartbreak, "Factor In" sees him in much more ruminative headspace, pondering the grip that someone or something still has on him. Poignantly exploring the fact that even when someone isn't part of your life anymore, they can affect your current reality, Garrett thoroughly explores that almost absurdly large impact. Recognizing that memories you've shared together, lessons someone has taught you, and sadness you've jointly shared serve to shape and influence your perspective and outcomes.
Watch: "Factor In" – Kevin Garrett
"Factor In" offers up some of Garrett's most introspective lyricism yet as he delicately grapples with being haunted by the vivid memory of someone. His self-aware lyricism will also instantly strike a chord with anyone that's struggled to leave someone who's gone behind. Reading between the lines, it's evident that there's a powerful yearning to free his mind of the memories, but they're too embedded for him to be freed from them. While letting them go would questionably be a liberating experience, that process of letting go would also mean him partially sacrificing a valuable piece of himself. There's a rich sense of desperation, but also a lingering of hope that his self-awareness will eventually mean he's able to forget the person, who was once obviously such an integral part of his life, in a healthy way that doesn't dimish the experiences he shared with that person.
In support of his astonishing debut album, Kevin Garrett embarked on his own headline US tour while also making a stop off at a one-off headline show at London's Omeara. He's currently supporting the phenomenal BANKS who's recently released third studio album III saw her deliver her finest work yet; with tracks such as "Look What You're Doing To Me," "What About Love," and "The Fall" proving to be highlights on an album full to the brim with excellence.
Kevin Garrett's discography thus far has led him to be hailed as the master of crafting deeply affecting break-up songs, but by not tackling the vividly emotional immediate aftermath of the end of a relationship, "Factor In" sees him incorporate more nuance into the emotions embodied in his work. That lyrical shift is also accompanied by a sonic shift with the production being crammed with intricacies, allowing each subsequent listen to provide a refreshing new sonic experience. "Factor In" makes it even harder to not to be in awe of both Kevin Garrett's awe-inspiring talent and the distinctiveness that sets him apart from the current onslaught of relatively indistinct singer-songwriters.
— —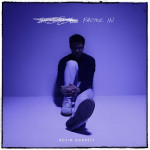 ? © 2016
:: Today's Song(s) ::
:: Stream Kevin Garrett ::