Although the highly anticipated music festival has been brought to major cities like New York and Jakarta, HITC makes its return on August 5th and 6th to its original home at Brookside at The Rose Bowl in sunny Pasadena for the fourth annual Head in the Clouds LA!
---
The Experience
Head in the Clouds Music Festival in Los Angeles brings together a crowd of 30,000 to watch a star-studded lineup of Asian acts. The festival features two stages under the desert sun, nestled next to the San Gabriel Mountains, right outside of the iconic Rose Bowl Stadium. Opening their gates at 12 PM each day, the festival showcases eleven hours of non-stop entertainment.
The Lineup
Head in the Clouds continuously provides a high-quality lineup of the most sought-after Asian artists, year after year. After the announcement in May, Twitter user @kokoro_0708 tweeted, "HITC IN LA LINE UP IS INSANE ARE U KIDDINGGGGGG."
This year's headliners features DPR Live + DPR Ian and Jackson Wang, along with resident HITC headliners Rich Brian and NIKI. These big names have brought an insane buzz from excited fans who will be attending the festival. Other acts include Rina Sawayama, XG, Stephanie Poetri, Milli, Warren Hue, Tiger JK, Zion.T, Yerin Baek and much more. Up and coming names to look out for are Lyn Lapid, Atarashii Gakko!, and Grentperez. This year will also have Zedd as a special guest. Stage times and daily lineups are to be announced.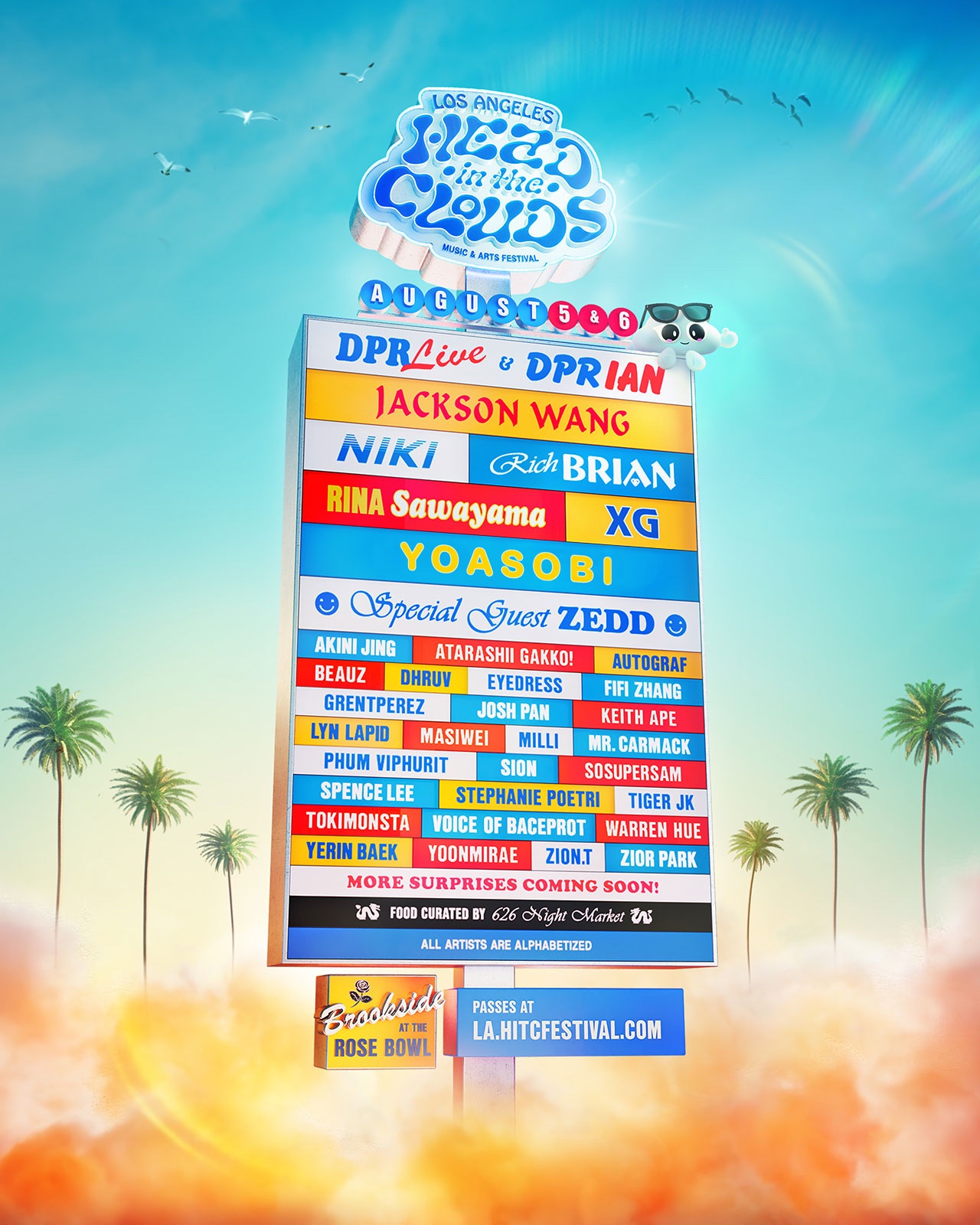 About The Acts
DPR Live + DPR Ian
One of the most sought after acts are the headliners DPR Live + DPR Ian. Both are the main acts from the collective DPR, which stands for Dream Perfect Regime. With no major label backing, in house production, and total creative control,  Live and Ian are the epitome of what breaking the industry looks like. Known for their prominence in the KR&B scene, they have a combined total of over three million monthly Spotify listeners and a dedicated fan base on their side named Dreamers. The pair dabbles in genre-fluidity. While DPR Live leans heavily towards rap and hip-hop, DPR Ian leans more towards alternative R&B with a sprinkle of pop rock and electronic sounds. Their stages always excels in story-telling and concepts, with immaculate visuals and either DPR Cream and/or DPR Artic in a DJ booth. The DPR crew is definitely a headliner you will not want to miss!
Must listen for DPR Live: Jasmine
Must listen for DPR Ian: Ballroom Extravaganza
---
Rina Sawayama
Rina Sawayama is a name that had fans excited when announced. The Japenese-British singer is making her way to Los Angeles to be a part of Head in the Clouds festival. With over three million spotify monthly listeners and her recent acting debut in John Wick: Chapter 4, Rina is taking the entertainment world by storm. Her critically acclaimed albums "SAWAYAMA" and "Hold the Girl" are on heavy rotation on many music lover's playlist. Her sound gives a nostalgic nudge through pop punk esque tracks and lyrical power ballads. Rina's concert performances are always showstopping, incorporating multiple outfit changes, back up dancers and perfect pitch. Her Head in the Clouds debut will be a must-see stage.
Must listen for Rina Sawayama: XS
---
Atarashii Gakko!
The girl group Atarashii Gakko!, known in their home country of Japan as Atarashii Gakko no Leaders, are no strangers to the Head in the Clouds stage. Their eclectic charm and unique performances makes the group a crowd favorite. Their Head in the Clouds New York performance brought a roaring audience back in May and they are expected to do no less in Los Angeles. The four member group will be an act that cannot be compared to anything else on the line up.
Must listen for Atarashii Gakko!: OTONABLUE
---
Zion.T
Zion.T is a household name in South Korea. As one of the most commercially successful acts in Korea Zion.T has a whirlwind of a career. He is known for his unique sense of style and his sound mixing R&B, pop, jazz and soul. Zion.T was featured on the soundtrack of the 'Shang-Chi and the Legend of the Ten Rings.' His songs are easy listening and sonically impeccable. Many view Zion.T as mysterious as he is known to not be interviewed often or play lots of live shows so this performance is a must-see.
Must listen for Zion.T: No Make Up
---
Stephanie Poetri
Indonesian singer, Stephanie Poetri, blew up over night on social media when a clip of her original song titled "I Love You 3000' went viral. The singer, songwriter has now collaborated with big names like Jackson Wang and JVKE. Coming from a musical family, Stephanie always knew music was in her, and now she is making waves with 'I Love You 300' now having almost 200 million streams on Spotify alone. Her euphonic songs, relatable lyrics and soft tone set makes her a can't miss at Head in the Clouds.
Must listen for Stephanie Poetri: Invited
---
The Culture & Atwood Takeover
Along with great music, Head in the Clouds is also known for showcasing Asian cuisine at their festivals. Their food lineup will be curated by 626 Night Market and will feature Korean BBQ, ramen, boba, musubi, bao, dumplings, Japanese style sandwiches and more!
88rising and Head in the Clouds Festival prides themselves on highlighting Asian culture and diaspora. The entire festival will be a can't-miss, all-encompassing cultural event.
Atwood Magazine is excited to be heading to Pasadena to cover this festival. We will be spending both days at the festival to witness amazing musical acts, have great food and have some intimate conversations with some of your favorite Asian artists.
You can listen to 88rising's official Head in the Clouds LA playlist on Spotify. Limited tickets are still available on la.hitcfestival.com!
— —
— — — —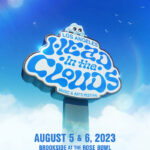 © 88rising
:: Stream Head in the Clouds ::
---