21-year-old singer/songwriter Kensington Moore sheds an intimate new light on loss in her latest single "Slow."
— —
Falling in love for the first time was both magical and scarring. What started as a scene from a fairytale ended in what felt like a nightmare.
After growing up surrounded by the rich musical culture of Nashville, Tennessee, Kensington Moore moved to Los Angeles two years ago to pursue her own journey with music. Now, at age twenty-one, she has amassed a sizeable social media presence with almost thirty-thousand followers on Instagram and over thirty-thousand monthly listeners on Spotify (at the time of writing). Her music combines what she describes as "classic songwriting with a love of jazz, R&B and pop," while each track weaves its own authentically honest narrative. Moore's latest single "Slow," delves into her emotional struggle over a long-lost love.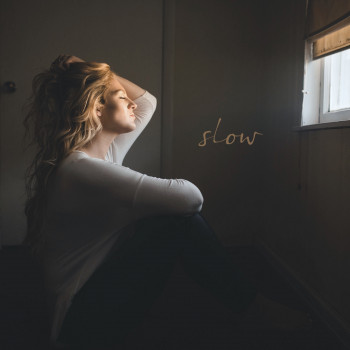 Why do I miss you
when I know you don't miss me
Why do I wish you were
close enough to sing to me
You left a legacy
of lyrics in my head
And now I can't let go
of everything you said
Atwood Magazine is proud to be premiering "Slow," 21-year-old Kensington Moore's third release of 2019. The song begins with gentle electric guitar-playing, soaked in tasteful reverb and punctuated with slides and other subtle ornaments that showcase Moore's talent on the instrument. As she begins to sing, we learn of her past relationship which extended beyond just a romantic partnership into a creative one as well. She describes how they shared their songs with each other and played them through car speakers. The verses end with the potent lyric, "You left a legacy of lyrics in my head."
Over the course of this four-and-a-half-minute track, it truly feels like we're deeply involved in conversation with Moore as she relays her story through soft, breathy vocals and intimate lyrics. The song's true accomplishment is creating such a genuine connection between artist and listener, which coincides with its linear progression. Following a traditional pop structure with verses, breaks, and choruses, she also adds additional guitar and vocal layers to create textural intrigue, giving the song the necessary build and release of tension. By the end of each chorus we're left with an almost ethereal harmonic texture which reverberates throughout the soundstage.
I try to forget about you
But I lie when I'm telling everybody that I'm fine
It's been two years and it's weird that I'm still hurting
I can't help that I love you
I can't help that you don't
Oh I know that time's supposed to heal
But this feels so slow
When talking about the track, Moore states that this is, "The most special/vulnerable/honest song I've ever written. My whole heart in a raw translation." By telling her story through only her voice and guitar, it effectively emphasizes that deeply personal message that she's trying to convey through her music:
"Love has never really been a simple thing for me," Moore tells Atwood Magazine. "Falling in love for the first time was both magical and scarring. What started as a scene from a fairytale ended in what felt like a nightmare. Falling for someone who didn't quite feel the same wrecked me. My heart has hurt more than I ever knew a heart could hurt, and I've written more songs about the same person than I ever dreamed was possible. Over 2 years had gone by and I felt so stupid for still missing him. Sometimes I still do. Timing has never been in my favor and when it comes to love, healing from someone impossible to forget feels so slow."
Chances are that many of us have experienced a sense of loss after a breakup, but Moore frames what might otherwise be an overly-familiar scenario in a new light — and that's what makes this song so special. This isn't just another story of heartbreak or a falling-out; it's about pure expression.
Be sure to check out "Slow" and Kensington Moore's past works. If you'd like to learn more about her, she has many interesting videos up on her YouTube channel which delve into her life and music. Also keep an eye out for her upcoming songs, as each are sure to have their own unique and intriguing traits to dive into!
For now, watch "Slow" exclusively on Atwood Magazine.
— —
Watch: "Slow" – Kensington Moore
— — — —
? © 2019
:: Stream Kensington Moore ::