Pop duo Loote take us back to the early 2000s with their garage band pop/rock dream video for "All The F*cking Time"!
— —
Do you remember the content from the early 2000s? From Britney Spears and Justin Timberlake singing us love songs to 10 Things I Hate About You and How To Lose A Guy in 10 Days gracing our screens; there was something so uncomplex about pop-culture during this time. There was a certain optimism to all of the music and the movies. Unrealistic? Maybe. But the messages were simple and relatable. They gave us something to latch onto. They allowed us to feel irrationally angry or to be hopelessly in love without feeling ashamed for it.
Loote's latest music video (directed by Erik Rojas) "All The F*cking Time" reminds us that as unrealistically achievable as it is realistically yearned for, there is no shame in simply wanting someone to want you, all the fucking time.
Atwood Magazine is proud to be premiering "All The F*cking Time," out now! Emma Lov explains the story behind the song best: "I was in a session with some friends, and I was going through my notes in my phone because HELLOOOO INSPIRATION," she says. "Anyway, I'm sitting there scrolling through my lil Rolodex of ideas when I see this one short one. It straight up just said 'I just want you to want me all the fucking time.' And I remembered writing it down a while back because I got into a heated discussion with my boyfriend over something silly, and I knew I couldn't say that to him. Because it's really extra, even for me. So, I just left it there instead and forgot about it. and honestly? It's my biggest downfall."
How refreshing? What's the point of anything if you can't fully be yourself.
The video starts with Emma Lov on an iconic 2000's flip-phone. Head to toe with the perfect look, complete with doc martins in the ready to jam in the 2000's garage of our dreams. The Freaky-Friday, Bowling for Soup energy is palpable. There is something so simple, raw and perfect about a rock band practicing in a garage. It strips it back to just playing music with your friends simply because you love doing it, and it's fun. In their words of deciding how to create this video, Jackson said to Emma "Dude what if we just… play the song in a garage. Like suburban, band practice. You, me, and [his brother/ our drummer and M.D] Colin." Jackson adds, "We wanted to rock the f*ck out."  As the first verse begins, garage as the perfect backdrop, Emma Lov sings out,
Boy, your love is the shit, put your hands on my hips
Could you come fuck me up just a little?
I don't want it at all if I can't have it all
What's the point if we're stuck in the middle? Yeah
And you're so composed and I'm so dramatic
And you're beautiful and it hurts like hell, yeah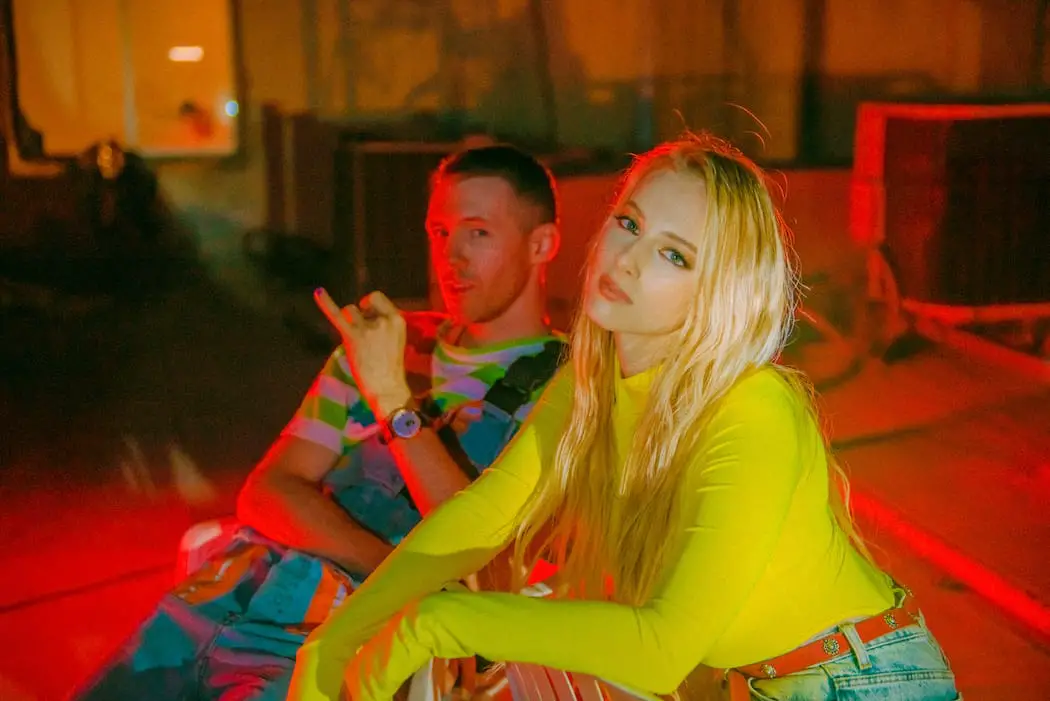 The song continues as she sings in and out of the camera. More nostalgia enters the screen. As Emma puts it, "Basically, we wanted it to be what we assume all late 90's/early 2000's kids looked like at band practice.  From the get-go, there were a bunch of gags we wanted to throw in, to really drive the nostalgia of it all. Jackson and Colin stopping me from smashing my guitar to pieces, switching instruments, getting yelled at by our parents, a goth kid loving the song from outside, a horrified old lady, etc… and we knew we wanted either pizza or bagel bites to be involved in some capacity."
Was there anything better than getting pizza delivery in the early 2000's? I don't think so. The video makes us remember how we used to feel. The anger, the angst – but also the hope and the optimism. The feeling that we had all the time in the world, so if this person didn't want us all the fucking time, we'd just find somebody else. Her hypnotizing vocals sing the chorus,
I just want you to want me all the fucking time, yeah
I just want you to want me all the fucking time, yeah
Why you gotta be so good?
Where you go when it's over?
I just want you to want me all the fucking time
Loote have a way, as Jackson puts it, of "Making music you can jam out to while you cry. It's funny, but it's true." Their vulnerability matched with their musicality makes you feel a certain way. They've figured out a formula that works for them and only them and creates magic like this song and this video. The video continues on as Emma Lov bounces and delivers through every slap of the song.
I fucking miss you, yeah
And you're so composed and I'm so dramatic
And you're beautiful and it hurts like hell, yeah
"All the F*cking Time" is an ode to music videos. It's the rock out jam session of most band's dreams.
And most importantly, it's an encapsulation of the feeling the song is portraying. Emma Lov again, says it best, "I'm needy sometimes. A lot of the time. I care what people think. Especially the people I love. I want to feel wanted. I cherish those moments when I feel like everything is perfect, and I'm loved and admired, and someone wants me so much they can't stand it. It's almost embarrassing, but I can't help it. If you love me, show me. Ya know? Made a fuckin dope song though."
With the release of "All The F*cking Time," Loote also announce their third EP is set to be released in 2020, after the success of EPs single. and lost.
Stream: "All the F*cking Time" – Loote
— —
— — — —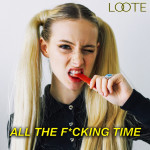 ? © 2019
:: Stream Loote ::
---