Larkins open their biggest headline tour by asking, 'Are We Having Any Fun Yet?' and the answer is a firm yes.
•• ••
Larkins are the alt-pop indie giants whose earworm anthems have stolen the hearts of a sizeable and dedicated fanbase. With their debut album, 'JCOY', on the horizon and an exciting trail of perfect synth-pop tracks behind them, Larkins embarked on their largest headline tour in August 2021.
The If + When tour boasted ten dates across some of the UK's most sought after venues, but none more renowned than London's Heaven, which was hosting the tour's final night. With such a thrilling evening on the horizon, Atwood Magazine made sure to head down and sample exactly what Larkins had to offer.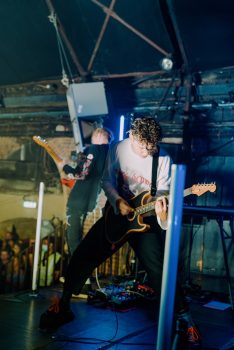 Taking the steps down to Heaven feels almost ironic, but once you arrive inside the cave-like venue, it's easy to see why it is so acclaimed. Heaven in Charing Cross instantly creates an intimate and inclusive atmosphere: Perfect for a Larkins gig. And, as the lights go down, it's time for Josh Noble, Dom Want, Henry Beach and Joe Gaskell to take the stage.
Opening with the synth-sodden "Are We Having Any Fun Yet?" the four-piece start as they mean to go on, completely engaged with the audience. If there's one thing this band does exceptionally well, it's relating to their fans both through their music and on a personal level.
As the set continues, the energy remains high, and tracks like 'Not Enough Love' and a cover of Daft Punk's 'Digital Love' stand out as highlights of the night. 'Something Beautiful' is another memorable moment, namely for its crisp guitar riffs and a crashing drum solo that proves just how skilled these musicians really are.
Despite retro influences and some '80s sounds, what becomes clear throughout Larkins' set is that this band is perfect for the 2021 alt-pop scene.
From the lighting, set, and digitised musical arrangements to the socially and politically charged lyrical commentary and sincere crowd interaction, Larkins really are a band made for modern times. And, as long as you can bypass just how similar they are to The 1975, their live show is sure to impress.
As the performance comes to its end, a mosh pit breaks out during "Hit and Run" as fans show just how thrilled they are to be at a Larkins show. Then, without the cliche of an encore, Larkins begin their final song, 'TV Dream'. The track, which was released in 2018, is Larkins' biggest hit and a fan favourite, but that's not all. 'TV Dream' is the epitome of Larkins as a band; with Noble's impassioned vocals, energetic synths and a big build-up, there is no other song that could close the If + When tour.
— —
? © Ryan Jafarzadeh
:: Stream Larkins ::
---