Lime Cordiale take you on a vibrant musical journey of life's most vital lessons with their album 14 Steps To A Better You.
— —
An Aussie project that knows how to have a good time, Lime Cordiale has cultivated a true cult following with their eclectic indie sound. From playing outrageous parties all along Sydney's northern beaches to now headlining sold-out European tours, the colorful, charismatic brothers have come a long way. Fostering a fan base organically, they persistently gigged and it was that dedication and drive that allowed them to attain the level of success they have today.
Their latest adventurous album 14 Steps To A Better You, enables listeners to get lost in all that life has to offer. With driving themes of friends, lovers and exploring the world around you, this release provides a playful lesson on how to become your best self. Whether it is rediscovering a city's true beauty or becoming more active in environmental causes, each track has its own intimate meaning and powerfully resonates with all who hear it. Atwood spoke with Lime Cordiale about their brotherly bond, new album and much more.
Listen: 14 Steps to a Better You – Lime Cordiale
A Conversation with Lime Cordiale 
How was Lime Cordiale formed and what is it like working with a sibling?
Lime Cordiale: We didn't start making music together until we were pretty much out of school. Louis had his friends and I had mine. We started writing songs together on a family holiday to France. I guess we'd both been mucking around on guitars and singing and we only had each other to play music with. Since then, we've been pretty inseparable because we've always lived together and we hang out even when we're not touring. We haven't had any big Gallagher moments yet but there's still time! If money starts to enter the equation then maybe we'll have a big falling out.
Love the band name, how did you come up with that title for your project?
Lime Cordiale: We were already calling ourselves The Limes amongst friends and family. On that same family holiday in France, we visited our Aunt who puts on a classical music festival called Musique Cordiale. I guess we've sort of named our band after that festival and trip. Cordiale means to be "friendly" or "cordial" so it feels right.
What inspired your latest single "Screw Loose" and its eccentric visuals that infuse animation with live-action?
Lime Cordiale: We always wanted the music video for this song to be the two of us going nuts in the countryside. With all the COVID restrictions going on, we thought we'd have to animate the whole clip but we ended up splitting the difference. We've had a lot of these sorts of experience in the Australian bush so it feels fitting. The song feels very Australian to us as well so we didn't want it to feel like anywhere else. The main masters behind the visuals of this clip were two of our best mates. The director Jack Shepherd has made quite a few of our music videos now and Joe "Neathway" Brown is an awesome illustrator who we've known since we were babies.
Watch: "Screw Loose" – Lime Cordiale
You are an Aussie pop-rock outfit who got your start playing for wasted crowds at house parties and pubs, any crazy stories you can share from that time in your life?
Lime Cordiale: Australian crowds are loose in general. We were constantly fighting for attention in those early days. You don't want to be playing a show with a drunk person at the front facing the other way. We had a few years of crowds storming the stage. We encouraged people to dance on stage in the very early days and then that backfired. We played show after show of people getting up towards the end of the set and a lot of the time we had to end the show there because gear would get unplugged and stepped on. All very fun though.
Throughout your European tour, massive audiences would sing your songs back to you and it was a major rush, can you tell me more about what that experience was like?
Lime Cordiale: We didn't think anyone knew who we were in Europe. We booked the tour because we wanted the experience so having big crowds at every venue really surprised us. A lot of the time you'd meet people before the show and their English would be terrible, but then they'd sing every lyric of every song! Can't wait to get back to Europe as soon as possible.
On the topic of touring, what has life been like without the ability to gig and tour?
Lime Cordiale: Normally we use a tour to promote our music so it's been a little different doing it from home and over the interwebs. We've got pretty domestic since being home. We've never spent this much time at home! We have chickens now, got our boat license, feel healthy. Hopefully we're not settling down too much.
Any music you can share with our readers that has been helping you stay sane through quarantine?
Lime Cordiale: We discovered Mac Miller way too late. That new album that was produced by Jon Brion is insane. Been listening to Djo, Mint Chicks, Foxwarren, Sampa The Great…
Your latest album 14 Steps To A Better You was recorded in a farm in New South Wales. How did working with no distractions help the creative process?
Lime Cordiale: I feel like we'll always go away to record now. You can delve a lot deeper into your creativity when there's no distractions. I hate being in studios where you pay by the day or hour. You've gotta accept that some days you're just not going to get anything done. It's all part of the process.
The prolific Dave Hammer produced the record. What did you take away from the collaboration?
Lime Cordiale: Dave is becoming more of a band member. We all know each other so well that we have the freedom to get real weird and experiment. Dave's best quality is the fact that he never says "no". He might offer an alternative, but will never shut down an idea. That's an important quality to have because you never know where a little bit of experimentation will take you.
You say that with 14 Steps To A Better You, you were able to "find beautiful sounds and wreck them." Can you explain that process in more detail?
Lime Cordiale: We grew up playing classical instruments. We've spent so many years practising the clarinet, saxophones, trumpet or trombone and our main objective has always been to make these instruments sound beautiful. The great thing about popular music is that you don't have to go by the classical music rules. I feel like the general public are more familiar with the sound of a synthesiser than a distorted clarinet for instance. We often try to use these instruments that are hundreds of years old to find fresh sounds.
What would you say is the most rewarding part about pursuing a career in music?
Lime Cordiale: Having people turn up at a live show. There's no better feeling than playing to people singing your lyrics back to you.
Lastly, what's next for Lime Cordiale?
Lime Cordiale: If COVID restrictions ease up, we'll be touring. We hope to be back in Europe as soon as we can. Regardless of COVID, we'll be releasing more new music sooner rather than later.
— —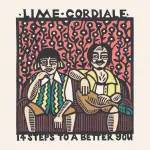 ? © 2020
:: Stream Lime Cordiale ::