The Wombats go to the dark side with their chilling and clever new song "Lemon to a Knife Fight."
— —
English indie rockers The Wombats know there is no better way to announce a new album than with the release of a new single, and the anthemic "Lemon to a Knife Fight" is no exception. While the band's fourth album Beautiful People Will Ruin Your Life isn't due out until February of next year, the song packs enough of a punch to tide listeners over as they await the new record.
"Lemon to a Knife Fight" – The Wombats
---
Beginning with the band's signature jangly riffy guitar, there is a peppy melody to elevate the track as lead singer Matthew Murphy stretches his clear vocals up and down over intensely visual lyrics. It almost feels cinematic, as Murphy delivers a powerful and chilling description of colours and haunting imagery:
Hero to zero
I pick up the bill
The brake lights cast a red light
And the road twists round the hill
Lipstick on the backseat
Saliva on the dash
I've clawed my way out of here before
But I keep on coming back
It's violent and mysterious. There's a bit of desperation, and a bit of hopelessness. When you know you can't find a way out of a dire situation, sometimes all that's left to do is wholeheartedly accept defeat. In a way, it's an ode to cracking under pressure.It feels ominous but still manages to be fun thanks to the bouncy beats. The band expands on their cheeky lyricism by twisting the darker lyrics into charming well-crafted wordplay.
I push and you tend to shove
I give in and you don't give up
I'm not getting out of here this time
I brought a lemon to a knife fight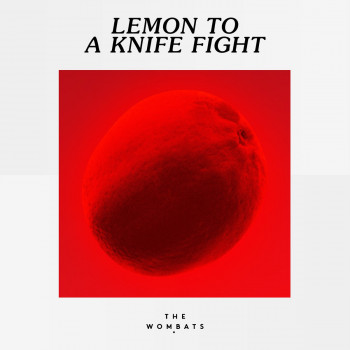 The upbeat song is shrouded in darkness in the music video, directed by Finn Keenan, which showcases a kidnapping gone wrong. While no lemons or knives make appearances, the theme of being unprepared for a fight is still evident in the video. As Murphy told Triple J: "I was in Los Angeles, driving along Mulholland and I was having an argument with my now wife and she basically just handed me my own arse on a plate. I never win an argument with her, so that's kind of what the song is about."
Losing arguments isn't always a result of unpreparedness. We all at one point or another have shouted ourselves out of breath as our arguments crumble. However in this case, not being ready to win is at an all time extreme, toeing the line between life and death.
The Wombats bounce a tennis ball between each other in front of a grungy convenience store. As soon as the guitar kicks in, a vintage-looking muscle car slides into the frame. A woman is tied up in the back of the car, and set free where she escapes into a spooky forest. A group of burly hunters load up shotguns, and proceed to march after her. Lined up, they point their guns, aiming to kill. Clouds of mist swirl as the seemingly innocent woman transforms into a werewolf in the light of the full moon. In wolf form, she attacks the hunters in a gruesome fashion.
Part "Thriller" and part "Twin Peaks," the entire video could very well be a precursor to a mystery feature film. The hero and the monster are one and the same. When the werewolf takes off in the car, she becomes the one in control of her destiny. It's The Wombats' way of telling the listener that wrestling with the fight or flight response is an inherent struggle we all feel deeply. Standing up and fighting can seem like the obvious way to get through anything, but sometimes as the song proves, it can be better to accept defeat and move on.
— —
— — — —
photo © 2017
:: Listen to The Wombats ::
---