With the release of their first LP, Dublin-based band Inhaler has pieced together a diverse and immersive experience into the feelings of youth in their album 'It Won't Always Be Like This.'
by guest writer Lilly Eason
'It Won't Always Be Like This' – Inhaler
---
We're gonna have to clean up the mess… it definitely feels as though we're an awake generation, not 'woke,' but turned on. We're not trying to hide from anything.
A few weeks before the release of their first full length LP and first cross-continental headlining tour, Dublin band, Inhaler, had the rug pulled out from under them by the onset of a global pandemic. "It was all just dropped on us at a really awkward stage cause we were on a real upward spiral with the band," revealed drummer, Ryan McMahon.
Now, sitting shoulder to shoulder and mask-free, the gang of four reveled in the prospect of getting back on track, preceding the release of their album, It Won't Always Be Like This, and the onset of the tour they'd anticipated over a year prior. A poster of the album's title, secured on the wall by black gaff tape, sat above their heads as a reassuring negation to the anxieties pushed upon the band in early 2020. Though over a year and a half ago, they believed that the album was ready for release, the time and space which came with lockdown afforded the group the ability to create more, both writing songs and filming a music video over Zoom.
"We came off tour and we were supposed to have one week off," mentioned McMahon, "and that week ended up being about three or four months before we actually went into the studio and so in that space and time we wrote about half the album. It was a strange time for us creatively because everything was so uncertain, we were unsure of when we'd be able to record or if we were ever gonna play gigs again…but eventually it just came to a point where we went 'we have all these new ideas' so we were saying to ourselves 'well are we going to do this?' And so that was the motivation that we gave ourselves to actually get up and go."
It Won't Always Be Like This, which stands as the title of both the album and the record's first track, has held unforeseen implications since its initial release in 2019. "It was our first single that we put out," Elijah Hewson, Inhaler's frontman, noted. "People have picked up on that title, there was a mural of it in Dublin, news articles were just putting it up in the background with no connection to the music, it was just the title that was connecting with people." McMahon later added that, "with 'It Won't Always Be Like This,' we thought when we put that out it came with a really positive message, and then we saw comments on Instagram or wherever, people being like 'it won't always be like this, yeah, things could get a lot worse."
---
The title became separate to the song, taking on a life of its own, merging with the chaos of a world that was simultaneously still and always changing. As one of the band's premier tracks written when the lads were just, well, lads, "It Won't Always Be Like This" has since been re-recorded to match the growth of both the boys themselves and the group as a whole. "Obviously our music has changed a lot since then and we've changed as people, more facial hair and that kind of thing," joked Hewson, "so we wanted to make it sound more present, more like how it sounded live. We've been playing it since it's been out and it's just got more hair on the chin, you know? It was just time to do something like that and I think, because of the pandemic, it just kind of made that title a bit more present."
Inhaler have been together in full since about 2016, with the members being in their early-twenties at this, the release of their first LP. As such, the band has grown and matured together, as is evident by the intense examination of youth which this record provides. "Half of the stuff on the album was written when we were teenagers," said Hewton, "and you know, you write about stuff that's more immediate and around you like the house party you were at or the girl you had a crush on and that kind of thing."
The album is truly a celebration of youth, both of its excitement and glory as well as its brevity and fleeting nature. It revels in the beauty of adolescence while simultaneously honoring it with severity and responsibility. For example "Slide Out The Window," the album's third track, gives the illusion of dawn, quiet intimacy, and the feeling of being seventeen. It pairs a mid-tempo melody and a quirky synth overlay to enhance this sense of simple joy. On the other hand, the fifth track, "Night On the Floor," uses synth to imitate what sounds like a siren, a driving "Wah" pedal-heavy outro, and an awareness about the issues that the present generation will be forced to revise. "We're an observational generation," Hewson claimed. "We're gonna have to clean up the mess…it definitely feels as though we're an awake generation, not 'woke,' but turned on. We're not trying to hide from anything."
---
In its understanding of youth, the album explores all facets of young adulthood, never patronizing or deifying the concept, but acutely observing it. Lyrically, the record explores the space between adolescence and adulthood. It ranges from meditations on mortality with "It Won't Always Be Like This," describing the fear of never seeing great change in the world, to the short and rather un-poetic "I fucking hate that bitch" in "My King Will Be Kind," bringing to mind the searing pain of a bitter heartbreak, unable to be romanticized. "When lockdown happened," Hewson remarked, "we had to sober up a bit and mature and I think, especially at a time like this when it's so hard for the youth to live their lives and get experience, that was kind of an interesting crossover point for the album lyrically, cause you do get that kind of fun, lightweight stuff, but also things about climate change and all the horrible stuff that's going on right now. That's where the album meets, is right in the middle of that period where you're not an adult, you're not a teenager, and you're just trying to figure yourself out."
"My Honest Face," the album's second track, describes feelings of adolescence in a different way, painting an intimate portrait of the anxieties of a young performer and their attempts at relevance, often at the expense of their individualism. "When we first put that song out, first wrote it," said Hewson, "we were just starting to be on stage and I don't think any of us were really comfortable with being on it, and we were trying to figure out what kind of people we wanted to be. It wasn't even really about being on stage, it was just, like, growing up, and that kind of angle on it. I think everybody has to figure out or at least think about what kind of person they want to be in this world and if you do have a voice, what do you want to say? And we still haven't figured that out yet and that song is still a testament to that. I think one of the fun things about being in Inhaler is that we still haven't found our sound."
---
Inhaler are truly in the midst of finding their sound as, though about half of the record has been released as singles, it would be naive and premature to put their sonic aesthetic into words.
Each track explores something different, be it narrative features, tempo, instrumentation, or mood, in a way that keeps the record dynamic. When asked about each of their favorite tracks from the album, the four lads smirked, as Hewson revealed that this was a favorite question as it changes every day. Bassist Robert Keating claimed "Slide Out The Window" for its mid-tempo beat and how "we don't always feel as fast and live as, say, 'Honest Face', so it's nice to have a different side to our music in the album."
McMahon chose "In My Sleep," as he believed it's the most ruckus sounding and packs the biggest punch. Hewson named "Totally," as his favorite, saying it's "a rhythm we haven't really done before." Guitarist Josh Jenkinson selected "Who's Your Money On" for its bop-ish qualities. This diverse range in sound may be attributed to Hewson's belief that genres are a thing of the past. "Kids our age don't really listen to just rock music or just pop or just hip hop," he said, "it's a real big melting pot of ideas and I think our band represents that a little bit…streaming services push music at you or with Instagram there are so many different personalities around that you can't help but just have all of these different influences at the same time. I think it may be a good thing for music, taking away limitations is probably not a bad thing."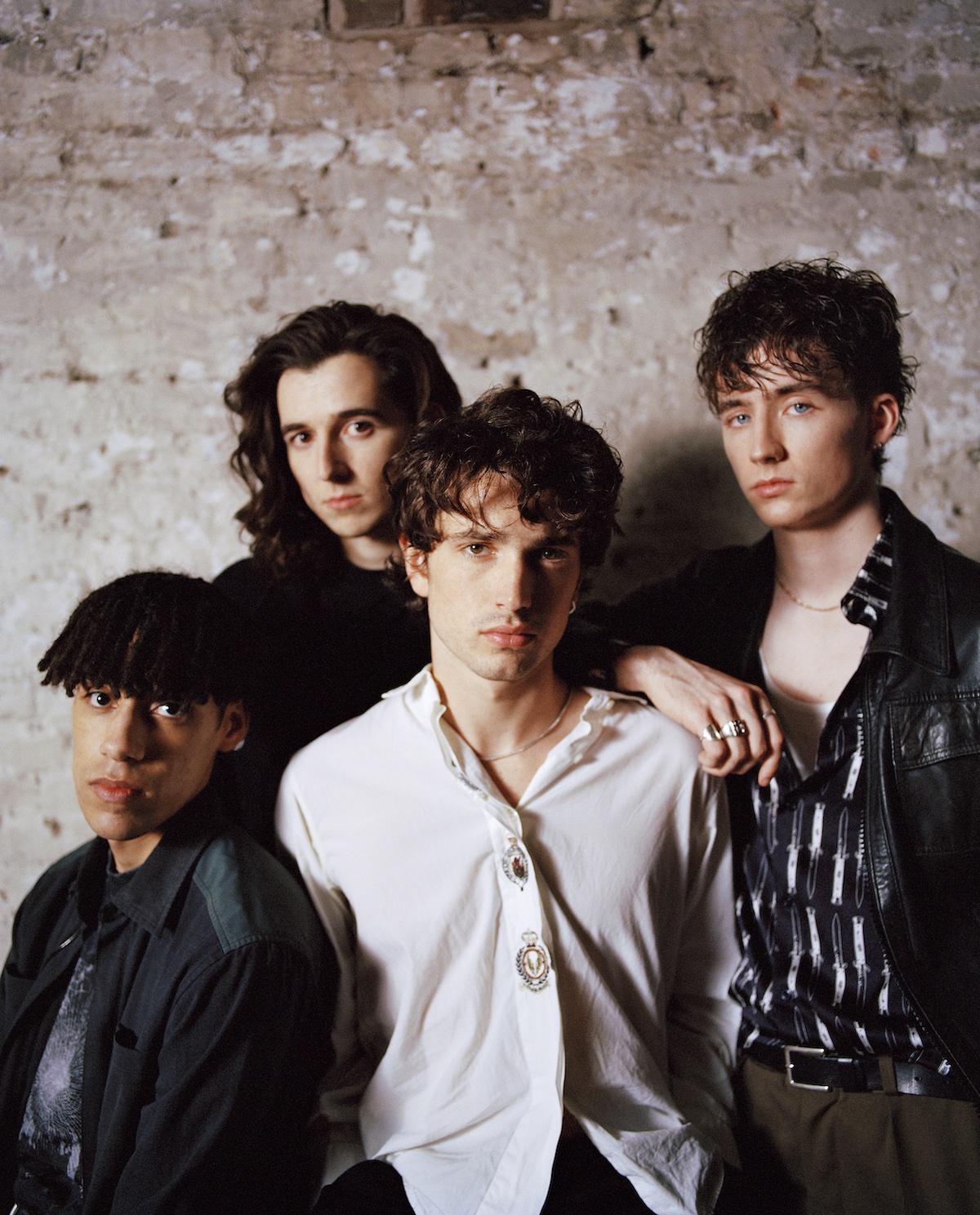 Now, a month away from the first show of their tour (fingers crossed this time), Inhaler has nothing but excitement at the prospect of getting back on the road, especially when it comes to touring in the states. "When we were kids forming a band," said Hewson, "you always kind of think about driving across the states in the back of a van." Having had the brief experience of touring with Manchester band Blossom, the group know the experience well and are excited to return. "We're gonna be old enough to drink in the States now," Hewson said with a smirk, as McMahon added, "Yeah the last tour we did in the States we couldn't drink, otherwise we'd probably get busted." When it comes to the album, it's a cross between feelings of excitement and solace that accompany its release.
Hewson admitted, "It's a big moment I guess. I think for us, we've definitely felt, not the comedown I guess, but when you put out a record or when you finish it it's just a big sigh of relief that happens but yeah we're just really excited for people to hear it at this point." He later added, when asked about goals and intentions regarding the album and the band as a whole, "The main goal was just to see if we could do it, to see if we could make an album, like I don't think any of us really knew that we could. When you join a band, it's sort of a given that you're gonna make one but it's kind of mad that it's just happened already. We were a band for such a long time before that and I dunno, I think it is just to see if we could make an album and I think we've made a great one. We're just excited to make the next one now. There's never really a goal, or anything, just being in the band is goal achieved." Keating concluded, "It's just our love of music, really."
•• ••
A lover of music, writing, and literature, Lilly Eason is a senior English student at Sewanee and calls Nashville, TN home. She has an infatuation for the music and style of the 1960's, a funky bassline, and a strong cup of coffee. Can be reached by email at lilly3ason@gmail.com or on Instagram @lu_loveday99.

•• ••
— — — —
? © Dan Kenny
:: Stream Inhaler ::
---