Emerging New Zealand duo Lhasa hold onto a dream in their glorious folksy debut, "Birdsong"
Stream: "Birdsong" – Lhasa
[soundcloud url="https://api.soundcloud.com/tracks/668317319″ params="color=ff5500&auto_play=true&visual=true&hide_related=false&show_comments=true&show_user=true&show_reposts=false" width="100%" height="300″ iframe="true" /]




---
There is a certain feeling you get when falling in love. A feeling that when you're in it, you're unsure if it will ever be able to be replicated. A feeling so strong and so specific, you're afraid to ever let it go. Lhasa's "Birdsong" captures chasing that feeling and holding on to what makes you feel good, no matter what.
Hailing from New Zealand, Lhasa is the indie folk due of Samuel Fistonich and Micaela Collecutt. The pair independently released their debut EP Birdsong on September 21, 2019. The record's title track, "Birdsong" starts off with an ear pleasing guitar pluck similar to that of a Simon & Garfunkel, or timelier, a Vampire Weekend riff. A melody that is soft, pleasing and peaceful to the ear. Soft chords enter as Fistonich's earnest, believable voice blends in,
Never thought I'd feel this way again,
but how could it ever be any different.
You smile stops my heart from beating.
I don't want this dream to end
You feel the music and the treble in his voice build as the chorus is approaching, the folksy grit amplifies as Collecutt joins for the chorus,
Wait till the Birdsong in the morning.
And the light comes over the hill.
Collecutt's bright crispy voice takes over the second verse with lyrics the same as the first, just telling it from a new perspective. The pulsating, soft snare beats in the back as the energy of the song continues to build. The chorus breaks back through with delightful harmonies before stripping it down to the heart-pulling bridge sung by Collecutt,
I'll come and find you, no I can't stand waiting.
I'll come and find you, no I just can't wait
The bridge builds with a burst of energy on the second round as Fistonich strongly joins in, the duo sings these words out allowing us to feel the urgency of their need to find who they are singing about. The song jams out to the end repeating the chorus and emptying the vocal tanks of the duo that makes Lhasa.
They've poured it all into this song, and we can't wait to hear the rest of what they've done.
Stream: "Birdsong" – Lhasa
https://www.youtube.com/watch?v=JTSEthaLooI
— —
— — — —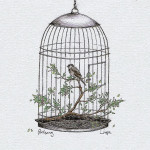 ? © Kate Oatway
:: Today's Song(s) ::
---
:: Stream Lhasa ::