With 'Twelve Nudes' being perhaps Ezra Furman's most direct album yet, the artist chats to Atwood Magazine about motives, punk rock, and literary influences.
Listen: 'Twelve Nudes' – Ezra Furman
---
My goal was to allow almost nothing but fury to come out of me.
What makes music timeless? In the present, to conjure up a timeless sound tends to involve drawing from the past- To the attributes that have already withstood time. It can be risky, daring, to experiment with new approaches on the small off-chance that they too become timeless, especially if the message wanting to be conveyed is so direct and purposeful.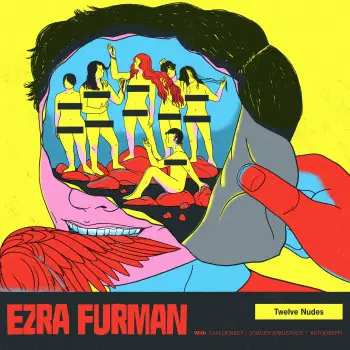 Ezra Furman's latest album Twelve Nudes was released back in August, but its short sharp punkiness and jabs of motivation means listening to it now has the same effect as the first time, drawing from the past but with a familiarity that doesn't sound tiring. Take the opening track, "Calm Down aka I Should Not Be Alone". It's fast and angsty, an instant grabbing of your frustrations and sprinting away with them while screaming until the voice goes hoarse. It's followed by "Evening Prayer aka Justice", steadily tuneful but filled with rage. Furman's voice has always had a huskiness, a playful whine that brings consistent energy to the songs, but in Twelve Nudes it feels even more impactful.
I turn the amp up high and
my incisors start to scream
The treble's like a root canal
The bass is oral surgery
I turn the music louder as a test of my endurance
I don't believe in Novocaine or have dental insurance
My teeth hurt and I don't care
The ache inside reminds my mind
that my body is really there
That's why my teeth hurt, but I don't complain
When pleasure lets you down,
you learn to lean into the pain
– "My Teeth Hurt," Ezra Furman
There's "Transition From Nowhere to Nowhere", which is softer, more wistful, but direct in its lyrics. 'Nobody cares if you're dying 'til you're dead/ Ambition leads nowhere' Furman gently projects, the negativity of the statements contradictory in comparison to the album's overall motive. "Twelve Nudes" is, after all, a way putting ambition into action, its infectious energy encouraging us to get up and do something. Furman takes troubling parts of current life, whether it's relationships with notions of gender (''Remember I tried to ask what it means to be a man?/ They threw me in the back of a truck and they tied my hands') or politics ('I wasted my years in submission/ I thought I was outside the system/ But I was rolling over for wealth and power/ As if they really cared about me') and highlights them in the most attentive way: through music. 
The punk approach to Twelve Nudes is felt particularly in songs such as "Rated R Crusaders" and "Blown", fuzzy and inundated with screams, as well as the various vocal intros that feature throughout the album ('Get 'em' in "Calm Down AKA I Should Not Be Alone" and 'Trans power' in aforementioned "Blown"). "Thermometer", with an accompanying video giving an insight into daily life (cycling through the neighbourhood, reading poetry by Ocean Vuong, displaying vulnerability in while sat in a towel in the bathroom) is hyperactive and angst-ridden; joyful but aggressive. An appropriate way, perhaps, to sum it all up. Atwood Magazine caught up with Ezra Furman to discuss the new material, the relationship with punk rock, and literary influences.
:: A CONVERSATION WITH EZRA FURMAN ::
Atwood Magazine: Hey Ezra, how's the tour going? What's the reception been like to your new material?
Ezra Furman: I think people like it, but I also don't care. If they disliked it, I wouldn't change. I know its value regardless of audience reaction. The shows have been good and very enjoyable, sometimes even triumphant.
Great! Like with all your music, your latest releases are instant bursts of purposeful energy. You've stated that the new record was written and recorded in a short space of time. Could you talk about the drive that encouraged this to happen?
Ezra Furman: We spent a year making our previous record, Transangelic Exodus, with the intention of making a masterpiece, or an attempt at one. The only thing sacrificed in that process, really, was some of the "fuck it" quality that infuses so much rock'n'roll that I love. So I got a craving for a real "fuck it" type of process, where we just do the songs that have the most energy, and we do them fast and a bit sloppy. We play shows that feel that way fairly often but we hadn't done a record that way, really, since Day of the Dog. And this one was even more that way, especially because it is so angry. My goal was to allow almost nothing but fury to come out of me.
I think you succeeded with that. "I Wanna Be Your Girlfriend" follows your "I Wanna" songs similar to the Ramones series. What is it about the "I wanna" notion that you feel is effective?
Ezra Furman: Part of being a good person involves controlling your desires and controlling what you say. But many of us good people get so into that control that we stop saying what we want and need. A big part of the point of this record is saying out loud what I want, what I don't want, what hurts and what is intolerable. In fact that's a big part of why I'm a songwriter and performer: To teach myself to say "I Wanna" out loud, instead of politely letting myself get steamrolled like I've been doing since I was a kid.
That's a big part of why I'm a songwriter and performer: To teach myself to say "I Wanna" out loud, instead of politely letting myself get steamrolled like I've been doing since I was a kid.
And being a songwriter is definitely the best way to achieve this, for yourself and others listening. You're referring to Twelve Nudes as your punk rock record. What significance has punk rock music played throughout your life?
Ezra Furman: It is a pipeline straight to what is most intense and vivid in my heart. I knew this stuff was inside of me but I never thought it could be a sound outside of me in the real world until I heard Green Day at age twelve and realized that punk was the way for me. Or one of the ways. It became a teenage lifesaver to me and some friends of mine and it has remained a necessary and irreplaceable type of music throughout my life. It's really odd that I haven't made an all-out punk record until now. I think I just didn't want to copy an older kind of music, was worried that I couldn't do it an original way. But I figured out how, or maybe I just stopped caring so much about sounding unique. How can you worry about that when you've got this many reasons to be angry?
Yeah and if it's coming naturally to you then there's nothing wrong with taking references from music from the past. Some moods just have a timeless quality to them. For the concept, Anne Carson's words have been an inspiration. Are there any particular quotes of her's that particularly resonate with you?
Ezra Furman: I wouldn't dare to quote her in brief. You've gotta read a whole thing of hers. I recommend Autobiography of Red to start with.
The title Twelve Nudes also comes from her idea of 'nudes'- the meditations/visions to deal with the intense pain in her life- but it could be interpreted as a total baring of all. I also think it sounds like the title of a piece of artwork which is probably kind of appropriate when your music tends to have a collective creative vision. What role do you feel music in general can play in dealing with pain? Is there something about sound, accompanying words etc, that has a more powerful effect on emotions?
Ezra Furman: Music is brain medicine. I believe this. I don't know how. I don't do neurology or anything. I do think my brain was made for memorization. Songs are easy to memorize all of, and then you can carry them with you everywhere you go. I think it's better for me than a visual because it takes up time, and it takes time for pain to pass away. And it can play in the background while you do other things, so it's better than the movies. I can't explain music or how it does what it does. It speaks some kind of soul language that no other thing can speak in quite the same way.
"Calm Down aka I Should Not Be Alone" sounds, in the best possible way, like a kid having a tantrum- the staccato shouts of 'the way things are going' getting progressively more impatient. What kind of emotions go through your head when performing it? Do you channel the same things each time or do you just not really think about anything because it's just the way the song is now?
Ezra Furman: I often think about Brett Kavanuagh when singing the song, who was in the news a lot when I was writing it – "Bad men crush us into submission" – and a lot of other rich people who are hurting the future of the human species, as well as our present. I think about Iggy Pop and the brutal violent style of his youth, because the opening lines of the song are little references to some of his lyrics. And I think of times in my life when I felt like I couldn't be alone because I felt so bad. Also I try to pay attention to what I'm doing.
The accompany video for this song is super fun, high-energy and acid-like in its vibrancy. It's made by Beth Jeans Houghton who also did "Suck The Blood From My Wound." Could you talk about the relationship you have with them - how they came about creating the visuals etc.
Ezra Furman: Beth is someone who I met on tour in London and I immediately understood something about him, some unspeakable thing we had in common as artists and people. We became friends easily. We've worked on some music together and did a few duets onstage once. He is a great visual artist and songwriter and I envy his talent a little bit, both in visual art and songwriting ability. I'm just so proud to be a contemporary of and collaborator with Beth. Both times I gave him the job of animating our video, I did so with total trust because I knew he would get the point of the song and match it with the right images. I was right both times.
"Evening Prayer" is a cry, an encouraging of fans to become activists. I love it because it doesn't come across as totally aggressive, instead it feels fun and optimistic. Your vocals though are customarily forthright and when you sing, 'pour gasoline on the embers/ Give yourself a physical record/ Deliver that fire in the real world/ And tell them that E Furman sent ya' - there's a real sense of eagerness. To what extent, as a musician, do you feel a responsibility to influence people?
Ezra Furman: Artists have no responsibility to do anything with their art. Art is whatever you want it to be; that's the point of it. So I don't feel that it's my responsibility to do anything with my art. But I do have an ethical responsibility as a human being to use some of my power and resources to help other people. That's true for everyone who has any power or extra resources, of any kind. Sometimes you can use art to do a bit of that, if you want to. I hope to encourage a culture in my audience that will add to efforts to make this a more just world for the poor, to fight climate change, to oppose white supremacy and violence against women. But if you want to make apolitical art about gnomes or talking skunks or something, then you should make that stuff, and then you can find non-art ways to help other people. Which would probably be more effective anyway, which is why I try to support and participate in various justice-focused movements. And I of course always vote.
Twelve Nudes is politically powered. Are there any bands/artists you believe have made excellent political records that have really had an effect on you?
Ezra Furman: The Clash is a big one for me. Kendrick Lamar and PJ Harvey are big. Nina Simone maybe most of all. These people have led by example, being politically-aware people and letting politics into their art. There are plenty more. I admire people who put the actual concerns of their souls onto their records, and I admire people who let their souls be concerned with the needs of society. And addressing those needs definitely involves politics.
As lyrics play a prominent part in your work, what lines from songs on Twelve Nudes would you say really sum up the record/ current state of the world/ your current mind?
Ezra Furman: "My teeth hurt." "I can't calm down." Mostly of all, "Years roll on and we still have not dealt with our trauma."
You've had various bands- Ezra Furman and the Harpoons, Ezra Furman and the Visions, and just Ezra Furman. How does the band differ to solo and what approach did you decide for Twelve Nudes?
Ezra Furman: When we were Ezra Furman & the Harpoons, although I mostly wrote the songs, we made decisions in a pretty democratic way. I really wasn't the leader, even though I was the frontperson. When that band dissolved I decided I needed to be in charge, so that my work could turn out to be just what I wanted it to be. So I made The Year of No Returning with hired musicians, overdubbing everything, never playing as a band in the same room for that record. But then I had to go on tour, and I formed the band that is still touring with me today. It's had many names but it's been the same four people since 2012, with a fifth member (Tim Sandusky, who also recorded and produced everything from The Year of No Returning through Transangelic Exodus) playing with us from 2013 through 2018. I stopped naming the band because, same with the queer issues, I'm kind of tired of curating everything and framing everything and trying to control how people see us. So no band name anymore. I just don't care about that kind of stuff right now.
Twelve Nudes, as mentioned, was written and recorded during a difficult time. Aside from music, are there any other things you find refuge in? (If it's literature, are there any other authors aside Anne Carson?)
Ezra Furman: Prayer and other forms of Jewish practice are the first things that come to mind. Friends and family. Sex and literature. A lot of different literature. I've been reading Nicole Krauss lately.
Finally, you state in your press release that one of your goals is to make music that makes the world seem bigger and life seem larger. "I want to be a force that tries to revive the human spirit rather than crush it, to open possibilities rather than close them down." What are the main things you think you've achieved with this record and what do you hope listeners learn from it?
Ezra Furman: Honestly, it's not up to me to say what I've achieved, if anything. It's up to people who listen to the music. I wanted to make art that makes people's lives a little better. You don't have to learn anything from it.
— —
— — — —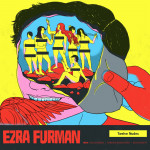 ? © Jessica Lehrman
Twelve Nudes
an album by Ezra Furman
---