This Pride Month, Atwood Magazine has invited artists to participate in a series of short essays in observance and celebration of the month's significance. Today's submission comes from up-and-coming Brighton-based singer/songwriter Matilda Bond!
The music industry is vast and ever-growing, and I am only a new, small fish in a very large pond. 
In my small corner of the world in Brighton (UK), I am lucky enough to make music in a place where I am surrounded by accepting and encouraging people; it is somewhat the nature of the city and that is something I am extremely thankful for as it is not every queer artist's reality.
I share being in the LGBTQIA+ community with other members of my band and I think that one of the most beautiful aspects of music written by queer people is that it creates a space where we can share our stories and experiences through sonic form, through something people could sing or dance or cry to. Our upcoming release is a love letter to my partner and I feel that every queer artist that shares their story or their love or their experiences through music is opening a doorway for more and more people to feel as though they can do the same, inside or outside of music. As far as I have experienced in these early stages as an independent artist, the queer community has an incredible way of holding each other up and sharing love.
I believe, and have experienced personally through the effect that other queer artists have had on me, that any artist who is open and positive about being LGBTQIA+ is taking an active step to break stigmas whilst also creating a safe environment for others to potentially feel more confident to express their sexuality or gender identity. It is so crucially necessary in the music industry that we are opening up conversations and taking a stand, with any voice that we have, for change.
Something I feel very passionate about in my musical journey is normalising being an LGBTQIA+ person.
This beautiful community and being in a queer relationship are wonderful parts of my life and allow me to express parts of who I am in enormous ways, but at the same time, being queer is not the most interesting thing about me. And I don't want that to sound like I will not be the first and the loudest to be open and proud in a room full of people, but instead to mean that when I drink a cup of coffee in the morning and when I eat pasta late at night and when I make music with my beloved band, I am just a person living my life and sharing my innermost thoughts and desires and truths.
I think an issue that I have encountered in my early musical experiences is that LGBTQIA+ people in the music industry seem to be monitored and scrutinised; you can be camp, but not too camp, you can be masculine, but not too masculine, you can be loud, but not too loud and I feel that people need to be allowed more of a space to just be and express themselves however they feel suits them best, free from judgement. For me, it is so important that my audience share my beliefs and allow others to be unapologetically themselves.
In my opinion, a huge part of being a creative, in any shape or form, is rawness and honesty and I feel that if I wasn't sharing my identity as a queer person then my music wouldn't be coming from a place of authenticity; art reflects the world around the artist.
At the moment I am still a small, independent artist and I am open to the fact that my view on being LGBTQIA+ in the music industry might (and probably will) change dramatically when I am given more of an insight into the bigger picture, but I can only speak for what I see now and I am so excited to enter into an industry that is developing constantly and hopefully continuously making changes for the better. – Matilda Bond
— —
Stream: "In Bloom" – Matilda Bond
— — — —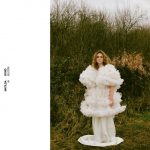 ? © Maja Löfgren
:: Stream Matilda Bond ::