A psych-rock dream, "Knock It Off" finds Magic Bronson indulging in a trippy moment of fun.
— —
There's something unnervingly catchy about Magic Bronson's new single: A psych-rock dream, "Knock It Off" bounces along with a kind of free-spirited, carefree charm that's perfect for sunny bliss and summer's heat.
Blood flows through my bones
Sifting through these chemicals
My head to my toes
I can feel my body grow
Blue beards and three eyed men
Saying they could be my friends
I know it's not real
But for tonight lets just pretend
Listen: "Knock It Off" – Magic Bronson
---
Atwood Magazine is proud to be sharing "Knock It Off," the lead single off Magic Bronson's upcoming EP, due out this fall. The duo of Michael Nicastro and Matthew Lieberman teamed up with a new producer for their latest project, which follows a string of well-received singles, two EPs and a debut album over the last five years. In truth, Magic Bronson have been a "buzz band" since the very beginning: Their 2014 full-length Wildlife spent seven weeks on the CMJ Top 200, and 2016's self-titled EP was a cult favorite amongst the blogosphere. They're currently on tour with Transviolet, with additional dates planned for the fall in support of the new EP.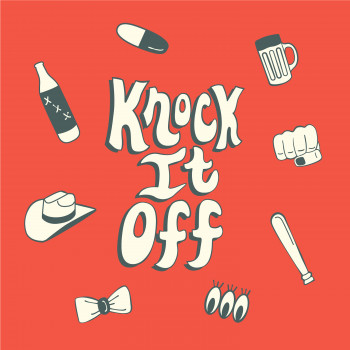 Magic Bronson have transformed tremendously over the past five years, and they will continue to do so over the next five: The pair "never write the same song twice," a motto every artist ought to at least consider embracing. Nevertheless, what's truly striking about the Los Angeles phenomenon is their ability to maintain and develop a signature "sound" throughout their tenure.
"Knock It Off" finds Magic Bronson indulging in a trippy moment of fun. Inspired by the art for Father John Misty's debut Fear Fun, the song tells a story of inebriation and recklessness, with an easygoing laissez faire attitude on life:
Cowboys dressed as cops
Telling me to knock it off
They swing their batons
But can't we all just get along
Blue eyes and bow tie men
Try to steal my lady friend
I know it's not real
But for tonight lets just pretend
"The lyrics to "Knock It Off" are about a wild psychedelic trip that's taking place at a bar in the East Side of Los Angeles," the band tells Atwood Magazine. "The lyrics were originally inspired by the cover art of Father John Misty's debut album Fear Fun – we tried to paint a picture of being under the influence at a bar or club and having all these strange characters coming up to you and trying to either be your best friend or hitting on your girlfriend and feeling a bit tripped out about the whole situation. You keep telling yourself none of it is real so you might as well just let go and have fun with the situation."
It's the weirdness of fantasy meeting reality – of feeling totally alien to your own world, a world you thought you understood and knew. Everything is up in the air; everything is down on the ground.
Pull up to the bar
Make some small talk
Raise our glasses up high
Till we can't walk
Best friends
Fist fighting in the parking lot
Cowboys dressed as cops
Telling us to knock it off
Clean, clever, and fantastically hypnotizing, "Knock It Off" is a fun song that heralds a new era for Magic Bronson. There's no telling what plans the band have in store music-wise, but it's clear that they are still only scratching the surface of their musical potential, experimenting with sounds, rhythms and textures and letting their creativity flow naturally – taking inspiration from wherever it just so happens to be found, from album art to fantasies and beyond.
Stream Magic Bronson's "Knock It Off," exclusively on Atwood Magazine!
— — — —
? © Emery Becker

:: Stream Magic Bronson ::