There's a slow, but growing darkness lurking underneath Welcome Center's new single. A song about depression and drugs, loneliness and changing, "Altoids" is achingly honest and heartbreakingly bittersweet.
we were listening to jazz or punk rock or philip glass,
i can't remember
you had two uppers in an altoids can
my mind was pretty vagued up
my girlfriend left for houston
to live with her dad again
and i was lonelier than i'd ever been
am i still lonelier than i've ever been?
Listen: "Altoids" – Welcome Center
---
Atwood Magazine is proud to be premiering "Altoids," the sophomore single off emerging duo Welcome Center's forthcoming debut EP, Disorder (anticipated early February 2018). The collaboration of longtime friends Jesse Smith and Aaron Sternick, Welcome Center came under our radar this past October with their debut single "Withoxt Yxu," which we described as "a drifting ballad filled with contemplation and light."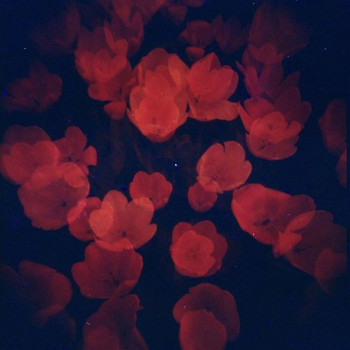 "Altoids" is a darker twist compared to their debut, finding the pair continue to explore the pain of post-breakup life through raw, unfiltered music and lyrics. Welcome Center's imagery is visceral; whereas their debut had a poetic psychedelia about it, "Altoids" takes bullets straight to the chest. The song plays out as something of an ode to kinmanship and friendship, with the narrator singing to a friend helping him through a rocky point in life: "You had two uppers in an altoids can, my mind was pretty vagued up… my girlfriend left for houston, to live with her dad again," Smith sings in the first verse.
The band gets totally honest in the chorus, a somber upheaval of intimate, unspoken truths:
and if i'm being totally honest
i never thought that i'd live this long, okay
and if we're being totally honest
i get nostalgic while life just keeps pulling away, away
"Inspired by a night of taking ecstasy in Philadelphia and a trip to Big Sur two years later (both with Aaron), 'Altoids' is about trying to make sense of depression, drug usage, heartache, and that nagging feeling of how you're somehow undeserving of good moments because of past transgressions," Jesse Smith shares. "This song encapsulates those feelings of struggling with self-worth and the varying chaotic states that drug use took me through."
i'm sorry i'm nostalgic over everything you say
this e that i just took is taking my breath away
this city barely sleeps, and there's a hole in manhattan
the size of my heart, where you used to take me and say
'baby, validate me'
"Altoids" whisks listeners into some kind of a lo-fi heaven, creating a blurry soundscape that reflects the narrator's druggy haze. Floating in that ether with the band, we feel the recoil of their emotions – a heavy weight dragging us down into a pit of darkness. Though their music might be tangentially compared to that of Sir Sly or alt-J, it's clear that Welcome Center are operating within a world of their own as they continue to explore the intersection of music, lyrics, and heartbreak.
Stay tuned for more from Welcome Center via their socials below, and catch them live in the Virginia/DC area later this week!
— —
— — — —
photo © Welcome Center
---
:: Welcome Center 2018 Tour ::
3/1/2018 // Charlottesville, VA @ Twisted Branch Tea Bazaar
3/2/2018 // Fredericksburg, VA @ Evolving Art Machine
3/3/2018 // Washington D.C. @ Otherfeels