Promising indie pop act Miles Francis turns the Neverland cliché on its side with "Adult Life."
— —
When the universe is obsessed with youth, how do you react when you're desperate for anything but? Miles Francis is still searching for the answer, but in the meantime, his newest single "Adult Life" can hold us all over. The latest from the emerging indie pop singer/songwriter — a former Antibalas drummer with experience performing with everyone from Sharon Jones to Arcade Fire's Will Butler — is premiering via Atwood Magazine today along with its whimsical, childhood-inspired video, putting a kitschy spin on the dichotomy of growing older.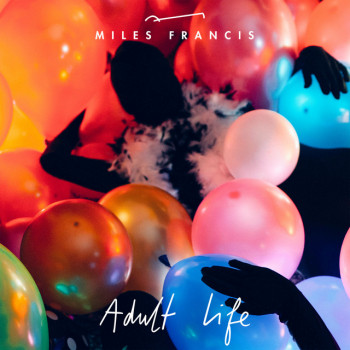 Written from the perspective of his younger self, "Adult Life" tells Francis' tale of yearning for the maturity, wisdom and experience that comes naturally with adulthood, although the road to get there is grueling. While today's pop music is often redundant with clichés of being "forever young" and never growing up, Francis doesn't fear proclaiming the exact opposite – he can't wait another moment for the phase in life where it seems everyone has fallen securely into their place.
When I was younger, I didn't have a past
Just memories with nothing more attached
Then I wake up one day to find it's gone
Well, good riddance innocence,
I'm done being young
Tie me down and fit me in the mold
Kiss me like you will when we grow old
It's adult life for us
Sonically, "Adult Life" feels inarguably as if Miles Francis has found his footing. Despite its distressed lyrical themes, the track feels just as bouncy and carefree as youth, building up from a buoyant bass line and clap-along backbeat. Its light, funky sound arrives at a stark irony in the chorus upon the cornerstone lyric: "give me adult life or give me death."
Confetti, giant gummy bears and superhero apparel aren't enough to cheer Francis up in the accompanying Charles Billot-directed video. A perfect pairing to the song, the "Adult Life" visual sees Francis living out quintessential childhood moments – like playdates, parties and fearfully lying awake in flannel pajamas – although he's never quite thrilled.
When I was younger, I didn't know regret
Impulse decision, and that was that
Then I wake up one day to find it's true
Welcome sweet burdens, I've been waiting for you
---
According to Francis, the track has a deeper meaning still aside from just wanting to grow up.
"We love the idea of leaving childish things behind, but what we really leave behind is an inner peace that we spend the rest of our lives searching for," Francis explains.
Thankfully, when it comes to helping listeners find that inner peace, "Adult Life" should do the trick. Through his latest single, Miles Francis shows that even in the songwriting mindset of a child, he's able to craft well-rounded, full-sounding indie pop with a bright, funk edge that shows this isn't his first rodeo. Maybe the sophistication he was waiting for was there all along.
Stream: "Adult Life" – Miles Francis
— —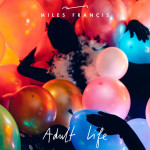 ? © Charles Billot
:: Stream Miles Francis ::