Brooklyn pop duo Fever High melt French and English together to make a gooey mixture of glitter and magic in their latest enchantment, "Avec You."
— —
There's a genre of music that I like to call, "Music that sounds like it was recorded in a metal cage." It was popularized in the '80s by groups like Depeche Mode, Tears for Fears, and Bananarama, and it's one of my favorite styles of music. Heavy synths and booming drum machines give way to sounds that shine as brightly as stainless steel. Images flood to the mind of leg warmers and scrunchie-clad go-go dancers hanging from the tangles on an industrial jungle gym. It's pure, unadulterated fun that the '80s seemed to be dripping with. That's the feeling that Brooklyn duo Fever High have created with their latest single, "Avec You."
Plié, Relevé, Plié, Relevé…
Plie, Chassé mon ami
I would like to rock
Also then to roll
I count down the clock
Til we lose control
Night is coming up
And the moon is showing
Light is giving up
Downtown here we go
Stream: "Avec You" – Fever High
---
Atwood Magazine is proud to be premiering "Avec You," Fever High's brand new single and their first release since November 2017's debut album FHNY. The duo of guitarist/singer Anna Nordeen and singer/songwriter Reni Lane (alongside Fountains of Wayne bassist Adam Schlesinger) have made a considerable splash over the past two years, and "Avec You" continues their exciting ascent. The Parisian inspired dance tune is industrial and glittery; one would be hard-pressed to find a person who didn't want to immediately get up and dance to the pop duo's invigorating mixture of Franglais and broken English.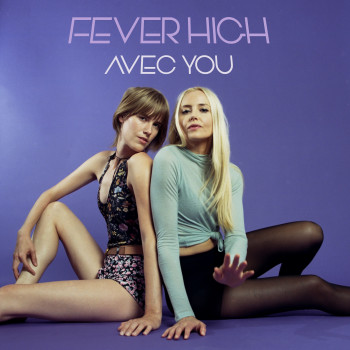 There's so much I wanna do
Avec you
Beaucoup, Beaucoup,
Beaucoup Ooh Ooh Ooh
"I'd recently been through a breakup and was in Paris soon afterwards," Reni Lane tells Atwood Magazine of the new tune. "I ended up having the time of my life there; making new friends, music, and memories for life. So the song was definitely inspired by those crazy Parisian adventures and the potential one night has to change your perspective on everything in life and love."
That excitement spilled over into the track's actual creation: "We were in the studio dancing to this groove that Adam had come up with, and suddenly Reni started doing ballet movies and saying "plié, relevé", which we all loved!" Anna Nordeen recalls.
We descend the stair
Where the beat is growing
We have not a care
Where some others go
Now you take me close
Give to me a secret
I may never tell
But you'll never know
Those crazy Parisian adventures bleed through the track and seep into your ears as if you yourself were there for those serendipitous memories. "Avec You" is at its heart so simple, yet it makes you feel infinite — like you are dancing through the streets of Paris, bathed in moonlight. Stream "Avec You" exclusively on Atwood Magazine, and let Fever High take you on a 3-minute trip to Paris as your anxieties fade away.
Stream: "Avec You" – Fever High
— — — —
? © Remy Holwick
:: Stream Fever High ::