Recommended If You Like: MGMT, The Flaming Lips, Everything is Green, San Fermin
Los Angeles' All Things Blue is a young and independent soul with her feet on the ground and her head in the clouds. A '60s flower child spirit of adventure combines with a '90s edge and modern electronic grace that sets the self-described "psychedelic, alternative pop-rock" act apart from so many others. Her debut EP Duende (May 2016) established a heavy, lyrically raw vessel of self-expression: One can easily lose oneself in the fuzzy overdrive coating "Sleep" or album opener "Braindead," and indeed the lead vocals themselves occasionally feel drowned in sound – perfectly at home in the haze.
All Things Blue's follow-up single "Milk and Honey" is an eclectic, emotive assertion of the self. The artist captures the Millennial blues, coming to terms with life's harsh realities while refusing to give up her own agenda and dreams.
Is this what the future holds?
Try to sell but don't get sold 
I'm making moves but going slow
Will I get there I don't know
I'm strung out, I've had too much 
You got me feeling so fucked up
I'll keep pushing through this fight 
If I can keep my head on right
Listen: "Milk and Honey" – All Things Blue
[soundcloud url="https://api.soundcloud.com/tracks/299996268?secret_token=s-sdKQc" params="color=ff5500&auto_play=true&hide_related=false&show_comments=true&show_user=true&show_reposts=false" width="100%" height="150″ iframe="true" /]
---
Atwood Magazine is proud to be premiering All Things Blue's "Milk and Honey," a bold and confident release from a promising up-and-comer who won't take no for answer. The moniker for actress/artist India Coombs, All Things Blue blends genre like it's nobody's business, deftly mixing pop, R&B and hip-hop vocal styles on "Milk and Honey" while letting gutsy experimentation guide an impressively open and airy instrumentation.
I'm not cold
I just hate when people say to do what I'm told
Oh no oh no
I'm getting too old
It's obvious that I don't have it under control  
I can't breathe but I'm sure I'll be fine 
Though it feels like there is something crawling out of my spine
How will I find 
My peace of mind
When all I want to do is rewind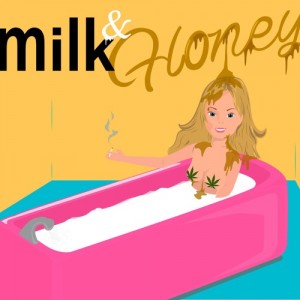 Stripped of her first record's fuzzy guitars, Coombs' strong voice assumes center stage in All Things Blue's artistry. Her utterances carry a defiant, I'm doing me attitude, but her words are emphatically honest; it's as if the tone is an attempt to cover up just how vulnerable she truly feels in the moment. "Where I am in my life right now kind of inspired the song," Coombs explains. "Being an artist these days, you still need to have a full time job while making the time to be creative, which can be sort of chaotic, and in that chaos [you're] still finding a way to stay true to what you're trying to create; making music that makes you happy and gets you excited, instead of trying to fit into a genre or market."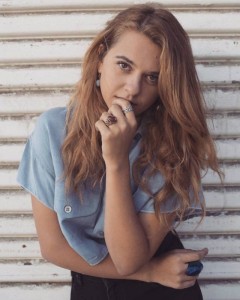 Chaos. The word certainly carries its own imagery and connotations, and they fit very well into the song's narrative. Coombs expresses uncertainty, fear, and determination almost simultaneously in her fragile chorus. Juxtaposed against a subdued, riffing bass guitar, her high voice feels all the more delicate. She's trying to stay strong, but deep down she's sure she might snap at any moment. "I'm strung out, I've had too much, you got me feeling so fucked up," she declares, overwhelmed and restless. Coombs nevertheless resolves to continue on her journey: "I'll keep pushing through this fight, if I can keep my head on right," she concludes. There's no backing down from this life; not for her, not ever.
Still, pursuing your dreams is hard work, and the farther down the rabbit hole you travel, the more intense things become. The song's title is itself an allusion to this never-ending struggle: "Milk and Honey" is a biblical reference to the "land of milk and honey," a place where luxuries abound – where the streets are paved with gold, so-to-speak. One can conclude any number of conflicting takeaway lessons from this song name: That the artist knows what she wants, and she'll stop at nothing to get it; that success is elusive, and paradise the dream does not align with paradise the reality.
I'm bored
I'm always in the mood for something I can't afford
Another locked door
What's the effort for
All my options seem to be a double edged sword
Tongue-in-cheek or not, "Milk and Honey" is a trippy voyage with an intimate core. Its innovative composition, with unconventional breaks that seamlessly connect emotions to moments, highlights the artist's immense, still burgeoning talent. Layers of sonic textures and timbres craft brilliantly complex melodies and rhythms that support Coombs' vocal lines while bolstering her message – or rather, her headspace. "I've been dreaming of the day that I don't have to think about this anymore," she sings in a dreamy, slowed-down breakdown towards the song's end. Like an oasis in the desert or the eye of the storm, everything stops as All Things Blue taps into the deepest, darkest recesses of her being. "And in my mind I know that this is hopeless when you're walking past me out the door." One can easily sink into her psychedelic insomnia, a tapestry of disjointed sounds that are just discordant enough to fit perfectly together. Her anxiety is laid bare, and for that moment, the audience can truly feel the artist's burden in its entirety: Her doubts, her division, and her unrelenting resolve.
And then, like it does at the end of a Zack Morris moment, the world kicks back into high gear.
All Things Blue aspires to be a trailblazer, and "Milk and Honey" is proof that India Coombs has what it takes to bring a new sound to the west coast. Already playing by her own rules, Coombs and All Things Blue have a bright, promising and technicolor future.
— — — —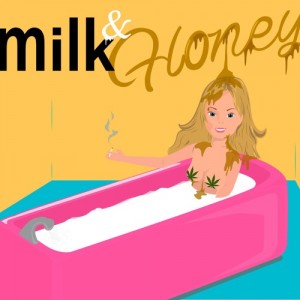 cover: All Things Blue © Erika Mugglin
:: Listen to More from All Things Blue ::
[soundcloud url="https://api.soundcloud.com/users/175481075″ params="color=ff5500&auto_play=false&hide_related=false&show_comments=true&show_user=true&show_reposts=false" width="100%" height="450″ iframe="true" /]