Hermione Kellow reports on the eclectic Latitude Festival in a weekend of surprises, both good and bad…
— —
In a ray of good luck, Latitude festival, based in Henham Park Suffolk, returned for its fourteenth iteration managing to swerve the predicted thunderstorms and instead shower its guests with an array of cultural bliss. With bubbles being blown in all directions, a designated teenager area and toddlers in the mosh pit, Latitude truly proved itself to be a family affair with all variety of activities on offer across the age groups.
Indeed, the friendly, feel good atmosphere extended not only to the stage, with so many brilliant sets to choose from, but to the incredible staff who were so exceptionally organised and cheerful that they truly made the festival. A special thank you in particular goes out to the angels in lost property who managed to return a certain somebody's credit, debit and ID card in under 24 hours… absolute lifesavers!
With such an array of entertainment including literature, cinema, theatre, art and live music, the arena absolutely bristled with activity. Such a thriving cultural environment was certainly commendable and a trait that remains unique to Latitude however, with so much on offer a slight moan would have to be how difficult it was to work out what was going on and where around the arena.
Having impressively reduced on plastic and paper consumption, physical programmes sold out fast leaving festival goers with only the official app to guide them. A fact that would have been fine had the app been slick however, with limited internet signal on offer for many, the app ran intermittently at best leaving many punters clueless as to where and when they may catch their favourite acts. Considering how much money was spent on tickets, this should really have been a top priority and unfortunately seems to have been a bit of an afterthought. Despite this moan, there was always something amazing going on so here are some of my highlights:
Headliners
Latitude 2019 kicked off with a completely joyful headline performance from George Ezra featuring brilliantly talented instrumentalists whom he championed during the show and finishing with a sizzling firework display above the stage. It was packed with summery, brassy fun that filled the festival with delight.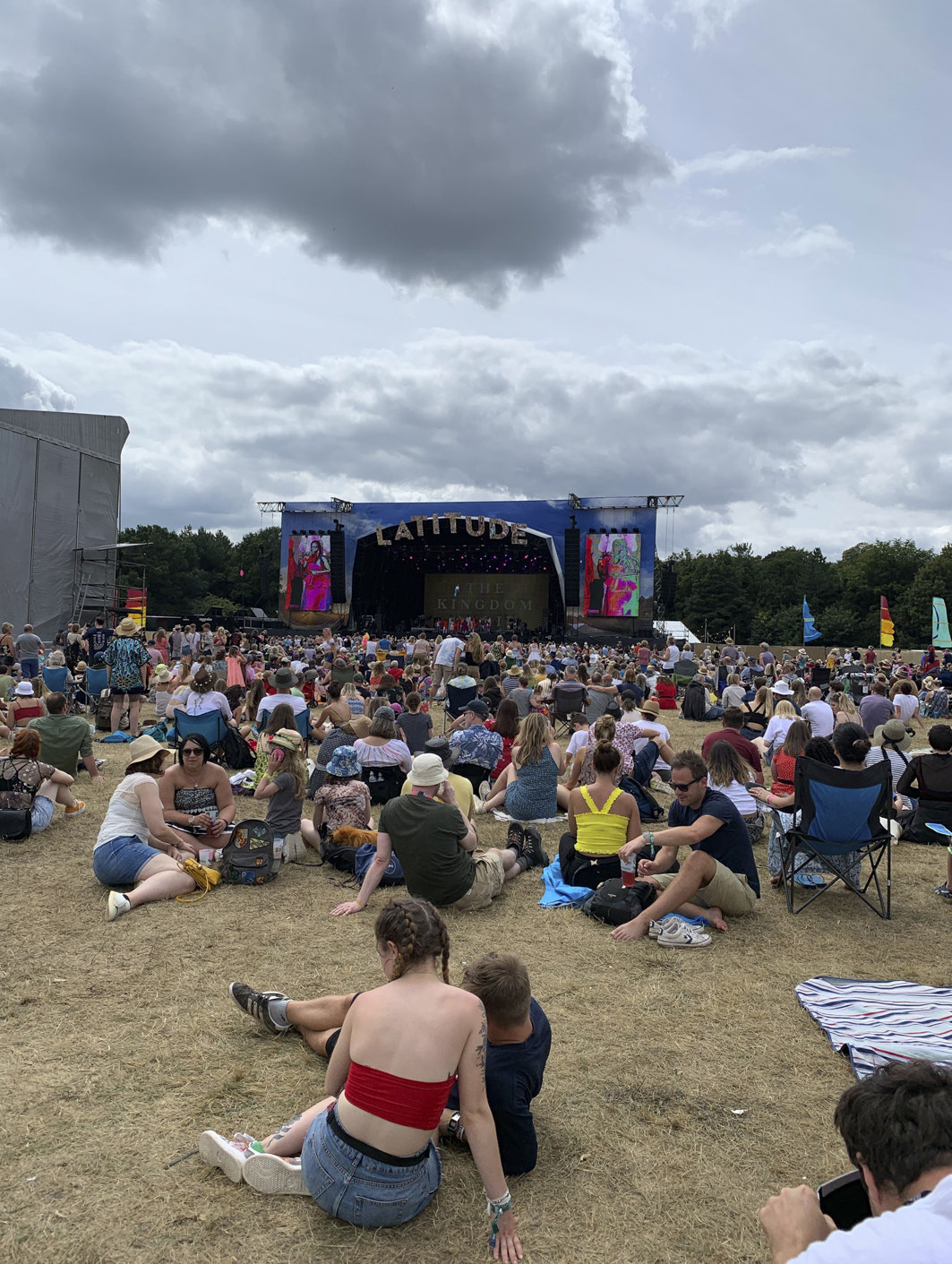 The following evening saw the main stage graced by Welsh rock band Stereophonics who stepped in to replace original headliners Snow Patrol just several weeks earlier. Filling the arena with the sounds of some of their greatest hits, they completely pulled it out of the bag with a set that saw the whole crowd clapping and waving along. Equally, over on the BBC Sounds stage, in their only UK festival appearance of the Summer, Everything Everything completely brought the heat it in a set that had a frankly electric atmosphere, packed with high energy from both fans and band and a particularly exhilarating lights show to boot.
On the final night, hordes of fans swarmed the main stage to get a glimpse at their Americana princess Lana del Rey. Complete with swing set, white lace and flower crowns this set was certainly a hit with the fans and although maybe not for me personally, thanks to her trademark breathy posturing and long extended autograph walks, perhaps I just wasn't the intended audience.
Notable Mentions
After performing a stellar main stage set, vocalist Tom Grennan made a surprise appearance on the far smaller BBC introducing stage as their 'mystery' act for the day. The exceptionally easy-going singer performed an intimate set amongst the trees in what proved to be a really special moment.
Being one of only three local artists chosen to represent BBC introducing in Suffolk, Alfie Indra delivered a set that was full of enthusiasm with some brilliant Indie tunes and a great audience rapport. Equally Zuzu emerged as deliciously quirky, tongue in cheek surprise, whose set felt honed and full of promise. With both acts bringing a real freshness to the Lake stage, they will definitely be worth keeping an ear out for.
Watch: "How It Feels" – Zuzu
The lovely and ever humble Sigrid was perhaps my favourite live act on the main stage. She performed with a real sense of authenticity and a gratitude for those around her, something hugely refreshing for the perceived image of a young 'pop star.' From admitting her own nervousness when sat down to play the piano, to the plain grey hoodie she walked on stage in and the incredibly confident set she delivered, everything about her radiated positivity and progression in the music industry.
Near Misses
As previously mentioned, with so much being showcased over the weekend, there was simply no way that one person could catch every single act they planned. Therefore, here are a few of my personal near misses, the acts that I will certainly be keeping my eyes peeled for in the future!
Australian singer/songwriter Didirri is truly a captivating act. Not dissimilar to how one might imagine a solo acoustic version of Catfish and the Bottlemen may sound, the singer brings a real rawness to his lyrics which slot together perfectly with some carefully thought out acoustic instrumentation. His EP Measurements is a real eye opener so fingers crossed he is back in the UK soon!
Watch: "Jude" – Didirri
Electronic act Low Island are a really interesting group whose sound, driven by synths and extensive multi-instrumentation fused with a flair for house production particularly shines in recent release "Search Box." For anyone around London, be sure to check them out at their Elektrowertz show on the 6th November.
Watch: "Search Box" – Low Island
All in all, a brilliant weekend with plenty of exciting new music to explore and a brilliantly eclectic lineup. Bring on Latitude 2020!
— —