In a word, Mdou Moctar's set at Halifax Jazz Fest was transcendent, taking the crowd on a joyous ride to another plain—one of big solos, changing tempos, and impossible-not-to-dance-to rhythms.
— —
The room was full of that pre-show smell: A potent combination of beer, body odour, and anticipation that melded with the cloud of steam that hung over the vibrating, sold-out crowd. The man they were waiting in—and contributing to—this stench for? None other than Nigerien king of Tuareg desert blues-rock Mdou Moctar.
Standing as part of this incredibly diverse crowd it was hard not to think of his astonishingly unlikely backstory: Growing up in Niger in an extremely religious household that didn't play music, he learned guitar in secret, during picnics with his friends in the heart of the Saharan desert. He became famous after his music ended up on the underground cellphones and memory cards being traded around Niger—around the same time we were illegally downloading Nickelback's new album on Limewire.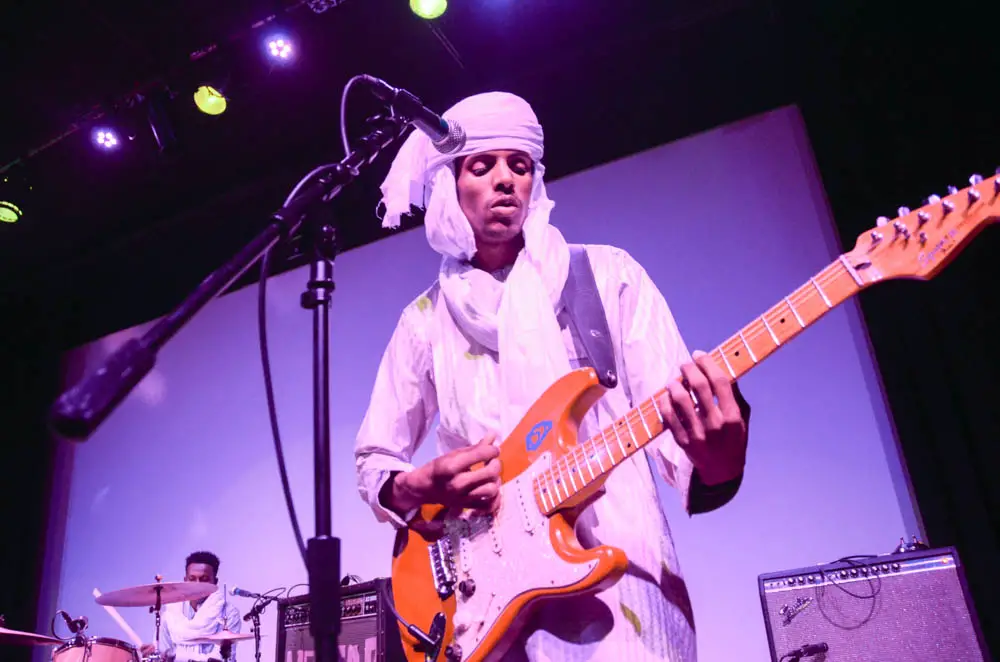 And now he's here in Canada, headlining a show at the Halifax Jazz Festival.
Entering the stage, you were struck immediately by both his height and his confidence (both scraped the bar's low ceiling)—and then by his attire. His whole band dressed in traditional Taureg robes. As Moctar's left-handed Fender Stratocaster rested on his torso, its contrast against his soft, cantalopue-coloured robes gave an image we don't see enough—one that reminds us there's a whole world out there, dammit, and we're only listening to a small, homogeneous sliver of it in Western culture. He tuned his guitar while reminding us of all we miss out on when we're too lazy to look outside ourselves.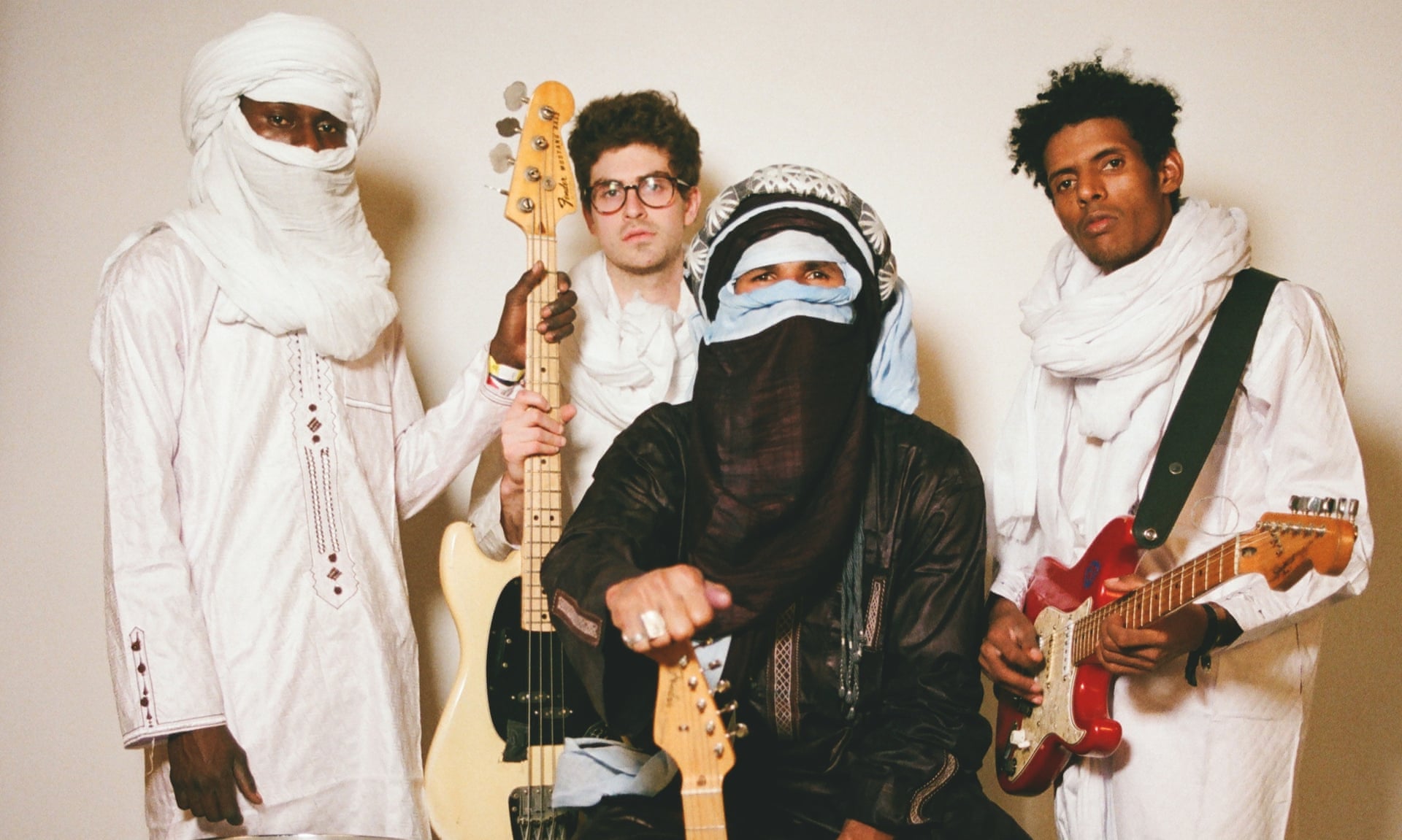 He calmly looked around at the room's baying faces and then gave them what they wanted. Softly, slowly, and with a tone that was all his own; reverbed, psychedelic, and relaxed. His voice gentle, rhythmic, and usually falsetto. Not singing in English, its effect for most was another luscious layer to get completely lost in.
In a word, his set was transcendent. Here that overused word is being in its very definition: His band took us all on a joyous ride to another plain—one of big solos, changing tempos, and impossible-not-to-dance-to rhythms. The whole audience swayed as one, like a headbanging tidal wave.
With English as his third language—at one point Moctar even needed his bass player to translate and ask for more vocals in his monitor—his banter with the crowd mostly consisted of hand gestures and big smiles. His main tool of communication was his guitar.
His extremely tight band—a drummer, bassist and rhythm guitarist—created thick, bluesy rock backdrops and just repeated them, allowing Moctar to wander through this sonic landscape and explore all its corners. Sometimes the band would speed up and push Moctar to chase them around his fretboard, other times Moctar would shred quicker and force the band to keep up with him.
Either way, they never left the audience behind.
The tempo would constantly increase to a crescendo with the guitars screaming for mercy, the frenzied baselines pounding off the club's low ceiling and then one beat later, they were back in the verse's blues riff with Moctar crooning over the top. They repeated this sonic rollercoaster, loop-de-looping the crowds' ears with resounding success.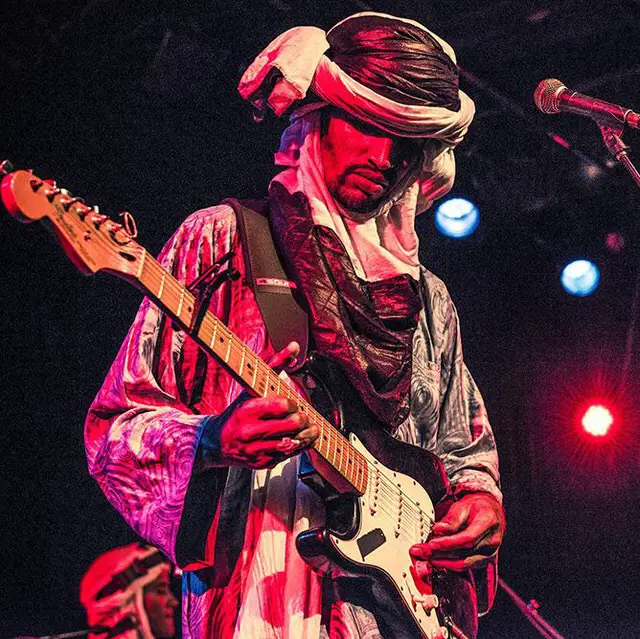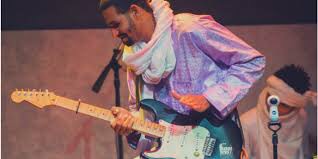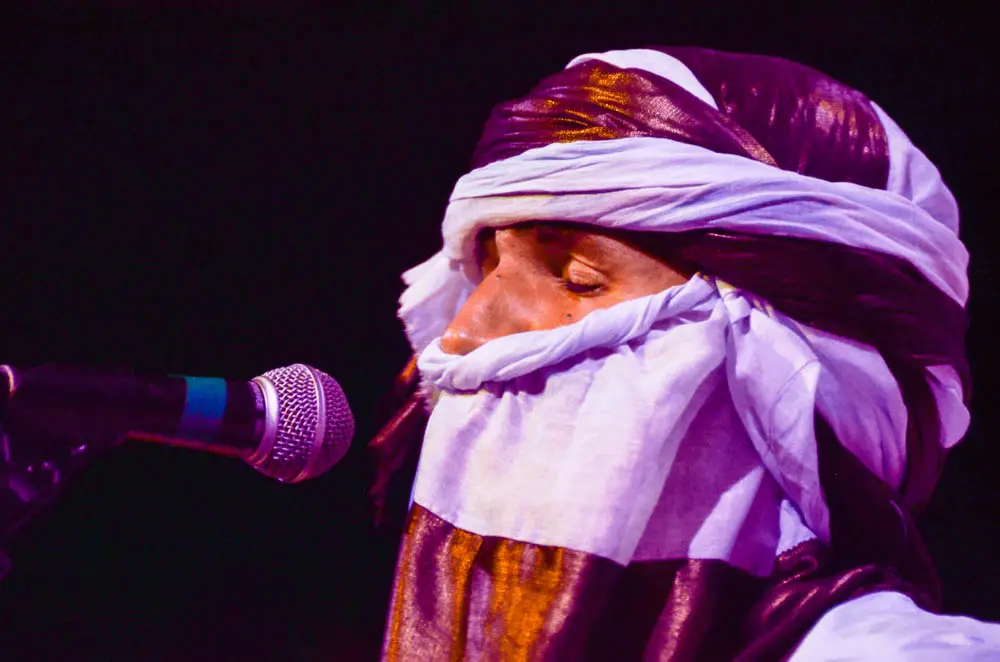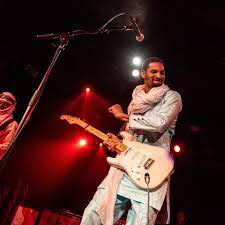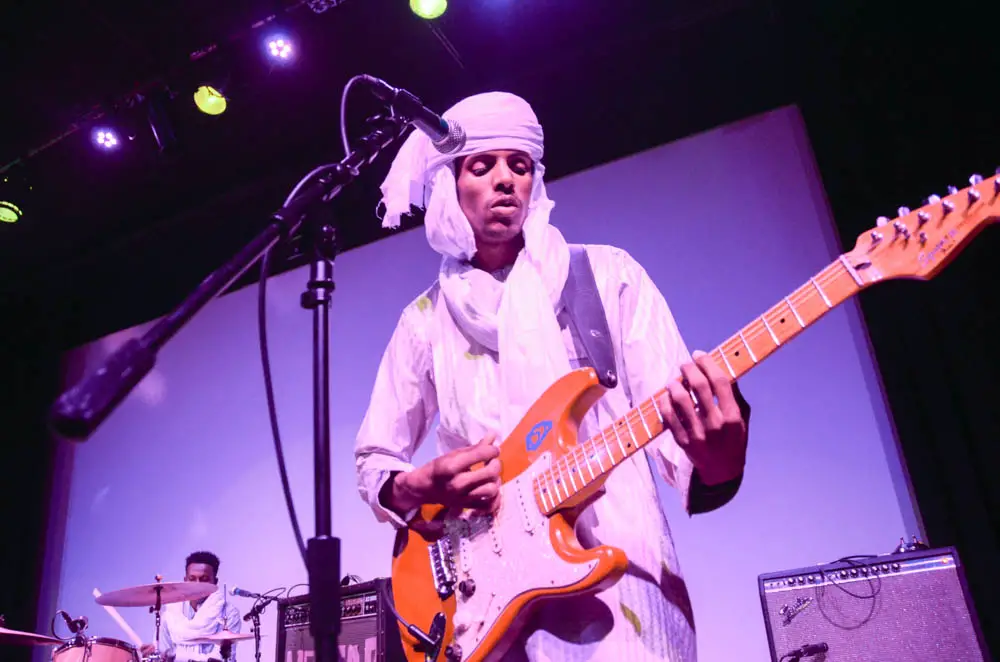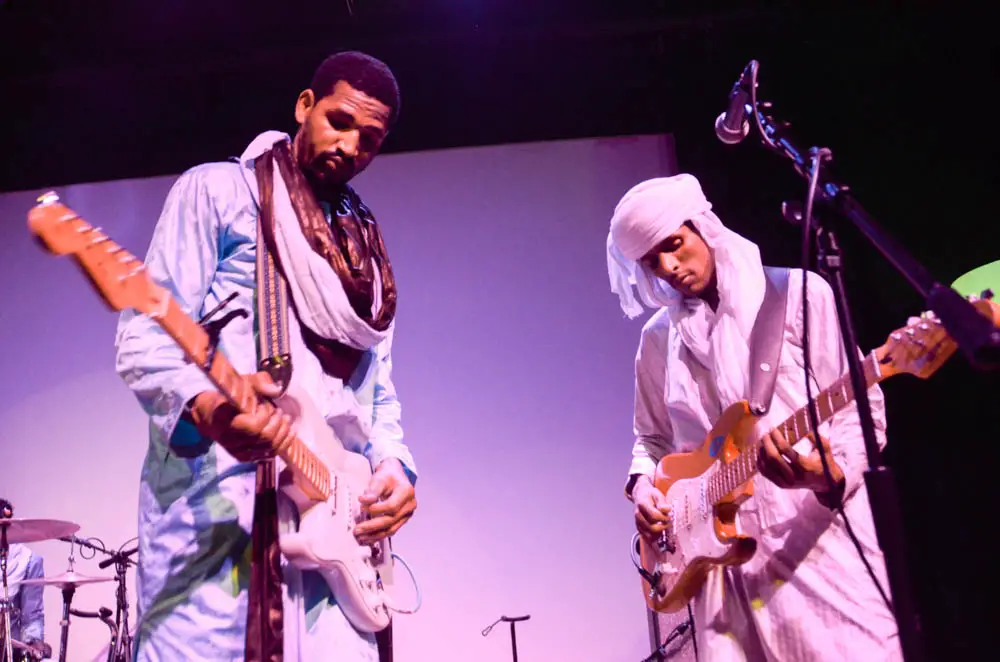 ---
Catchy danceable hits like "Tarhatazed" and "Wiwasharnine" from 2019's Ilana (The Creator) blended effortlessly with his older works, created a seamless set that felt like it was over in 15 minutes—although it spanned over an hour.
The crowning jewel of the evening, however, was the moment Moctar stepped front and centre and played the guitar overhand, pressing the frets more like piano keys while substituting his regular strumming for more of a gentle caress. His smile during this solo lit up the room brighter than the stage lights, and you could barely hear the band over the roars of the crowd. One huge note later, a closed hand bow and a mouthed thank you later, he was out of there, with the crowd equal parts blown away and grateful; a true showman and virtuoso on display one sweaty night in July.
— — — —
? © Jon Behm
:: Stream Mdou Moctar ::