Every Friday, Atwood Magazine's staff share what they've been listening to that week – a song, an album, an artist – whatever's been having an impact on them, in the moment.
This week's weekly roundup features music by The Guidance, Simon and the Island, The Koreatown Oddity, Misty Mtn, Rebel Kicks, Cooper Phillip, SPINN, Zueva, Boy Scouts, Qrion, Shadow Basket, and Sally Boy!
•• •• •• ••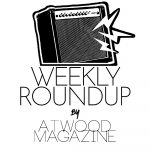 — —
—
:: "Outside of the Blue" – SPINN ::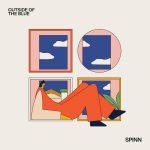 SPINN have always promised an exhilarating experience, and the first looks at their sophomore album already follow through on all the glitz and glory of 2019's invigorating debut. Outside of the Blue (releasing in 2022 via Modern Sky UK) is an explosion of cinematic indie radiance: An exciting and proud follow-up to the Liverpool band's debut that finds them maturing and growing, while staying true to themselves and their energetic sound.
Lead single and title track "Outside of the Blue" is quintessential SPINN: A kaleidoscopic roller-coaster of effervescent indie pop wonder. Dynamic drums and surging guitars make for an evocative base, off of which SPINN fly high and mighty as ever:
Living life on the outside
Always missing something
You brought me into the inside
When I found your loving
When I thought I was nothing baby
You brought me right back from the blue
Never up for discussion baby
Never needed another, only you
And everyday I'm always falling further
Into your world and outside of the blue
"'Outside of the Blue' is about battling anxiety and periods of depression; coupled with the redeeming powers of love and how it can help you get out of that sort of 'blue' world you find yourself living in sometimes," frontman Johnny Quinn tells Atwood Magazine. "It's about how appreciative you become of the good things in life when you realise you have them – and how you'd do anything for that."
SPINN have always made pop-driven songs with substance: Their music taps deep into their human core, brimming with passion and purpose, raw emotion and vulnerability. Music this catchy and meaningful is hard to keep under wraps for very long: Put Outside of the Blue on your radar, and prepare to get lost in SPINN's dazzling radiance.
:: Little Dominiques Nosebleed – The Koreatown Oddity  ::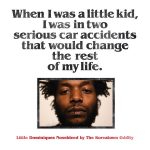 When I was a little kid, I was in two serious car accidents that would change the rest of my life." So says the cover of Koreatown Oddity's 2020 album, setting the theme for your next hour of listening. Little Dominique's Nosebleed feels like a wander through the inside of The Koreatown Oddity's hyperactive mind, with all the left turns and eclectic segways that come with someone excitedly reciting the past. The production is choppy and angular, rarely staying in one beat for long. Voice overs, comical skits, and abrupt overlays constantly interrupt the album—alway for the better. Meanwhile, Dominique Purdy's flow lurches between languid and giddy, sometimes in line with the song but just as often at odds with it.
As Purdy spans his childhood, his current hype, and the impacts of all this on his future, it becomes clear that The Koreatown Oddity has both the skill and the passion to be a household name. The end result then, is an album that demands your attention but ultimately deserves all your love.
:: Weren't Those The Days – Misty Mtn ::
As a longtime Lord of the Rings fan, a group with the name "Misty Mtn" was bound to catch my eye. I was thus inspired to check out this duo and their recent single, "Weren't Those The Days." The song's release is accompanied by a music video in which the group's chief vocalist, Mo Trunzo of Montana, sings at the steering wheel as she drives her getaway car through the landscape referenced in the group's name. There's some distinct symbolism at work here.:"It's human to wake up and feel like you were born in the wrong era, or romanticize some past relationship or path not taken," Trunzo explains. "We're not offering an escape from that, or some sort of self-help manifesto about living in the present—just a meditation on that most intimately human experience."
On top of the peaceful meditation the title track provides, the Weren't Those The Days EP includes an additional three songs ("Beachwood," "In the Deep Ends," and "The Seasons") that together demonstrate the combined force of Trunzo and her musical partner, Lucas Segall. It is he and producer Ariel Loh who provide the alluring synth-pop instrumentals featured throughout the record. These four numbers are intended to recreate the feeling of passing through each of the four seasons and the range of emotions that experience generates. It's a fitting concept for a group that's done a fair amount of shifting around itself– having traveled to Montana, Los Angeles, Brooklyn, and now the Pacific Northwest, all in an effort to establish their creative niche. With Weren't Those The Days, signs are strong that that endeavor has ended up being successful
:: "don't have a clue" – Zueva ::
You are making it hard for me to stay on the ground… I might do things I'll wanna take back." A delicate, gentle unveiling of the self, Zueva's intimately vulnerable sixth single is a silvery, glistening, and heart-wrenching affair. The Russian-born, Norway-based artist/producer – who debuted just two years ago, and has been slowly releasing songs one at a time since then – weaves a vivid palette of cool sonic wonder on "don't have a clue," a raw and soul-baring electronic-meets-bedroom pop storm.
You are making it hard
For me to stay on the ground
I might do things I'll wanna take back
I go about my days
Looking for
Something that's wrong with you
Laying in my bed
Can´t take my mind of you
"The process of writing the lyrics was intense and took me over a year," Zueva tells Atwood Magazine. "I went through a process of dealing with my emotions, before I could write the second verse. I remember sitting by the ocean, trying to detach myself from the rush and stress of daily life – this helped me to get in touch with my intuition. You can't really use your thinking brain too much when writing about a sensitive topic."
"don't have a clue" is gutting: The kind of song that comes from the heart, not the head. Zueva's music is beautifully fragile and stunningly cinematic: Ultimately, she leaves us shaken, moved, and excited for all that's to come.
:: "Your Love" – Qrion ::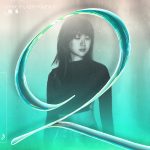 This is a flawless house record. And if it isn't, well then it comes pretty damn close. If the goal is to keep a person in an incessant rhythmic head space, then Qrion does that dozenfold. I Hope It Lasts Forever comes as advertised, dancing to synth, bass and drum without ceasing; her breakbeats keep the mind's ass shaking and her gentile melodicism has the heart's eye quavering. She reproduces the string sensations with what sounds like an autoharp on "Waterfalls," staying listeners on wings of melodic levity before dropping multiple octaves into a bassy realm of beat.
If there is a single flaw in this record, it's that the features in Flownn, Mars Kasei and KROY might be "weakest" parts of the record, mainly because you wouldn't really recognize their featured sections without looking at the credits, which means they didn't much shift or augment any opinion of this record. But then again, why change what's already working? They're so well embedded into the record that they feel entirely natural which, in an inverted fashion, augments Qrion's skills as producer.
Her infusion of different sources speaks to a tactical musicality. "Your Love" hints at citypop glamour on its opening, before moving into a more straightforward time signature. People can deride house music all they want, but four on the floor gets asses in the door. What matters is what happens when people do step through that door, and the bridge into the second half of the cut explicates the joy of electronic music: it's a missive, a sterling, flummoxing bird call synthesizer that comes into its own as a gift to you and everyone else around you, thumping and dancing and gyrating in a sea of sweat, noise and light. By the time it finished, I opened my eyes and came to. For a moment I was not alone.
:: "I Didn't Mean That" – The Guidance ::
Chicago-born, Los Angeles bred artist The Guidance was known for his dance-worthy beats and amalgamation of both analog and digital techniques. Tragically passing away, shortly after the completion of a new album, the decision was made by his closest family and friends to continue with the release and allow the world to hear more of the mind behind the man. One of the tracks off of the upcoming album, is the hauntingly beautiful and poignant "I Didn't Mean That." The single speaks of the songwriter's (also known as Stefan Pruett) desire to apologize and make amends with anyone in his life that he had hurt. Pruett had explained the song as, "a perpetual apology that I owe anyone in my life that I wronged. This includes my brother, and more of the most important people in my life."
Through echoing, shimmery synths, a steady beat and faint, distant vocals "I Didn't Mean That" is utterly thought-provoking, encouraging listeners to slow down and take a moment to reflect on the people around them. Sometimes we get so carried away in our own lives, that we don't realize that we've been neglecting others and this song is a nudge to call up your loved ones and reconnect with them.
:: "We Should Go Missing" – Rebel Kicks ::
We all fantasize about that ultimate escape. When our everyday stresses become too overwhelming, it is a comforting thought to imagine running away from it all. Rebel Kicks know what it is like to deal with daily anxieties. They express this relatable idea in their new infectious tune "We Should Go Missing." With vibrant beats and powerful, passionate vocals this single has us all dreaming of our getaway.
We should go missing
Let's get lost together
Don't need a reason
Just get some distance

New York City natives Rebel kicks are a daring duo showing their unique style of alternative pop. Consisting of brothers Anthony and Steven Babino, their anthemic and honest music really resonates with fans. A bold burst of sounds, their releases are never short of energy and excitement. Having opened for large acts such as Foo Fighters and Blink-182, this emerging twosome is really making a splash in the music scene.
:: "That's Life Honey" – Boy Scouts ::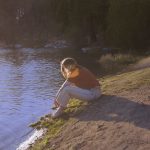 Gentle waves seem to lap at the heels as the sun shines down from above in Boy Scouts' "That's Life Honey." The lead single off the artist's recently-released sophomore album Wayfinder (released October 1 via ANTI- Records) is tender and bittersweet – a poignant reflection on our haves and have-nots, cans and cannots, with a beautifully warm, harmony-filled chorus filling the airwaves with a different kind of gold.
I was stuck saying sorry cause you hate my past
But 2 drinks in you suggest we move to Japan
Thought we were moving too fast
Nothing but time on our hands
You said I could get any job I want there
As long as I had you that I shouldn't care
About leaving my friends
Or tying up loose ends
Emotional supporting role
All the time really took its toll
So you can call me selfish, or whatever
Watch you on a screen
While I'm my main character
"This song is about trying to make light of a shitty situation," Boy Scouts' Taylor Vick tells Atwood Magazine. "Having a circumstance that sucks, like wanting to go to therapy but you can't afford it, and fantasizing about a world where you could get a chip implanted or have some surgery that rewires your brain and resolves you from whatever problems you have. This song is mostly my attempt at writing a tragicomedy, combined with true experiences of figuring out how to open up to people."
Vick's heart-on-sleeve performance, her vivid, poetic lyrics, and the expressive, colorful contrasts between verse and chorus all help to give "That's Life Honey" an instant allure. While Wayfinder in its entirety is certainly worth the listen, don't sleep on this intimate song.
If I were to die by volcano
I'd be laughing at the irony
Bottle it up and you will surely explode
You'd say why didn't you tell me
And I'd say
Well, I wanted to
But couldn't figure how
My burdens
Should become yours now
:: Simon and the Island – Simon and the Island ::
Simon and the Island, formerly known as Simon Ward and more commonly known as the lead singer of The Strumbellas, has recently unveiled three new tracks off of his upcoming album. Debuting his solo project, Ward steps into the spotlight with the same infectious feel of his previous work, but with a more stripped back, honest and raw delivery. Taking music back to its simplicity, the musician allows his clever lyricism and organic instrumentation to take center stage.
Oozing with romance, "Muse" features affectionate lyrics, warm piano melodies and an ascending string arrangement, which builds into a passionate chorus, as the singer croons, "Oh my god, I know you're struggling and oh my god, I know you'll love again. I'll take your side. No matter what you do. You'll be my muse."
With Juno Awards, gold and platinum records, number one radio hits, festival plays and late-night TV appearances already under his belt, we can only imagine what's in store for this Canadian, with the unveiling of his album due later this month.
:: "Four Roses" – Shadow Basket ::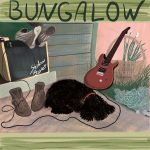 Two things on my mind for this EP.
Firstly: I guarantee that any fan of the Courtney Barnett/Kurt Vile collaboration, Lotta Sea Lice, will enjoy this debut. The vocal aesthetic is unmistakable, even if Jacey LaManna and Kyle Lutz focus less on whimsy and more on bluesy themes. Furthermore, for those with just a general predilection for bluegrass, blues and folk combinations, it's a debut worth listening to. There's not really an out-and-out awful track on this record and the highlights are sublime.
Secondly: LaManna's voice is guarded in the mix like a state secret on all but two songs. It feels as if her voice is drowned out by Lutz', something only time behind the booth can really fix. On "Four Roses," though, she belts it. And when hers and Lutz's voice do find equal space, they play off each other like milk and honey. Let them figure out which is which and who is who and what is what, by their next album, however, because this record overcomes any potential production quandary with clear effective guitar and percussion. It's just criminal that no one has listened to it yet.
:: "Boomerang" – Cooper Phillip ::
Like the title of the New Radicals song states… "You Get What You Give." Soulful pop talent Cooper Phillip's sultry tune "Boomerang" is all about this concept. The polished, electro backdrop pairs perfectly with her smooth vocals. Detailing how every choice you make comes back to you, she conveys that profound message in such a beautiful manner. The visuals are equally as striking. In the video, glowing lights and mannequins surround Phillip. The pretend people almost feel as if they represent each decision she must make.
The Russian born, Los Angeles based artist is known for her rich, textured sound. Her stunning tone along with emotive lyrics makes her releases so raw and captivating. Her strong themes of elegance and empowerment truly inspire listeners. Taking her hardships and using it to drive her, her music reflects that sense of power.
:: Lies I Tell Myself – Sally Boy ::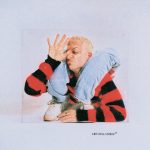 The day may never come when J.J. Abrams doesn't have a mountain of film production assignments on his desk (that much sure is clear). But impressively, the man still has made time to venture into the music business a bit as well, having launched his own record label, Loud Robot, in partnership with RCA Records.
One of the first artists to benefit from JJ's action is Sally Boy. Born Erez Potok-Holmes, he grew up in the Philadelphia suburbs and attended the University of Southern California. Last year, he came on the scene with his self-titled debut EP, Erez. In almost no time, he's returned with the follow-up, which also represents his Loud Robot debut.
Lies I Tell Myself explores the wide range of experiences Sally Boy has had as both a student and aspiring musician. Some of them are positive: "Bad Habits" is inspired by all of the fun partying he was able to cram in during his time at USC. Others are more complicated: "Chess and Checkers" documents the mental health struggles he's encountered throughout his life. No matter the subject matter of the moment, Sally Boy consistently commands the record with strong vocals, lively genre-shifting production, and a knack for collaboration (see "Good at Being Lonely," a suave duet with fellow California-based singer Hong Kong Boyfriend). Loud Robot is sure to prove to be a successful experiment on JJ Abrams' part if they keep bringing on board young artists of Sally Boy's caliber.
— — — —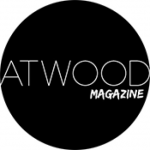 :: Weekly Roundup ::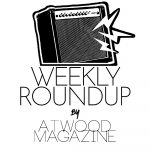 ---
:: This Week's Features ::
---