Atwood Magazine catches up with Moonrise Nation about their new album, Glamour Child, and more at Griffith Observatory in Los Angeles.
— —
On a hill above Los Angeles, Moonrise Nation soak in the smog-stained view. Two days ahead of their second LA show, we're tucked in a loading dock behind Griffith Observatory. A series of reschedulings led to us agreeing to meet at the iconic LA landmark, which, next to the Constellation Room in Orange County, may be the most appropriate place to meet up with a band whose name evokes the cosmos in all their glory.
Emma straddles the concrete railing, Arden sits against the wall, and Eva leans next to a door marked "Staff Only." Inspecting the names etched in the iconic white walls by years of visitors, Eva wonders, "how often do you think they paint these walls?" Away from all the bustle in the shadow of the planetarium's dome, we all take a breather and gaze down on the city of Los Angeles, stretching carpet-like beneath the hills. Arden comments on the humidity, unseasonal for July. Dry heat, we agree, is infinitely more tolerable.
After a few minutes of discussing Harry Potter and observing more than one child in the beginning stages of a tantrum, I get around to asking which questions they don't like being asked in interviews. All three agree: "the name." "Or the genre," Eva notes, but it's a close second to "the name". The three make clear: there's no big story behind how they came up with their name, no "epiphany."
"Arden was in the desert, high on peyote," Emma jokes, "and she saw the moon…"
"In Big Sur," Arden adds, and they all laugh. The name is what it is, and "that's it," Emma shrugs, as if it's not exactly rocket science.
The "genre" question, as Eva mentioned, is a close second in the Least Favorite Interview Question category. The girls agree that they "don't know how to describe" their sound. Trying to place themselves within one genre puts a "person in boxes," and they dislike "comparing" or "seeking to match" themselves to other artists in order to better orient themselves in the swamp that is modern genre. "Unless it's intentional…" Emma trails off. But they do agree—genre is still relevant in that it helps "guide people in the direction" of artists they'd potentially like to listen to.
"Streaming is an ocean of music," Emma begins. "A funnel," Arden adds, is what genre can help create—a path for listeners to find new artists. "[Genre] serves its purpose, but not as much as ten to 20 years ago," Emma notes.
Eva describes their sound as a "collaboration of sounds…what's appealing in what we listen to [blends in with] what's ours." Arden chimes in: "it's [putting] influences versus inspirations, [it's] hard to define where it's coming from. We all write," but as a group, they listen to very different things. Arden mentions being into "rap and R&B to Bon Iver to jazz," which is at once similar to and completely different from what Emma and Eva are into at any given moment, making one clear influence impossible to define in any one song. When writing, "I don't say, 'I'm going to write a pop song,'" Arden explains. And connecting any one element of any given song to an influence—whether it's strictly pop or another genre—gets shaky.
Emma mentions that their style is "a question mark. I don't know what our sound is. Write down a question mark," she smiles. Eva ventures into more specific terms. "True-roots Americana…singer-songwriter? No…yes…" She pauses. Arden jumps in, explaining that the element of "pride in our content [and creating] thought-provoking lyrics" that's often associated with singer-songwriters is present in their music. "Americana pop?" she offers, and the group only tentatively agrees.
"We're not there yet," Emma notes, but maybe one day "people will say 'Moonrise just sounds like Moonrise.'"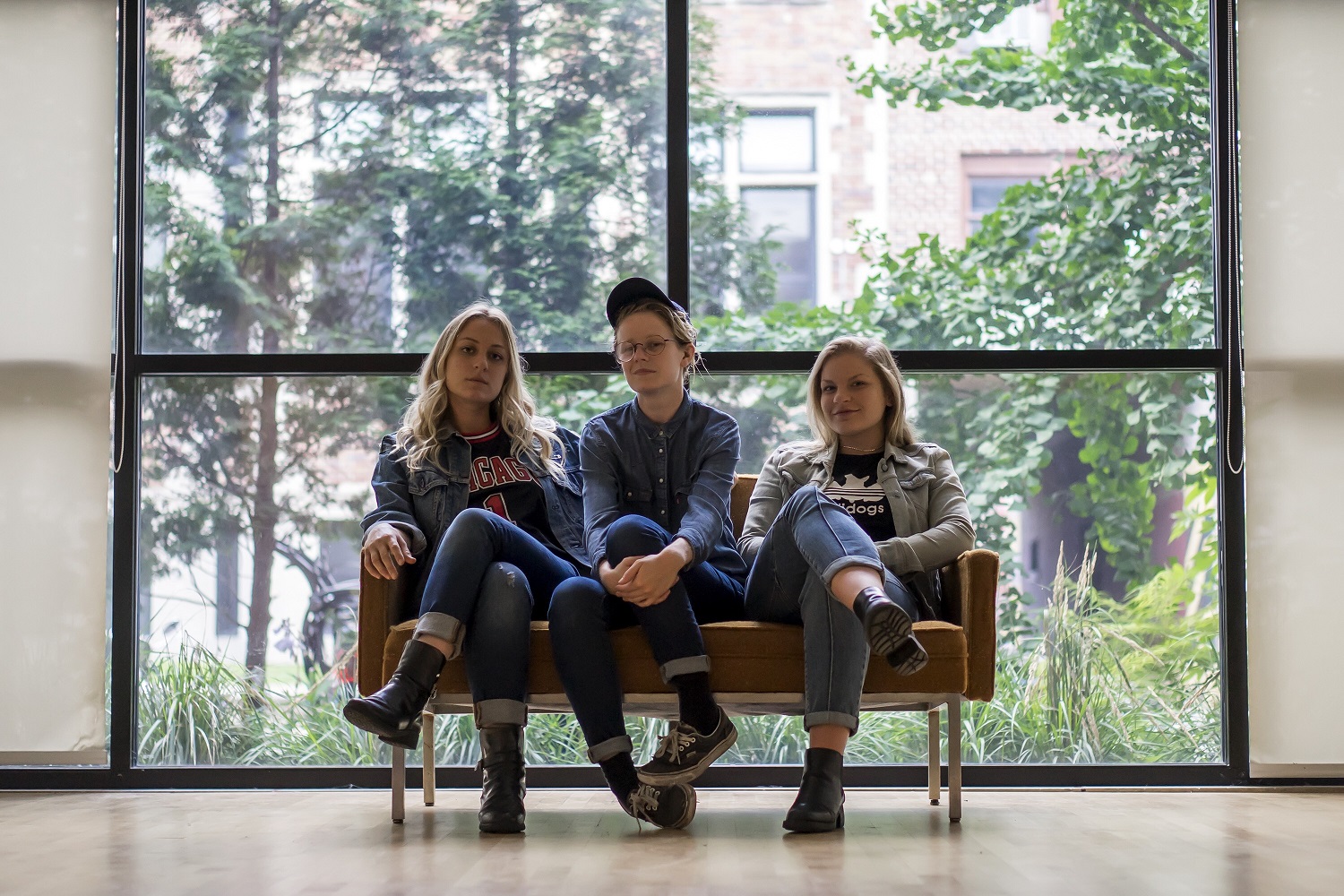 __
As the conversation progresses, Emma quips about how her comments are "classic Scorpio." Which leads me to ask about how much she knows about and is into the zodiac. We are at an observatory, after all, and it's often forgotten that until the Scientific Revolution, studying astrology was considered science.
Emma chuckles. "I say I'm not that into it but I am," she says, explaining the specifics of her sign further. People tend to "[act] like it's stupid but they all know their sign," Emma laughs. But, "like everything," it "is what you make of it. You are the characteristics you choose."
"Except Geminis," Emma jokes.
__
The afternoon wind picks up, cooling all four of us—Emma, Arden, Eva, and myself—down and inviting the hills to come alive. "Look," Emma points out, breaking from our bash-the-Geminis session, "it's a hawk!" The raptor circles for a minute or two before flying on down the hill toward the city. Reminded of the fact that we're still in a city, even if we, too, are perched above, I ask the girls what their honest opinion of LA is.
"LA is beautiful, naturally," Eva says, noting the fact that the city has its fair share of green space and its own "energy." "But it's spread out. And the traffic." Garcetti should petition to have that put on the city seal.
"I hated it," Arden begins, recounting her visit when the band played first show at Hotel Café (in Hollywood) a few years ago. Every person "was like an Instagram model," and getting into clubs was nearly impossible without a few in tow. "Hollywood…it's who do you know? Who are you?"
But: "Four or five visits later…I fell in love with Echo Park and Los Feliz…You can find your own nook." And, like Chicago, Arden notes, there's enough nature to go around. "That's [one reason] why I love Chicago…I like to run."
Emma notes that she hasn't formed her opinion yet, but Arden and Eva chime in: "You're so New York…more New York than here!"
__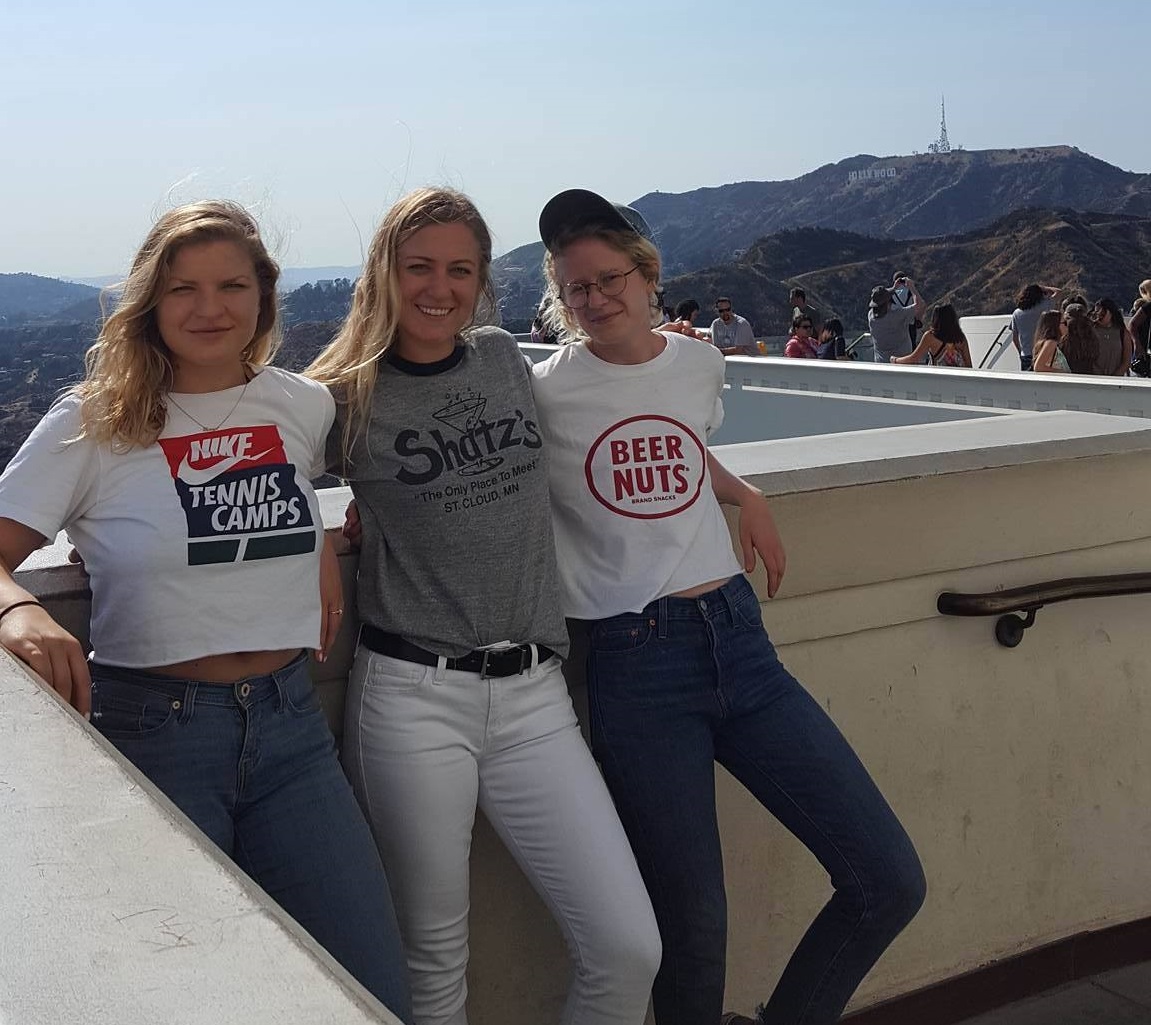 Speaking of the fact that they'll be dashing across the country to New York during the tour, I ask about the group's worst tour memory. There are several to choose from. Eva chooses their most recent trip through Nebraska, where Emma and Arden had booked the cheapest hotel they were able to find. ("The bargains!," Emma raves.) The girls plus their guitarist's girlfriend searched around and outside the lobby for an employee for 20 minutes before a man outside claimed to be an employee and supposedly checked them in.
"He was, like, barefoot," Eva adds. As they made their way to their room, the place became even stranger: "We're walking to our room and there's all this noise…grown men in rooms watching cartoons." Upon checkout the next morning, there's "no one" there. "The parking lot is empty," Emma explains, and the woman at the front desk has "no record of anyone checking into that room last night."
"The Twilight Zone?" I ask
Emma nods. "The Twilight Zone."
Or, the girls add, the time they thought they wouldn't make it through the 100-mile stretch of road between Colorado and California with no services. "I kept [the van at] as constant [a speed] as possible," Emma notes, and they just made it.
"Oh, and we almost crossed the border for Dunkin' Donuts once."
__
We move into talking about Glamour Child, as the release date is in two weeks (out 7/28/17 via Zinc). I ask about the cabin in Galena, where the band came up with their name and where the video for "Glamour Child" is set. Emma explains that they wanted to create a video that would "match" the song" and create a "visual that's not overpowering" the music. Hence, setting it at the cabin in Galena, which just so happens to be located in a part of Illinois called "The Driftless Region." Stolen from the area's glacial makeup, it's poetic, and seems to tie in with a lot of the album's themes.
"It was 10 degrees," Emma says, and the band wanted to create a visual that gave viewers the "idea of [them as] a band." It's "an introduction to us…[since] we're still small, [the] focus is on what we're making." The sense of the video as a puzzle piece that's just as personally-crafted as their music comes up—each of the member's personality shines through. Arden's dog Cash even makes a cameo.
Watch: "Glamour Child" – Moonrise Nation
---
Each song on the album is incredibly personal and leaves its own imprint on the listener. I ask about "Common Fear," the first song on the album. Arden begins by staying that she wrote the song while still in high school. "It's an accumulation of feeling…[on] the fear of growing older."
The first line comes from a specific experience, Arden notes. "I was at Northwestern, at the Science & Industry Museum," she says, for a camp. There were "planets everywhere" on the walls, and after being lost in thought, "[my friends] started swinging me around" in circles. "Common Fear" was born out of that moment, and the questions "what memories—will I remember tonight? What if I forget? The reality of getting older. [Which] moments [will be] insignificant?" And with all that heavy thought about ephemerality, there's also the feel of "being sixteen and taking the car out…that freedom," seamlessly incorporated, too, Arden explains.
Eva jumps in. "There's the feeling of loneliness with being sixteen—feeling like an alien." Arden agrees, explaining how she felt "like the typical phrase 'alone in a room full of people,'" growing up. "Always hanging out with Eva's friends," who were all a few years older, increased that loneliness more. And in more ways than one, "Common Fear" touches on all of those feelings—loneliness, freedom, the fear of getting older or not belonging—and swirls them into a collective whole.
Watch: "Common Fear" – Moonrise Nation
---
It's important that"Common Fear" leads us into the album. "The album is in order for a reason," the girls explain. "What if we locked it," Emma jokes, so it could only be listened to in that order? They debate the feasibility of this for a minute or two. The sun is creeping toward the hills, and we head up to the upper level of the observatory before heading off. The girls have a Sofar gig to get to, and I've got traffic to beat.
On my way out, I take a detour through the building. Glancing at the planets on the ceiling, the lyric from "Common Fear" seems to pound within my head louder than ever before:
As we spin around in circles, laughing,
Always seeing the planets
painted on the walls,
As you look upon them you realize
there's no reason to pretend
These people can make you feel happy again
What will we remember, and which moments from today will remain significant in our memory? And, as "Common Fear" seems to ask the rest of Glamour Child, what is next?
For now, there's plenty of time to think about it on the long walk back to the car.
— —
photo © A.W. Klass
:: Moonrise Nation Tour 2017::
08.03 — Vaudeville Mews, Des Moines, IA
08.05 — The Bottleneck, Lawrence, KS
08.10 — Beachland Tavern, Cleveland, OH
08.12 — Alphaville, Brooklyn, NY
08.14 — Mercury Lounge, New York, NY
08.15 — Atwood's Tavern, Cambridge, MA
08.17 — Gypsy Sally's, Washington, DC
Glamour Child – Moonrise Nation