'Falling Asleep at the Wheel' EP solidifies Holly Humberstone as one of the UK's most exciting new voices in music: A six-track indulgence of brooding, intimate songwriting full of ambience, introspection, and emotional nuance, it's a spark of warm light in a cool, dark night.
for fans of Jade Bird, Lorde, Phoebe Bridgers
"Falling Asleep At the Wheel" – Holly Humberstone
---
Throw me in the deep end; I'm ready now to swim…
The opening lines of Holly Humberstone's debut EP offer an intimate lens into a young and promising artistry – one that doesn't know exactly what her future holds, but has as much excitement as she does determination to get there and find out. "The air in my lungs may not last very long, but I'm in," she croons on "Deep End," a heavy track full of ethereal ambience and a grounded, deeply human aching.
When she debuted with this song back in January, it was clear that Holly Humberstone was no ordinary up-and-coming talent. Hailing from Grantham, the 20-year-old British singer/songwriter stands out for her brooding, introspective lyrics and her incredible capacity for catchy storytelling – not to mention her dynamic, evocative, and seductive vocal abilities. She further established herself as a singular artist to watch with March's stunning sophomore release "Falling Asleep At the Wheel," praised by Atwood Magazine as "an arresting confessional full of tension, inner turmoil, and coming-of-age questions of identity and purpose." A hit single that continues to ride high with over 7 million Spotify streams alone, the track is as tender as it is fervent – an entrancing, hypnotic breath of life from a tortured soul, and a deserving title track for Humberstone's thrilling debut EP.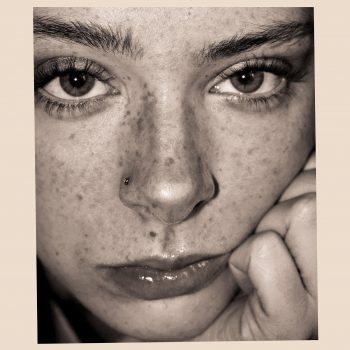 How am I supposed to be
your ray of light, your ray of light?
I get dark sometimes, does it pass you by?
I should be your ray of light, your ray of light
But I'm falling, falling asleep at the wheel
Guess I forgot how to feel
Just for a second, you're talking
But I'm just pretending you have my attention
I'm falling, falling asleep at the wheel
I made you think it was real
If you think we're strong enough
Come on and wake me up
– "Falling Asleep At the Wheel," Holly Humberstone
Released August 14, 2020 via Platoon, the Falling Asleep at the Wheel EP solidifies Holly Humberstone as one of the UK's most exciting new voices in music. A six-track indulgence of dark, intimate songwriting full of ambience, introspection, and emotional nuance, it's a spark of warm light in a cool, dark night. Produced by Rob Milton (Easy Life), the record marries the urgency of youth with the self-awareness of young adulthood as Humberstone reckons with herself, romantic entanglements, and some of life's bigger questions about purpose, place, and being.
Humberstone's stories are complex, yet simple and familiar to all – whether she's looking back fondly on late night rendezvous, swimming through memory lane's miasma of nostalgia and regret, or running to and from love. "Maybe this time I'll say something I've been feeling for a while, out loud," she wonders on the confessional "Overkill," charting a vulnerable struggle to confess her love and affection for another. Meanwhile, a more nuanced romantic entanglement comes to life in the hearty upheaval "Drop Dead":
Did you come around here just to start a fight?
Drop dead
I let you do what you want with my heart and I
Drop dead
And you put the poison in every word you said
Stop messing with my head
Stop playing with my head
One look and I drop dead
One time just ain't enough
I take you back, I call your bluff
Why don't you put a bullet to my head?
My ride or die, I'll take your love
And tell myself it's good enough
But you know and I know
One look and I drop dead
---
There's no doubt that Falling Asleep at the Wheel is the result of a life being lived to its fullest. "I feel like I'm most inspired when I'm really busy," Humberstone tells Atwood Magazine. "I love cramming my schedule full, and a lot of the time I'm doing sessions and playing gigs and then jumping on a train to go hang out with my friends. I think the more experiences I'm having everyday, the more I'm living and the more have to write about!"
She expands on this notion, continuing, "A lot of the experiences I wanted to write about were based on emotions or feelings I was having about something that I wanted to make sense of myself. Sitting down to write is like a bit like a therapy session for me, and my way of untangling and trying to understand all the stuff going on in my head. Maybe that's why the songs are so truthful and resonating so well with people; because its genuinely just me trying to figure out how I feel."
Recorded in and around her childhood home in Grantham, England, Humberstone's debut is a deeply meaningful achievement for the artist. "I think that's why it's all so personal and truthful and sounds so much like me," she says about the EP's recording locale. "Because it's my first body of work, I wanted it to be 100% authentic and honest, and I feel like I've been able to do that well because of where it all came together."
Humberstone's four previously-released songs are joined by two new songs at the EP's tail end, in the form of the bustling outpouring "Vanilla" ("And I could go on and on… but the truth is, I have my best nights without you") and the ambient, poignant heart-on-sleeve piano ballad "Livewire." The tracks complement the stage she set with her first four original releases, rounding out this formal introduction with a finessed, compelling mix of alluring melodies and heart-wrenching lyricism.
Ooh, are you still a livewire?
Ooh, are you still starting fires?
We had our own kind of energy,
Finally, when you're right there next to me
Trouble will find us
But now it's behind us…
"I'd probably define my music as dark, wonky, brutally honest pop," Humberstone reflects. "I love artists like Lorde and Phoebe Bridgers who include such specific detail, where it's almost like unfiltered thought. I feel like myself and other people latch onto those little personal details. I try my best to write about real experiences and be as truthful as I can because people will connect with it, and also because it helps me to figure out how I feel about the things I'm writing about."
Unfiltered; cathartic; unapologetically raw; these descriptors only begin to scratch at the surface of Holly Humberstone's fast-emerging artistry. She has proven herself an exceptional vocalist and songwriter six times over, and one we cannot wait to hear more from as the years progress. Once again, she truly said it best in the opening lines of the EP: "Throw me in the deep end; I'm ready now to swim." Thrown in the deep end, Humberstone has soared.
Experience the full record upon its release tomorrow, and peek inside Holly Humberstone's Falling Asleep At the Wheel EP with Atwood Magazine as the artist goes track-by-track through the music and lyrics of her debut EP!
— —
'Falling Asleep At the Wheel' – Holly Humberstone
:: Inside Falling Asleep At the Wheel ::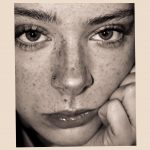 — —
Deep End
At the time I wrote Deep End, one of my sisters was going through a bit of a tricky time with her mental health. Its always a tricky and uncomfortable conversation to have with someone, so the song is my way of telling her I'm always here for her even if I may not completely understand what she's going through. All three of my sisters are in the music video, as it's really a song for them. I think its probably the most personal song I've written and that's why we decided to release it first.
Falling Asleep At The Wheel
This song was one of the first ones to be written from the EP. I was still trying to figure out my sound, and I remember writing Falling Asleep At The Wheel and realising the direction I wanted to head in sonically and realising it was the first time I really knew who I was within the music I was making. We wrote this tune at my childhood home, which is a really old and characterful house that seems to be slowly falling apart. I feel like you can kind of hear the weird and wonky sounds of the house within the track, which is maybe why it feels so personal and so much like me.
Overkill
I wrote Overkill late last year when I had just started seeing someone new. I was really into this person but so scared to admit my feelings and be rejected. I wanted to capture all the excitement, confusion, anxiety and all the other weird emotions that come with new relationships. The day I wrote the song I was in the studio with two of my good friends, and we had come up with the opening line 'A couple more tequilas and I'll tell you how I'm feeling.' We put it on a loop and were just getting so pumped about this one line for ages. It was a really fun day.
Drop Dead
Drop Dead was the first track to be written on the EP. I wrote this song about a troubled & manipulative relationship that despite how bad it is, you can't get out because love can often be blinding. I think a lot of people have been through something where you're with someone that was no good and for some reason all they have to do is look at you and you go straight back.
Vanilla
I wrote Vanilla about this guy I was seeing on and off over the period of about two years. My sisters and friends all hated him and for some reason I couldn't see that he was wasting my time, but I kept going back just to be disappointed by him again. I wrote this song after I called it off with him and decided that it would be the very last time and that I would never speak to him again. It's pretty much a middle finger up to this guy, which was so much fun and so freeing to write.
Livewire
The definition of Livewire is an explosive and unpredictable person. I wanted to write about an old friendship I'd had with someone who was so crazy and fun to be around. I feel like a lot of people had childhood friends who you'd have such a wild time with. Then, all of a sudden you're not friends anymore for no real reason except for them being so wild that you can't hold them down for long.
— —
— — — —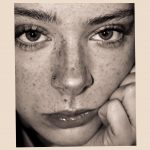 ? © Phoebe Fox
Holly Humberstone