New York-based 23-year-old songwriter Natalie Wilson grapples with the complexities of transition, the dualities of relationships, and the ongoing search for personal identity in her debut EP, 'Track Season.'

Stream: 'Track Season' – Natalie Wilson
---
Natalie Wilson knows a thing or two about the debatable joys of graduating college, moving to a new city, and figuring out how to navigate the growing pains that are unavoidable throughout seasons of change.
She just didn't know that she was bound to accumulate an almost-sudden fanbase after the release of her first EP Track Season, a 5-track testament to confusion, nostalgia, personal identity, homesickness, and romance.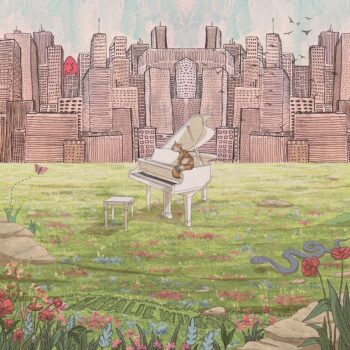 A dynamic mix of sound and technique, the 23-year-old New York City based songwriter leans on technical creativity in her songwriting to create a perfect balance of an eccentric yet emotionally raw writing style. Surprises are abundant throughout the EP, including epic key changes, crunchy rockstar-esque guitar solos and even a Saratoga Springs trumpet calling to dawn the collection of tracks.
"It's so funny that "Something to You" has gone viral because we were not being serious with that song at all", Wilson laughs. "My brother speaks French in the middle of it, there's a random key change, the guitar is too crunchy…."
Viral indeed, "Something to You" has certainly been the feature track off the EP, amassing over 520k streams in 3 months on Spotify. A pronounced piano beginning, vaguely reminiscent of an Elton John-styled introduction, immediately captivated me before being introduced to Wilson's commanding presence, acknowledging the momentary satisfaction of being somebody's "someone" despite not being their soulmate.
"I'm not your only but at at least I'm one
I'm not your soulmate
At least I'm something to you
It's not the way I would've wanted
But just the way that I'm wanted by you
But at least I'm something
At least I'm something to you"
---
Despite the potential disappointment and less-than-ideal circumstance of just being "someone's something," Wilson sings with confidence and conviction; the beat-by-beat piano march encapsulating her confidence after coming to terms with such situations.
"I think the theme that strings [the 5 songs] all together is just being in that in-between age of not having a landing spot yet, you know, being 21, early 20s," Wilson says. "And you're looking for different kinds of relationships – the line that's really popular is, I'm not your only, but at least I'm one. I'm not looking for my husband yet; I'm just sort of engaging in different kinds of relationships."
Wilson further captures the vulnerability of not having a landing spot in "Saratoga," a beautiful tribute to being young in college and not yet knowing one's place in the world, but accepting the beauty in the vast mystery that awaits. The first song of the EP, "Saratoga" features an acoustic-driven instrumental with Wilson's soothing vocals interlayered, capped off with a lighthearted guitar solo invoking a sense of nostalgia yet excitement for what lies ahead.
"I took the highway up to Saratoga
'Cause I just want to see my friends
But they're all moving out
Of the places that they've been
I took the highway up to Saratoga
'Cause I hadn't been in the summer time
But I don't know nobody
And nobody knows me"
Atwood Magazine sat down with Natalie Wilson to discuss her fast track to success, the inspiration behind the construction of the EP and her relationship with the music industry as a new songwriter.
— —
A CONVERSATION WITH NATALIE WILSON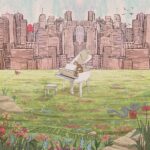 Atwood Magazine: Were you expecting the EP to do this well after just three short months of it being out in the world?
Natalie Wilson: It's been crazy. But also there are times in life when things happen to you that you've been manifesting for so long and it's blowing my mind, but also, isn't in a way – I feel like I've been putting in the work for 10 years to have it pay off. So now that it finally has, it's unlocking the next level of my career. And actually it hasn't been rushed in any way. I feel like this was the next step for me to get a real fan base whereas before I was writing the same kinds of songs but I wasn't releasing them. Or I was releasing them in a different genre that didn't make sense for me. But yeah, I've just been riding the wave. And I think learning this whole past year about how artists come to be… I don't know, I guess I wasn't surprised. I put a lot of heavy emphasis on TikTok – and like "Saratoga," I did a lot of press release stuff with that. And it's paid off, so it's been cool; "unexpected but not" I guess is my answer.
Were there any tricks or tips you suggest for new artists about to put out their first project?
Natalie Wilson: The Spotify algorithm, which is something that I was unfamiliar with. When a lot of people came to my profile, it started generating – they're like, ok, this person or this song is really important, so we're going to start pushing it. I think updating your information in your bio, having your Instagram links, having my brand, I guess, having it look professional and not DIY has made a big difference.
The thing that I would emphasize for upcoming artists is that it takes so much time to record something you're proud of. When artists try to rush production, it does not do them any favors. I understand that there's a time crunch to be a "singles artist," constantly releasing a song a month. I don't want to be that kind of artist because I value quality over quantity. I look at Phoebe Bridgers, like yes, she releases some singles, but I would say she's an "album artist." Same with Maggie Rogers – I think it speaks to artistry, which is very important to me.
In terms of this EP coming together, you seem to follow less of an "orthodox" writing style. Any particular reason that's the case?
Natalie Wilson: I credit my producer for a lot of the experimental stuff. Like, I'm not big on the classic song structure, like verse, chorus, verse, chorus, bridge – I love to mix it up. Bridge. New verse. You know what I mean? I don't really want to be in the pop genre. I think there's pop elements in my style, but the reason production is so important is because I like it to be complicated and interesting, and that's what's going to differentiate me eventually.
I definitely got that in "Something to You" with the key changes and the epic guitar solo.
Natalie Wilson: It's so funny that "Something to You" has gone viral because we were not being serious with that song at all. We were just in the studio from 10am to 10pm every day for three months just playing around. [My producer] was channeling a Tame Impala vibe. I just wanted a little French in there, I thought it was funny. He's really invested now – he's going to produce the next album as well.
I don't really want to be in the pop genre. I think there's pop elements in my style, but the reason production is so important is because I like it to be complicated and interesting, and that's what's going to differentiate me eventually.
Ah, the next album! How's that coming along?
Natalie Wilson: It's funny – the next album is already written, I've started working on it, and it's totally different. It's all about questioning what to believe in. It's kind of like a cool and natural transition. But yeah, I'm already so sick of the old music and ready to work on the new stuff.
And I'm assuming you're working on getting your EP to a live audience?
Natalie Wilson: Yeah! I just got a band together this past week which has been something I've needed for the past year. I think my next step and the challenge is promoting the album live and playing in New york and working that angle. But also, simultaneously I have to continue to release stuff. There's pressure to stay up at the level that you've achieved, so every single day I'm kind of competing with myself for listeners or whatever, which is something I didn't expect to care a lot about, probably because I didn't think I would have that many. I was prioritizing it but I was also a student last year so it wasn't my main focus, and now I guess it has to be a priority.
Transitioning from the student mindset to the artist mindset must be interesting as you've been studying music business. What have you been able to apply to your musical career?
Natalie Wilson: I know about owning your music and how important that is. At the beginning of the month, I was maybe looking for a deal, and now I'm like, you know what, I can kind of do this next project myself, and the labels that are interested are just going to keep watching me and it'll just continue to be leverage for me, instead of taking a sh**ty deal and them owning it and me not really benefiting from it at all. (I mean, if the right deal comes along, I would obviously take it).
I want to continue to unlock new levels of my career and do it naturally. I wouldn't really want to have a huge spike and then it completely dies down. I want to keep leveling up at a steady pace. I want to play with my new band in New York, finish this record and have it be better than my EP. I'm only really thinking a year out. I really want to move to Nashville – ultimately my first role is songwriter and I think that's just where you got to be as a songwriter.
And who do you find yourself attributing some of your songwriting influence to?
Natalie Wilson: This answer always surprises people but my number one inspiration is Jack Johnson. I'm obsessed with him and his lyric writing. I think the simpleness of the guitar and vocals and lyrics is how my songs start in their first form, and so that plus Peter Cat Recording Co., Alice Phoebe Lou, Kate Bollinger, Madison Cunningham – soft rock, experimental psychedelic production. But ultimately at the end of the day the base is Jack Johnson.
What do you want our readers to know about Natalie Wilson?
Natalie Wilson: More music is coming and I'm taking it seriously! I want it to have the same effect that the EP has had on people.
— —
— — — —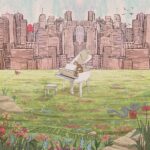 © courtesy of the artist
:: Stream Natalie Wilson ::
---