Franco-British singer/songwriter Albert Newton teases his debut album with the sonically and emotionally charged "Fell Off," a cinematic and dreamy reintroduction and a soul-stirring fever dream that promises to energize, soothe, and inspire all those who come along for the ride!
Stream: "Fell Off" – Albert Newton
[soundcloud url="https://api.soundcloud.com/tracks/1593499203?secret_token=s-wc7M08h1c04″ params="color=ff5500&auto_play=true&visual=true&hide_related=false&show_comments=true&show_user=true&show_reposts=false" width="100%" height="300″ iframe="true" /]




---
I wanted to feel the rumble of thunder but see no lightning.
The thing that's always fascinated me about bicycles is that, as long as you keep moving, you'll stay up – but the second you pause or stop for any reason, the bike will inevitably tilt to one side, and you'll fall off. It feels like an all-too perfect metaphor for life: That seemingly innate impulse to forever be an object in constant motion – acting, doing, growing, learning, being – and to avoid inertia at all costs, as if stopping means we can never start back up again. Of course, it's a false choice, but I myself am too afraid to test it out: I'd rather hold those handlebars in a death grip than let go, for any reason.
Albert Newton's new single isn't really about bicycles, nor is it necessarily about motion vs. inertia, and yet all these thoughts and more come to mind as scenes of the singer/songwriter riding through the English countryside, seemingly chasing some sort of paranormal activity (whilst escaping whatever it is he left behind), flash by. A cinematic and dreamy reintroduction, the sonically and emotionally charged "Fell Off" aches with intimate intensity as Albert Newton strives to find balance – both in life, and in song. What results is a piece of music that has its head in the clouds and its feet on the ground: Existing in two worlds at once, this soul-stirring fever dream promises to energize and soothe all those who come along for the ride.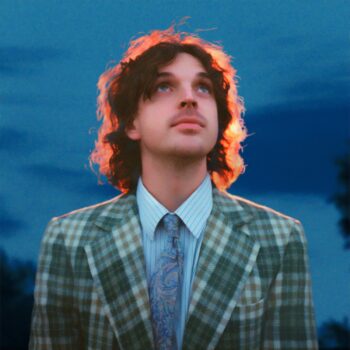 wish I'd fallen off of my bike
a few more times before I
took you out for a ride
wish I'd spent a little more time
looking for lights
that could shine up in the telescope
Atwood Magazine is proud to be premiering the audio and music video for "Fell Off," the dazzling lead single taken off Albert Newton's forthcoming debut album, out in 2024 via byebye records. A sweet serenade dressed up in searing synths, the Franco-British artist's first single in years, produced by Max Baby (Hannah Jadagu, Goldie Boutilier), sees him soaring to great heights as he dwells in his own visceral depths.
Born in the UK and based in Paris for well over a decade, Newton – who previously made music under his birth name, Henry de Montbazon – recently moved back across the Chunnel to London, intentionally shifting gears in his life. No doubt this change was at least in part spurred on by a desire to further his music career, but every move we make in life, big or small, causes a series of unforeseen, unexpected shockwaves to ripple out, impacting not only ourselves, but also those around us.
"Fell Off" reads, at least in part, like a direct response to how these tremors affected those in Newton's inner circle, and why he had to make the choices he did for himself. Simultaneously wistful and wondrous, nostalgic and forward-looking, Newton invites us deep into his world: A space full of friction and fervor, where the fire burning inside couldn't be quenched – and where he couldn't be satisfied standing still. (See? I knew we'd get back to that theme somehow!)
Newton's turbulent emotions come to light in a vivid, impassioned chorus. "You must be broken too if you can't see that I'm hurting," he sings, spilling his guts as guitars churn, drums charge, and synths swell all around his achingly tender voice.
'cause you
ask me if I had planned
on falling all along (well)
you must be broken too if you can't see
that I'm hurting, I'm hurting…
"The song was written in London, a few months after leaving Paris for the first time in nearly ten years," Newton tells Atwood Magazine. "It started as an apology letter I wanted to write to someone I'd had to leave at the start of this new chapter and then turned into a reflection about how my more metaphysical ambitions seem to mess up or challenge my more down-to-earth ones."
"It was one of the last ones we recorded for the album, and I'd purposely left it as an acoustic guitar/voice song, but then Max Baby and his genius rocked up and he added the fuzzy lead theme. I think it was one of our fastest recording sessions however it was also one of our most difficult mixes because I wanted to feel the rumble of thunder but see no lightning, which I think Marcus Linon achieved. The rest of the album definitely has eyes to the sky and beyond, but this one felt a good one to release first as it's really earthy in its lyrics and the rocky-thundery sound textures."
i know it seems a little selfish for real
but I'm trying to find a way to give
wish I could love everyone
and everything the right way
I know that I don't
so if it ever seems like
I disappeared for no reason
I'm really sorry girl
I'm really sorry but
you must be broken too if you can't see
that I'm hurting I'm hurting…
At its core, "Fell Off" is a cathartic confessional from a soul still searching for its purpose and rightful place in the world.
As the first single off Albert Newton's forthcoming debut album, "Fell Off" hints at great things to come from the rising singer/songwriter. Catchy and cathartic, dynamic and dazzling, this song and its companion music video, directed by Sandro Berroy and Seunghyun Park, promise to provoke, uplift, and inspire all who tune in to witness this beautifully radiant reckoning happening in real time.
We don't just chase our dreams (or our demons) in a silo: Our actions impact – and sometimes hurt – others, including the ones we love, whether we want them to or not. How we navigate that constant push-and-pull – and how deal with the aftermath, and the repercussions of our decisions – is ultimately up to us. For Newton, making the move from Paris to London had to happen; his only regret is that doing this big thing himself caused pain for others. "If it ever seems like I disappeared for no reason, I'm really sorry girl," he sings, "but you must be broken too if you can't see that I'm hurting." In other words, "I needed this, and I hope that one day, you'll understand, and maybe even accept, why I did what I did."
Stream "Fell Off" exclusively on Atwood Magazine, and stay tuned for much more from Albert Newton as he continues to roll out his debut album – inspired by everyone from David Bowie and MGMT, to Tame Impala and Frank Ocean – over the coming months!
— —
Stream: "Fell Off" – Albert Newton
[soundcloud url="https://api.soundcloud.com/tracks/1593499203?secret_token=s-wc7M08h1c04″ params="color=ff5500&auto_play=false&visual=true&hide_related=false&show_comments=true&show_user=true&show_reposts=false" width="100%" height="300″ iframe="true" /]





— — — —
 © Ella Hermë
:: Stream Albert Newton ::
---