With the aid of Peter Jackson's recording technology, Paul McCartney, George Harrison, and Ringo Starr revisit a John Lennon ballad for "Now and Then," a poignant coda to The Beatles' recording legacy.
text and illustrations by guest writer Aidan Moyer
Stream: "Now and Then" – The Beatles
---
"Now, there was a third track…
but George went off it. (laughs)
'f'in 'ell, f'in rubbish this is!'
'No, George, it's great, it's John!'
'It's still f'in rubbish.'
'Oh, okay then!'
But I'm gonna go and finish it!"
– Paul McCartney, 2012
Ever the whirling dervish, Paul McCartney has just embarked on the Australian leg of his Got Back tour, featured prominently on fuzz bass on the Stones' new release Hackney Diamonds, written a track for Ringo Starr's new EP, toured an exhibition of his original photographs from 1964, launched a podcast with poet Paul Muldoon and, against all odds, pushed the third and final Beatles Anthology single over the finish line.
Most of the earliest headlines regarding the new Beatles single, "Now and Then," were concerned with the implementation of AI in its completion. This is largely misleading; the de-mixing technology spearheaded by Peter Jackon's team for the Get Back documentary has been around in one form or another for nearly 20 years. A version of it was used to separate the audio stems for RockBand so players could better discern individual parts. The frequencies unique to each instrument – bass, drums, piano, guitar, vocals et. al. – are isolated and adjusted in the mix; conversations once garbled by radio chatter in the background are now pristine. At some point in the lengthy Get Back production process, the question was raised: Can this de-mixing technology turn a John Lennon demo into a rock hit?
Flashback to 1994. John Lennon is up for induction into the Rock and Roll Hall of Fame, the first ever double-inductee as a band member and solo artist. Naturally, the first choice to induct him is Paul McCartney. This is a big ask. Paul was a no-show at the 1988 Beatles induction, where George quipped, "It's unfortunate Paul couldn't be here, 'cause he was the one with the speech in his pocket." In reality, McCartney was still embroiled in legal acrimony with Harrison, Starr, and Yoko Ono regarding disproportionate shares and veto power in Apple Corps., the company co-founded by The Beatles in 1968 through which their songwriting is siphoned. Ever the starf*er, Jann Wenner, Hall of Fame and Rolling Stone magazine co-founder, calls McCartney on the phone and begins greasing wheels. He makes a tacit promise: If Paul inducts Lennon this year, there's a very, very good chance he's high on the ballot for '95. Paul relents.
At the Waldorf Astoria, McCartney takes the stage and delivers an unusually vulnerable tribute in the form of a "Dear John" letter. It hadn't always been easy for Paul to publicly vocalize his love and respect for John. In the ensuing decade after The Beatles split, the duo traded semi frequent and pointed barbs in the press and on record. When Paul took aim at the Lennon-Onos on "Too Many People" (Ram, 1971), Lennon responded with the vicious "How Do You Sleep":
You live with straights who tell you, you was king
Jump when your momma tell you anything
The only thing you done was Yesterday
And since you've gone you're Just Another Day
---
An escalating series of nasty open letters in the Melody Maker and apparently unprintable comments by John about Linda McCartney had to be scuppered by a 1972 summit meeting in New York, where the Lennons and McCartneys agreed to keep the fighting in-house. Gradually, the ice thawed. John and Paul jammed together in LA in 1974, during Lennon's infamous Lost Weekend, and Lennon briefly considered recording with Paul and Wings in New Orleans for the Venus and Mars LP. When Lorne Michaels offered The Beatles $3,000 to reunite on the first season of SNL, the Lennons and McCartneys were watching at the Dakota and discussed hopping in a cab to 30 Rock. John and Paul would phone each other up across the water, and John asked Paul to "think of me every now and then, old friend." Four years later, John was dead. And 11 years after that, Paul sums up the entire affair thusly:
"And then, after all that, there were the phone calls… the joy of, after all our business shit that we'd gone through, of actually getting back together and communicating again… and the joy after you told me about how you were baking bread now, and how you were playing with your little baby Sean. That was great for me because it gave me something to hold onto. So now, years later, here we are… assembled to thank you for everything you mean to all of us. This letter comes with love from your friend, Paul."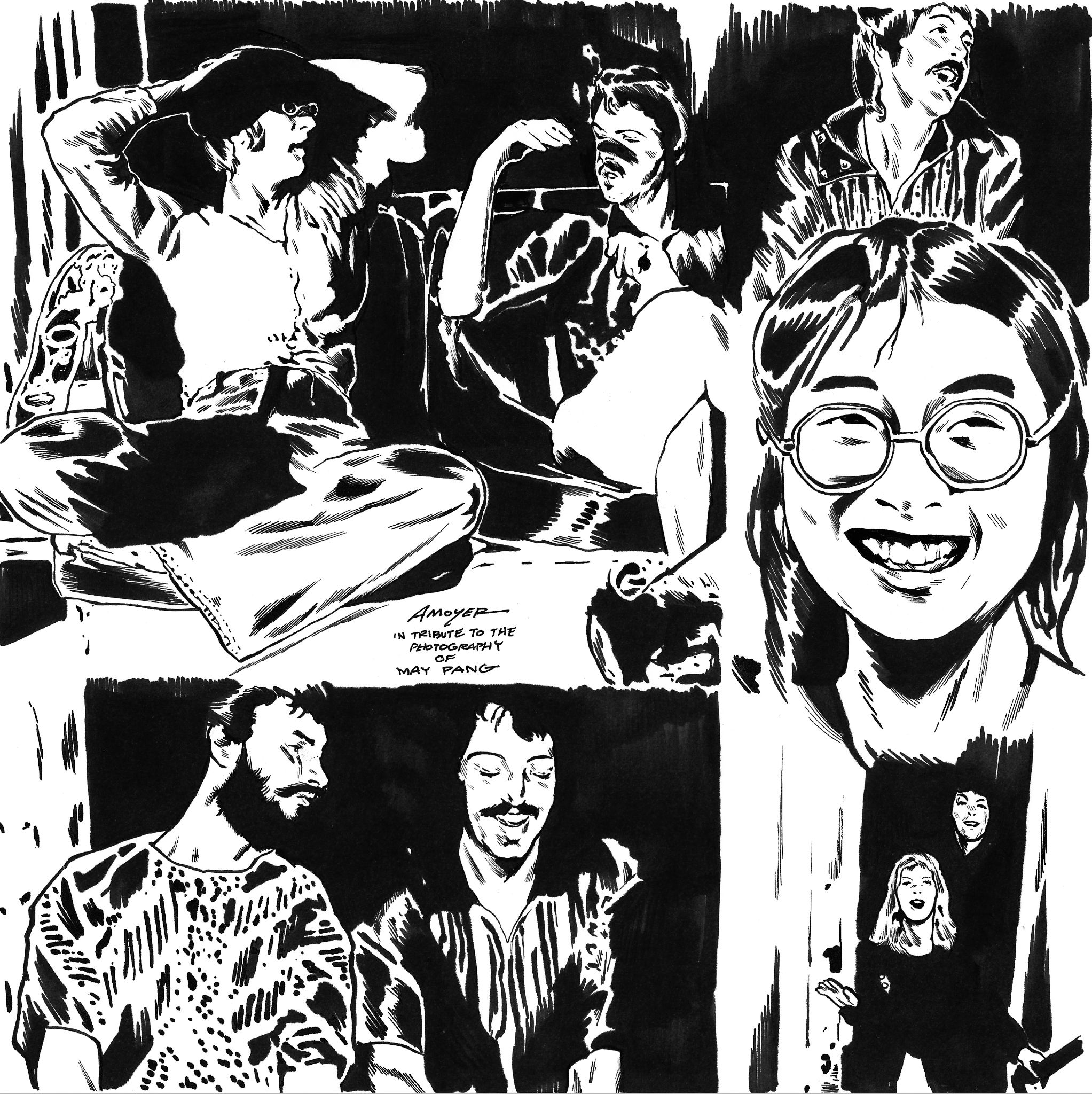 There's not a dry eye in the house and, crucially, Yoko Ono is in the audience.
As ¼ of the Legal Beatles, she is aware of rumblings regarding a long-dormant film called "The Long and Winding Road." Initially compiled by Apple Corps. stalwart Neil Aspinall in the early '70s, the film as it stands is a collection of newsreels from The Beatles' rise to fame played in chronological order.
There are talks, however, of fleshing the footage out into a full-blown documentary series, with, perhaps, new incidental background music by a certain Paul, George, and Ringo. Incredibly touched by Paul's speech, Yoko secures a cassette tape consisting of four John Lennon demos recorded in the late 1970s.
Perhaps, she suggests, you can do something with these.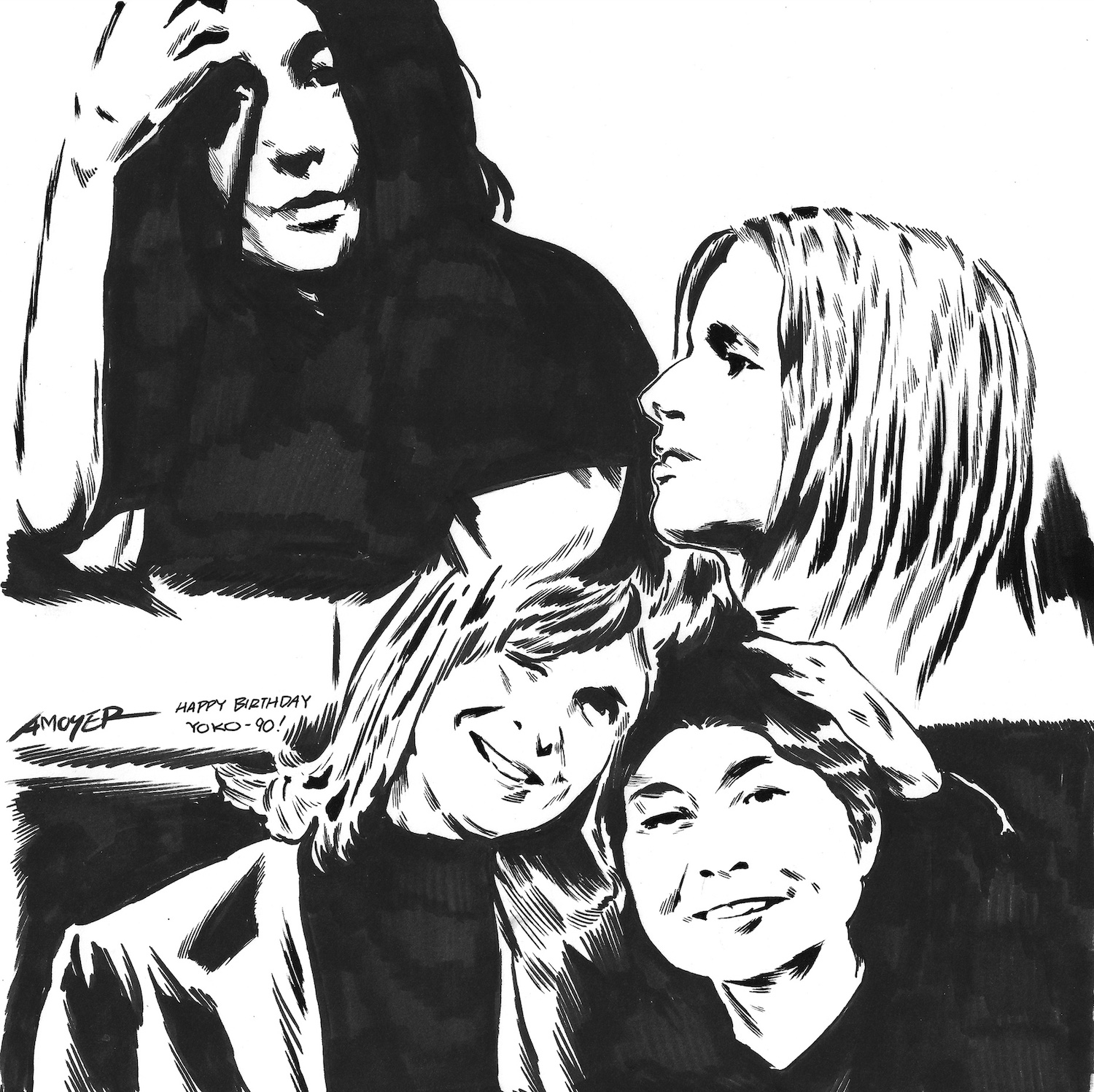 George Harrison, meanwhile, is flat broke.
Having mortgaged his home in 1978 to finance Monty Python's Life of Brian, Harrison has spent the last decade spearheading Handmade Films with producer Dennis O'Brien. Despite a series of moderately successful cult films, O'Brien has been embezzling funds and left Harrison holding the bag. And despite Harrison's career resurgence as a solo act and with the Traveling Wilburys, he's been reluctant to reconvene with McCartney since their 1981 tribute to Lennon, "All Those Years Ago." From a 1988 interview:
"[Paul] said he possibly wanted to tackle some of the old songs, including possibly some of John Lennon's songs like "Beautiful Boy" and "Imagine." Does that surprise you that he would do that?"
George: Paul? Maybe 'cause he ran out of good ones of his own.
Well, now we've got that on record.
George: Well, it's true."
Backed into a corner, George relents and, for the first time since January 1970, plans are made for Paul, George, and Ringo to enter a recording studio together (The trio drunkenly jammed at Eric Clapton's 1979 wedding to Pattie Boyd, George's ex, playing "Sgt. Pepper's Lonely Hearts Club Band" and "Get Back"). Concocting a chipper public-relations story where the three agreed to act as if "John was on holiday and asked us to finish up the tracks for him," intense machinations are set in motion before a single note is played. George insists on a producer, Jeff Lynne of ELO and Wilburys fame; Paul acquiesces on the ultimatum that recording engineer Geoff Emerick is brought on board. The trio is to record new music for the companion CDs of an eight-part documentary titled The Beatles Anthology. There are four songs on the table:
"Free As a Bird" – a mid-tempo piano ballad with an incomplete bridge and a decent recording fidelity. The 'Threetles', as they've jokingly nicknamed themselves, are immediately taken with this track. They agree to tackle it first.
"Real Love" – a complete pop-oriented number with slightly more muddled sound than the former number. This is selected as the second single and will not be recorded until 1995.
"Grow Old With Me" – previously released in demo form on the posthumous Milk and Honey, this is the lowest fidelity recording and the trio agree to discard it. Eventually Ringo and Paul will re-record the song in 2019.
---
The fourth number, which won't be heard by the public for three decades, is "Now and Then." The Threetles spend an afternoon in 1995 tinkering with it, where, crucially, George Harrison lays down some acoustic guitar. As per Paul's anecdote above, eventually Harrison "goes off it" and deems it "f'ing rubbish." The above comments are not included in today's press release.
In interviews which have since emerged from the Anthology film crew and biographers who were present at the time of filming, the entire project was wrought with tension. Anecdotes were misremembered, egos were laid bare and there were intense quarrels over the on-camera reunion performances. Even in the final cut as McCartney, Harrison, and Starr jam on old rockabilly numbers and pre-fame Lennon-McCartney tunes, George insists that Paul play "just the shorter version!' As for the singles, apparently McCartney took issue with George implementing a slide guitar sound which didn't emerge until he left the Beatles and tensions that lingered since the '70s boiled to the surface. It seems a miracle that two singles from the sessions are publicly available at all.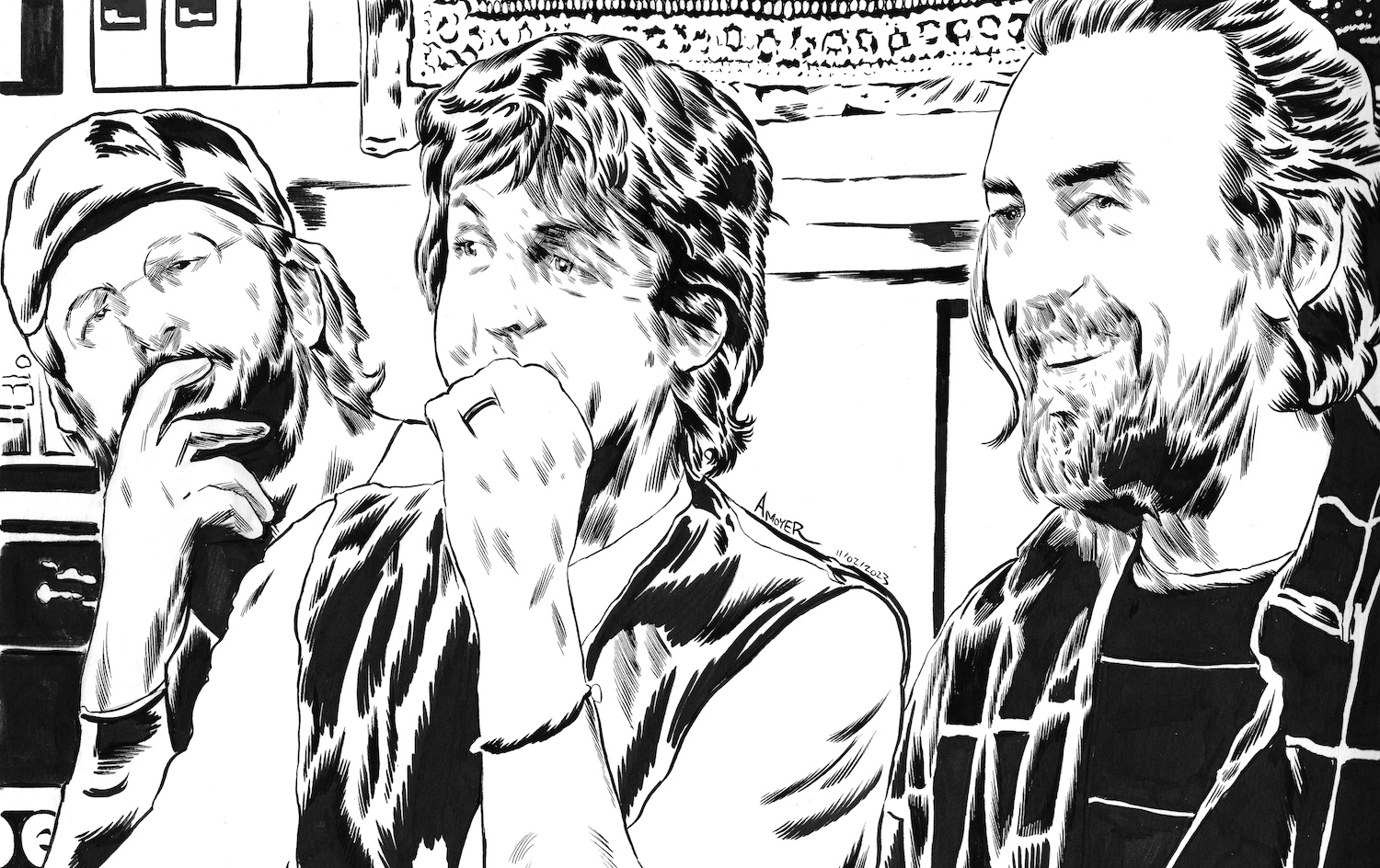 28 years later, and 11 years since McCartney last commented on the sessions in a Jeff Lynne documentary, "Now and Then" was resurrected.
In the intervening years, George Harrison has passed and Yoko Ono transferred her stake in Apple Corps. to her son, Sean Lennon. Ringo, ever the team player, seemed hesitant to revisit the fourth track, but was assuaged by McCartney's enthusiasm. When Lynne tackled "Free as a Bird" and "Real Love" in the mid-'90s, he was still employing analog tape and manually aligning phased-out vocal tracks with a metronome. Critically, Peter Jackson's technology and the single begrudging afternoon of acoustic guitar takes by Harrison have allowed The Beatles to be reunited one last time in high fidelity.
The fabled November 2nd release has arrived, following a week of hype and a lovely Peter Jackson mini-documentary about the recording sessions for this track. Jackson's doc unearths several minutes of "Threetles" footage, as Dad-rock age George Harrison muses on computer music being a "whole new kettle of fish!" Sean Ono Lennon shares some home movies from the '70s and recalls his father recording his demos into a Sony cassette. Olivia and Dhani Harrison offer assurances that George would have been thrilled to hear that Paul, Peter Jackson, and producer Giles Martin surmounted the technical issues that mired the original session. And away we go…
---
Cynics accused the '90s Beatles tracks of sounding like Traveling Wilburys outtakes, with heavy arpeggiated Jeff Lynne production and a very dry and metronomic drum sound for Ringo. This time around, the production is very McCartney-heavy. Sonically, Now and Then draws from a similar palette to Paul's 2005 release Chaos and Creation in the Backyard. Ringo is present and his playing is tasteful if muted, eschewing the trademark tom-tom fills that would have been icing on the cake. George's contribution is percussive, with acoustic guitars laid into the soundbed periodically. Backing vocals are extracted from snatches of "Because," "Here, There, and Everywhere" and "Eleanor Rigby," in the style of the "Love Cirque du Soleil" production. Fans familiar with Lennon's demo may be disappointed that his "I don't want to lose you" bridge was scrapped, but a lush orchestra punctuates the verses and Paul doffs his cap to George with a slide guitar solo.
It is doubtful that any single touted as "the final Beatles song" could live up to the title, and yet… it is impossible to ignore the poignance of Lennon's poetry in context. Wistful and nostalgic, on the demo Lennon lays his soul bare. Recontextualized, Lennon is chronicling The Beatles journey' and his legacy as Paul doubles his voice:
"I know it's true, it's all because of you, and if I make it through, it's all because of you."
Now, John and Paul are singing to each other.
The star of the show in this production is just how clear and clean Lennon's voice is. Jackson is able to achieve remarkable fidelity as Lennon sings:
Now and then
I miss you
Now and then
I want you to be there for me
Always to return to me
To hear 81-year-old Paul harmonize with 40-ish John Lennon is sublime. "Now and Then" is a beautiful stitch in the tapestry of The Beatles' story, completing a journey the three surviving members started nearly 30 years ago. Played in conjunction with the other two "reunion singles," "Now and Then" is a beautiful love letter to Lennon's craft and The Beatles' friendship. Having spent a decade falling in love with perhaps the greatest story in the history of popular music, it is a thrill of this writer's lifetime to hear one last addition to their canon.
At times, McCartney's unwavering enthusiasm has placed him at odds with the members of the Beatles camp.
By many accounts, he can be exacting and uncompromising in the recording studio. This relentlessness, the superhuman McCartney tenacity, was to blame for the almost entire latter Beatles output:
"I'd be in the garden, and I always knew it was Paul calling asking us to record again! We have him to thank for those last three albums." – Ringo Starr
And now, Paul, John, George, Ringo, Giles Martin, Peter Jackson, Sean and Yoko Ono Lennon, Olivia and Dhani Harrison, Giles Martin, Jeff Lynne, and a full orchestra have given us one last Beatles gift.
— —
Aidan Moyer is a Philadelphia-based freelance writer, illustrator, comics and music historian, and graduate of Pratt Institute. He spends time in Brooklyn as a backing vocalist and drummer in a garage band, and is currently illustrating a graphic novel history of Paul McCartney and Wings. Illustration Instagram: @mccartneyartist // TikTok: @aidanmoyer // Email: aidanmoyer99@gmail.com
— —
Stream: "Now and Then" – The Beatles
— — — —
 © Aidan Moyer
:: Stream The Beatles ::
---