Mahalia is casual and effortless, while also dealing with darker, more intense themes on her latest single "No Pressure."
— —
Mahalia's lyrics and sound are reminiscent of Lily Allen; the casual air of confidence pervades the work of both artists – and this is most apparent on the former's latest song, "No Pressure." A slow, methodical track that contrasts mellow production, with hurt, slightly cynical lyrics. Here, she details the high expectations of the music industry, while repeating the ironic mantra "No Pressure."
Someone fills up your diary,
Can you just turn up on time, please
And make something we can vibe with no pressure,
Fifteen hundred for the studio but no pressure
No pressure no pressure
Listen: "No Pressure" – Mahalia
---
The singer's previous singles; "Sober" and "Hold On" adopt a lighter air, and feel playful when compared to "No Pressure." The production is effortless on all three tracks. Meanwhile, the singer's quirky voice, and poignant lyrics combine to great effect on the latter song. It's bold, fierce, unapologetic – and the singer's frustrations are brought to light with each word she sings.
You ain't never liked me,
Cause you ain't seen nobody like me,
Can't go wrong with the right team no pressure,
You ain't never gonna get no get no better,
No better no pressure no pressure.
It's common for artists to exaggerate, but Mahalia forgoes hyperbole and writes bluntly. Her emotion is raw, yet it takes multiple listens to discern this. Initially, she hides behind instruments. But, as the song draws to it's climax – Mahalia let's the viewer hear the quiet anger that permeates her voice, which is punctuated by powerful background vocals.
They'll never give you something for nothing,
(well, well, well, well)
I'll always give you something for lovin
More than you touching  don't miss calling my bluffing,
You're everything they need and wanting,
"No Pressure" subverts all expectations; while most artists write about love, this song focuses on a diverse, interesting topic. Plus, the singer-songwriter creates music that appeals to a wide audience, as "No Pressure" incorporates both Pop and R&B sounds. This song is made refreshing and innovative, through it's lyrics, sound, and style – Mahalia is definitely an artist to watch.
— —
— — — —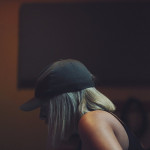 photo © Mahalia 2017
 Listen to Mahalia ::