I'll probably have a nervous breakdown because I'm not doing anything…
Creative minds are fascinating. There's no clocking in and clocking out, switching your brain off at the end of day as you hang up your coat and hat. Everything is inspiring, so everything can be inspirational. When you're constantly searching for the beauty in the ordinary, there's something that happens to you. You become restless, wheels always turning, your sense consistently in overdrive.
Backstage at Shepherd's Bush Empire in London, VÉRITÉ and I connected on the uphill struggle of working hard and working smart. There's a difference between putting in hours and putting in work, something that is difficult to grasp especially in the mentality of two Americans who had traveled abroad. "I feel like there's more of an appreciation of taking time out for yourself and your family [in the UK]," she observed. "I wasn't brought up like that. I was brought up to work in order to get somewhere, which isn't bad. I credit everything I have to working hard, but sometimes I think I maybe have taken it too far at times."
Listen: "Colors" – VÉRITÉ
---
2015 has been a monumental year for VÉRITÉ. After the buzz of her debut EP Echo, the singer slowly started compiling tracks for her next offering. Sentiment continued the alt-pop pocket she created for herself and explored more depths of the human condition, something she's always been brilliant at capturing in a three-minute pop tune. The biggest change for VÉRITÉ was the decision to finally free herself and pursue her passion head on.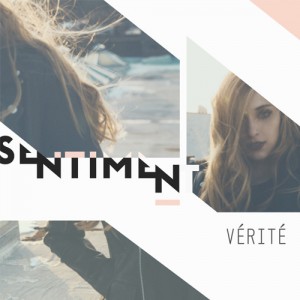 "It was a very scary leap. I'm still independent and running everything, financing everything, making sure everything is going smoothly — which is by choice; I wouldn't have it any other way. I made that decision to stop waiting tables before I knew I could sustain myself independently. For me, that first month and a half was pure terror. Now I've accepted it and I would never go back to waiting tables, even though I said I would."
After shifting into the music world full time, there was something that she noticed right off the bat: free time. When you're working toward your passion, you'll do anything to make it work and then your body becomes accustomed to being on the go, hustling to make your dreams a reality. So what happens when those dreams are actualized?
"I think the hardest transition is where to put my mental energy," she revealed. "I used to spend 12 hours a day, 7 days a week just working and I don't have to do that anymore. It's interesting to see how overactive my mind has become in the absence of that, which is good. It means the new music is being written differently and it's bringing out new things in me. It's that personal transition that I'm still adapting to. In the beginning, I would schedule 20 writing sessions in a row like a crazy because I'm used to working every single hour of the day. Your brain is used to equating amount of time spent working to amount of money being earned. That's not how it works with writing. I wrote the first two EPs in the crevasses of my breaks at work. Now, taking time off to experience something and live is technically "work" because I need something to write about. It's something I still haven't gotten used to — having spare time. I'm going to Iceland and in December I'm going to the Caribbean. It's to the point where I've said, 'fuck it!' let's go out and do stuff. I could get hit by a bus tomorrow, I've been working non-stop for 8 years. I need to start enjoying life."
And it's easy to find something to celebrate with VÉRITÉ. With two successful EPs under her belt and now all the free time in the world to live life to inspire new music, she's finally starting to see the fruits of her labor.
"The beginning of last year I was still waiting tables and now I've shifted into doing this full time. To watch people rally around the project and be excited. It's cool to see people come out to see me and know the words. It's been nice to watch that growth happen."
With the transition complete and her reality all set, has VÉRITÉ finally learned the sweetness of doing nothing?
"I'm getting there. I'll probably have a nervous breakdown because I'm not doing anything. But I'll get there."
You can follow VÉRITÉ on Facebook, Twitter and Instagram
Listen: Sentiment EP – VÉRITÉ