Growing pains have rarely sounded as beautiful and profound as they do on Maya Hawke's debut album 'Blush'.
Listen: 'Blush' – Maya Hawke
Childhood is over and it wasn't enough" sings Maya Hawke on "Goodbye Rocketship" as she looks back on what life once was and how it is now changing. Her debut album Blush, out now via Mom+Pop, reflects upon Hawke's formative years and the universally tumultuous transition into adulthood with a refreshing maturity and sincerity. Written and produced alongside Jesse Harris, the album is an already classic-sounding body of work which, with its folk-inflected sounds and Hawke's impressive lyricism, makes growing pains sound quite delightful.
Blush feels like a collection of diary entries that span across one's most formative years. It depicts the innocence of falling in love, saying goodbye to everything and everyone that once made you feel like home, negotiating all the different characters one can play in their day-to-day life, and in the midst of all this, constructing an identity you are proud of. Accompanied by country and folk-inflected melodies, Hawke sings her stories with seductive and enticing vocals, not letting one word be uttered without meaning.
"Things become alive in my body, they jump up and electrify and the feeling gets really strong and I have a lot to say about it. And then I capture it and I write it down and it lives, and it is something I don't generally write out of wisdom, I write out of passion" Hawke told Atwood Magazine back in April, discussing the creation of the record. Electricity vibrates through "Animal Enough" and "Menace" which, despite having almost opposite intentions, were born out of the same scenario. This passionate writing Hawke also speaks of is clear throughout the album, but especially delicious to dissect in its more introspective, revealing cuts like closer "Mirth" and "Hold the Sun". You can almost hear Hawke's smile as she declares, "I want to hold you like soft water holds the sky."
---
Perhaps Blush's best quality is its empathy. Every song feels like a shared experience with Hawke, when she's in love on "Hold the Sun" you can't help but feel it too, her confidence on "Animal Enough" definitely rubs off on you, the self-doubt on "Bringing Me Down" is all too relatable, and the goodbyes on "Goodbye Rocketship" and "Mirth" magically transport you into similar moments in your own life. By the end, you feel like you've grown up and gone through a whole coming-of-age journey with Hawke in less than 40 minutes.
The album title has a double meaning: "Why I named the album Blush is that I really struggle with embarrassment. I really struggle with shame and embarrassment and I so often feel humiliated," Hawke told Atwood, "And yet, like, it's something, as a girl like you're not supposed to feel ashamed. You're not supposed to feel like dark or humiliated or embarrassed. You're just supposed to blush, you know, like blushing is this sort of feminized version of shame, where it's like, 'Oh, it's so cute. She's blushing, she's embarrassed you know she's so cute.'"
Blush, in other words, reflects a tension between the way you feel inside and society's expectation of how you should deal with what you're feeling.
It's a struggle between your private and public self, one that Hawke knows well in one too many ways. With Blush, Hawke brings her private self into the public sphere masterfully, turning her stories of growing up into a collection of songs as delicate, intricate, and warm as memories of childhood. And, just like those, Blush carves a special place into your heart and stays there as the days go by and you grow, suffer, love, and change.
— — — —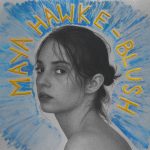 ? © Maya Hawke 2020
:: Stream Maya Hawke ::