Before Phoebe Bridgers had Motion Sickness or Mitski was The Cowboy, Tori Amos was our Cornflake Girl; and we owe so much to her galaxy brain. 
— —
Listen: "China" – Tori Amos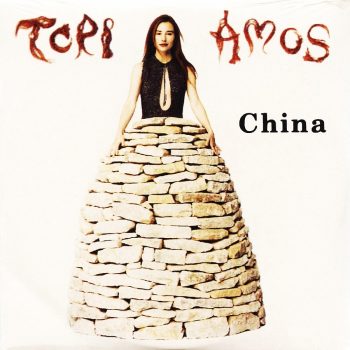 For the vast majority of the 2010s, there has been a fervid obsession with all attributes of the 1990s. Whether it be Britney Spears' denim ball gown, the lackadaisical grunge scene, or the movie Clueless in its entirety, it's all anybody can recollect these days. One, often overlooked, artist however is genius singer-songwriter Tori Amos. "Cornflake Girl" is without a doubt Amos' most notable song but one I feel doesn't nearly showcase the full multitude of her talent. Some fans might say it is "Me and a Gun" or "Winter" that should be heralded as the nucleus for Amos' sensibilities, yet time and time again I find myself coming back to "China".
"China" is the third single from Little Earthquakes, and as Amos' ballads go, one of the more lyrically straightforward.  In short, the song details the last moments before losing someone you love and the inevitable longing that comes with it. In long, the song consorts with the complex notions of what it means to wean off of someone via the metaphor of anthropomorphized place settings and a deeply apparent distance. Amos has always been fondly regarded for her impeccable lyricism, creating poignant lifetimes and providing a tangibility to emotions. Pick any of her songs out of a hat and there's a personal guarantee you'll be blown away by her cleverness at least once.
Watch: "China" – Tori Amos
---
"China" lends itself to the aforementioned notion in an unexpected way. Rather than be brazen with allegory and verbose diction, Amos contains her wit in the subtle nuances of context. "China all the way to New York. I can feel the distance getting close. You're right next to me", what a way to start off! Amos talks about the physical distance between existing places like China and New York and likens them to herself, but then immediately refutes it by implying  that, although her and her lover are physically close, they are still emotionally New York and China. Her chorus then reverberates:
Sometimes I think you want me to touch you,
How can I when you build a great wall around you.
In your eyes I saw a future together,
You just look away in the distance
Amos pokes continually with the China imagery on "build a great wall around you" and furthers it by talking about her artful way of "In your eyes I saw a future together" but how her lover used them in a literal sense "you just look away in the distance", thus furthering the idea that her and her partner literally see the world differently.
In her second verse, my favorite, Amos somehow seamlessly blends in a third cerebral perspective:
China decorates our table,
Funny how the cracks don't seem to show.
Pour the wine dear, you say we'll take a holiday
But we never can agree on where to go
Not only has she used her cunning to describe her relationship as China again, but this time referring to fine dish ware. Specifically, Amos articulates her China, and therefore her relationship, as having invisible cracks in the center ie the foundation. She has said, without explicitly having to, that her relationship seems like glimmering china, the special kind you only bring out for fancy parties, but it's all just a gilded ruse. "…we can never agree on where to go. "
Intentional or not there's also something to be said to for the social praxis of porcelain ware. Fine China is what usually couples put out when they're entertaining guests, a symbol of making a home with someone. Fine China is often given to couples when they get married; the ultimate gesture that signifies starting a life with someone. Amos is harping on all these complexities but also the simplicity of her partner and her s distant as New York and China. There might be a genuine attempt to get to where she is, but it was to no avail  "Maybe you got lost in Mexico".
"China" is just one entry in a long list of brilliant, intuitive music created by Tori Amos. Her talent and thoughtfulness has carried her craft into decade after decade, inspiring countless musicians after her. Amidst all this 90s mongering, when you clutch your heart at the thought of Fiona Apple, or Bjork, don't forget an extra tight squeeze for Tori Amos – her passion, creativity, and overwhelmingly literary brain more than deserve it.
— — — —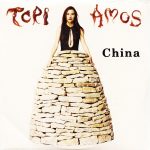 ?© Tori Amos
:: Stream Tori Amos ::