With time in a quarantine-fueled fugue state, Ginger Root's third album 'Rikki' offers a sliver of hope.
— —
Stream: "Le Chateau" – Ginger Root
---
Despite the depressing and harrowing blows to art delivered by COVID-19, there is a saying that provides a strange sense of hope: "Creativity thrives in limitation". As the confines of what is allowed or can physically be produced becomes more limited, we must find other creative avenues. For some that means putting everyone in hamster bubbles and performing in front of them. For others it means live streams and shows online. Regardless of the method, COVID-19 is a testament to the resiliency of musicians. Despite being stopped mid tour with their third album – and being cancelled from a major venue – LA based band Ginger Root has managed to remain victorious.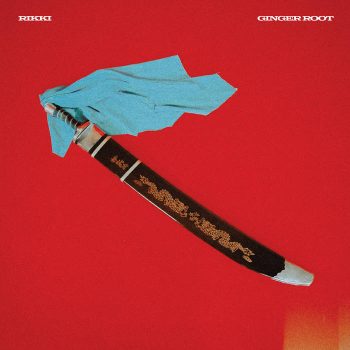 Ginger Root, fronted by 24 year old Cameron Lew, is described as aggressive elevator soul. Their beats are slow but captivating as they fill every nook and cranny in your brain with a sense of ease and cool. They released their first album, Spotlight People in 2017, followed by 2018's Mahjong Room, which made waves as the group's listeners skyrocketed. Now, in 2020, Ginger Root has gone for saturated vermillion and simple imagery for their third album, Rikki.
Atwood Magazine sat down with Ginger Root's Cameron Lew and ask about quarantine, inspiration, and making music from memories.
Stream: 'Rikki' – Ginger Root
A CONVERSATION WITH GINGER ROOT
Atwood Magazine: You've been consistently making music for almost four years now. Would you say that it's hard to take breaks from it, or is it more that when you're compelled, you have to make it?
Cameron Lew: There's a certain mentality that comes with artists being like, 'I need to seclude myself to write music.' That's what an artist does so to speak. For me though, sometimes I'll just be poking around at stuff and it'll sound nice or cool and then 20 minutes later, it either becomes a song or it doesn't. For me, making music comes in a big wave and if I don't finish it within that wave then I forget about it completely. There's only been a couple of cases where I work on a song for a year. It's not so much about taking breaks as much as after the tsunami hits, that's it.
I absolutely love the identification of your sound as ''aggressive elevator soul'' – it encapsulates it so well. But when I listen to Spotlight People there's definitely a garage-y sound like early Weezer; would you say you've always tried to go with elevator soul or has it developed into that?
Cameron Lew: *Laughs* I think the whole genre of aggressive elevator soul is in place to catch people over. We would play shows and people would ask and if we just said "Indie Pop"…
Everyone would be like 'ok, cool thanks' and dip.
Cameron Lew: Yeah. I think, though, all three of the records [Spotlight People, Mahjong Room, and Rikki] are all different and each is a stepping stone on a path I'm trying to go. They're all different enough to keep consistent fans intrigued with new stuff but not so different to alienate prospective fans. Even with Mahjong Room and Rikki, they're different but there's a consistency in my sound and who I am as an artist.
That idea was something I was gonna say. Of course music changes with each artist as they go through life. For the most part, however, it's pretty subtle. Ginger Root 's music, however, has a palpable and commendable timeline of inspiration and sound. From Toaster_Music to Mahjong Room there's a clear progression from a production sense.
Cameron Lew: Thank you! The funny thing is it's not only the musical inspirations at the time, it's also the media that I'm consuming that has a huge impact on what I'm creating. All of what I'm reading, watching, listening to gets output into the visual aspects associated with the album, or the layout of the text on the back cover of the vinyl.
I think, though, all three of the records (Spotlight People, Mahjong Room, and Rikki) are all different, and each is a stepping stone on a path I'm trying to go.
I promise we'll talk about Rikki and Mahjong Room but first, we have to talk about Toaster_Music. I love covers, and clearly you do too. Can I ask where the inspiration for that came from?
Cameron Lew: I made Toaster_Music Vol.1 my Fall semester of my senior year at Chapman. I did it solely because I was commuting to Chapman from my parent's house—40 minutes each way—with only a three hour break between classes. And like, I'm not gonna go to the library. I was in a phase of 'I want to just make something to make something'. Originally though, I told myself I was gonna make a new song, every week. After that first one though I was like…'uh, let's switch to covers instead.' Then I slowly started posting them on instagram to my 20 fans at the time, and the response was positive and gave me something to do. It became more of a creative challenge: once a week, I would sit with a headphone running up my sweater during my History of Film class and within one day I would write, edit and mix a cover then release it. I ended up doing 16 covers for 16 weeks – the duration of the class. Then, for some odd reason, I put myself through it again and did 14 more covers [Toaster_Music_v2] Spring semester.
I wanted to ask about your choice for Toaster_Music. We've got Marvin Gaye, Billy Porter, The Temptations, so there's a clear through-line of RnB, Soul and Motown. Yet, then, you throw a curveball from Feist and one of my favorite artists of all time: Glen Campbell. How did you go about picking which artists you wanted to include?
Cameron Lew: I mean I chose the songs two days before and only had three hours to do it, so I picked songs I was really familiar with. A lot of the soul songs were 45s my Grandparents sold and or gave to me; and I listened to Glenn Campbell and Feist a lot in high school. Honestly, they just felt like the classic songs that were warm and nostalgic.
Yeah, it feels warm and comforting. Would you say a lot of what you learned making Toaster_Music helped write Mahjong Room and Rikki?
Cameron Lew: From a technical aspect, the limitations of physical space [my car], time, song, etc it allowed me to just try new things like sound arrangement or instrumentation. There were so many things I did that I wouldn't normally want to do on a record. I was unsure if a lot of it was gonna work but, if it didn't work that week, I would have next week to try again. Then all that experimentation carried over pieces I liked to Mahjong Room, but with a chance to be more polished.
I wonder too if it helped you not be so precious about things? Like if something really isn't working, you know it's not the end of the world—there's theoretically always a new cover next week.
Cameron Lew: For sure, I think that's true In all the work I do: I get to a point where it's good enough and I send it off. I don't have my whole life to dwell on these things. Rikki was the first album we set a hard deadline for and maybe it stems from being an Editing Major, but it was so much better to have a due date to work towards and move on from.
As someone who has produced the majority of their music, would you be open to working with another producer?
Cameron Lew:  You know that's a good question. Over the course of Ginger Root, other people, my manager included, have said it would be really cool to have a producer come on and help me out.  In theory I'm on board but the way in which I write music makes it kind of hard. Inspiration is so sporadic, one day, all of a sudden it's, 'Oop it's music time!' and I start making it. It moves so fast that I'm afraid if I lose momentum than the whole song is going to go away. I also just enjoy producing my own music, and it's not because I want so much control over my own stuff. I just genuinely enjoy every part of the process from mixing to retracking. It's the way some people want to go on walks to be with themselves, it's a really fun way to hang out.
Congrats on releasing 4 singles this year by the way! How're you feeling? How has been making music in quarantine?
Cameron Lew: Aw, thank you! Well we were already done making Rikki when lockdown started to happen. I could write a whole book about how awful this year was but, we got into South by Southwest and we planned on doing a tour to end up in Austin. We started said tour and actually sold out New York for the first time, but right after we played there, South By got cancelled and  we had to figure out flights and get into lockdown. The thing is though, I had to finish, mix and master all of the album before that tour started, so Rikki was done in early March and set to release in June. Then I ended up pushing it from June to August, and then August to October because the situation, obviously, just kept getting worse, but if I didn't release it in October – who knows the state of the world further on. I feel good about it though, I waited long enough and now I'm ready to move onto the next chapter.
What would be your elevator pitch for this album's sound and or vibe?
Cameron Lew: Damn, that's hard. I do not have one prepped but I do want to figure out an answer. Basically, it's me saying, "Hey, are you gonna remember everything?" As a whole the lyrics, themes, and instrumentation all comes from this one place that says I hope you remember everything.
Ambiance seems to be something you guys are exploring heavily on this album, how did you decide to incorporate that?
Cameron Lew: I think it's something that is on all of our albums but for this one, I think it's important to remember that a song doesn't live in a vacuum. Like on "Nominated", the SFX is from when I hit my head on a weapon at my Black Belt Test. I added that because I personally like when songs go outside the song itself. It also coincides with the theme of Rikki: memories, memory loss, and feelings about memory loss. The ambiance is maybe a great vessel for settling listeners into the place and time the song is coming from. It's almost like world building in a way,
I've noticed with your past music, lyrics seem to come second to composition and instrumentals. But on this one especially with tracks like ''Multiply'' that's not the case?
Cameron Lew:  I think your hypothesis is 100% correct. When I started learning guitar I wasn't learning it to write songs. I just started playing guitar to learn how to play.  Even when I'm listening to music the first thing is usually music over lyrics. Of course there is still music where the lyrics hit home. Yet for me, I usually start with a drum beat or a melody and lyrics come later because it's easier for me to cut or take out lyrics but not as much for chords.
This album is irrefutably a dance album. There's no way you can't shake listening to it, did you find yourself leaning towards that?
Cameron Lew: Um, yeah, I don't think I directly thought I was gonna make a dance album, but it's certainly more uptempo. It stemmed from how people took Mahjong Room too. A lot of people would say it was such a nice, chill album that they could fall asleep to. Don't get me wrong, that's nice, but for Rikki I realized I wanted to lean more into the "aggressive" side of aggressive elevator soul.
I'm always curious about album titles, and why artists name them that way. Can you talk a little bit about the decisions for your album titles?
Cameron Lew: Yeah for Rikki, it relates to the theme of the album – memories. There was a book I was read to as a kid called Tikki Tikki Tembo. It's about a Chinese Family whose oldest son has a really long name and no one can say it, so when he falls down a well he ends up getting really sick or whatever.
Oh my god!
Cameron Lew:  Yeah, kids books man. Although, up until making Rikki, I thought it was Rikki Tikki Tembo-no Sa Rembo-chari Bari Ruchi-pip Peri Pembo but it's actually Tikki Tikki Tembo…, and my world was shattered! It  was one of those phenomena where you know something is right, and you know you remembered it correctly, but you're wrong. I had to learn from being wrong, and I ended up naming the album Rikki for that. The ending track is also called "Rikki" because it's an instrumental and I was really trying to emulate the feeling of not remembering something and having it fade off. Especially the last part where the song fades out, you can quietly hear the hook from the first track, "Friend", so that we've come full circle.
As a whole the lyrics, themes, and instrumentation all comes from this one place that says I hope you remember everything.
Fenne Lily on her live show was talking about how she can't perform for those live youtube shows because she needs the kind of humanity and energy from the crowd. Would you say you feel similarly or are you interested in doing online shows?
Cameron Lew: That's very funny that you bring that up—it's yes and no for me. I'll do the live stream, be less nervous even, but it is a totally different animal—there's no one there but Matt, Dylan and I playing to a computer. Plus if I say something, with the ten second delay, the audience won't know. It really is about the feeling you get from playing in front of people and it goes well. That feeling is irreplaceable, and cannot be replicated in any capacity. It's just so hard because every musician, big or small, can't do that for the foreseeable future. Live music will never be the same as online, and the feeling of performing is irreplaceable.
Do you think there's any advice you would give or any hope you have for the future of the music industry?
Cameron Lew: I would say to the musicians: we'll get through this and we'll learn from it.  For the people who are unsure if they should quit making music, I've thought that way too. I've considered giving up music for a "real job". At the end of the day though, if I didn't enjoy this so much I wouldn't be doing it. For anyone really, who needs to hear it, it may be hard but if you love it and get something out of it? Who cares, keep doing it!
— —
— — — —
? © Cameron Lew 
:: Stream Ginger Root ::