The north star of singer-songwriter albums, Joni Mitchell's 'Blue', rings in half a century of warmth and wonder.
Listen: 'Blue' – Joni Mitchell
---
An album that truly needs no introduction, Joni Mitchell's Blue celebrates fifty years of brilliance today.
The work is a musical monument, serving as a touchstone for fans and artists alike. Blue is a masterpiece, a profoundly personal collection of trials and triumphs from a 27-year-old Mitchell who is stepping into her place as an individual, an artist, and a woman in this world.
In "All I Want", the first lines of the album ring, "I am on a lonely road and I am traveling." Mitchell sings of a love she feels she deserves, and the glamour is stripped away by the dirt road she paves to get there. Within seconds it is clear that her fourth album is a departure from her past works, narratives and poignant observations of people and places that Mitchell took to new heights with her songwriting prowess. Rather, each piece on Blue is like a diary entry, cherished and often times embarrassing.
Mitchell uses her inimitable understanding of melody to invite you into the gallery of her mind or her Laurel Canyon home. Her effortless flips and octave jumps pick you up from wherever you are and pluck you into her world. From the minor key "Jingle Bells" opening of "River" that brings you to the memory of a peacefully bittersweet Christmas or the soprano leap in the chorus of "California," Mitchell's brilliance can neither be mistaken nor taken for granted.
---
The stories that Mitchell chooses to tell in Blue are undeniably her own, challenges of growth, femininity, and loss.
Her gift is unique: She bares her soul and manages to pierce yours in the process. It comes when you least expect it, with equal likelihood of a choked-back sob or a stumbled-upon laugh. In one record Mitchell manages to unashamedly tell her lover,"I wanna shampoo you", and later in "California", yearn for the day she will  "kiss a sunset pig." Without hesitation, you are then moved to tears with heartbreaking admissions as seen in "Little Green" and "A Case of You." In "Little Green", Mitchell sings of the indescribable loss of her daughter to adoption, to a simple and sweet guitar line. She reveals:
 Just a little green, like the nights where the Northern lights perform,
There'll be icicles and birthday clothes and sometimes there'll be sorrow.
A master of "show, don't tell" Mitchell manages to convey what she feels intimately but heroically. Even half a century later, Blue and all of its stories feel like secrets whispered in the nighttime. So in honor of Joni, grab your dulcimer and light a cigarette. Cheers to fifty years of heartache, hope, laughter, and desire – fifty years of Blue.
— —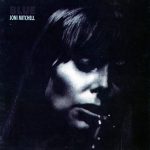 ? © Joni Mitchell's 'Blue'
Blue
an album by Joni Mitchell
:: Stream Joni Mitchell ::