A beautiful, breathtaking embrace of life and love, Paige Su's new album 'You'll Live Forever In My Songs' captures her rebirth after a cancer diagnosis, shining as a bold (and uniquely intimate) beacon of warmth, wonder, and raw human connection.
for fans of Arooj Aftab, The Weather Station, Bedouine
"You'll Live Forever in My Songs" – Paige Su
---
When everything is stripped away, you really feel the weight of life itself and the immense power of love.
There are certain "big" moments that forever alter the course of our lives, inevitably changing who we are at our core, the way in which we see ourselves, and how we interact with the world. Some of these events are planned, like a birth in the family, while others, like the death of a loved one, are unexpected – hitting us hard, like a ton of bricks. For Paige Su, that big moment came in 2020: As the world was shutting down due to the COVID-19 pandemic, she received a cancer diagnosis, and subsequently spent the next year in treatment.
"Life has a funny way of making you slow down and appreciate the things you have – human connection, love, family, and friends," she says.
Forced to confront her own mortality in isolation, Su – an accomplished, classically trained singer/songwriter and experimental pop artist – experienced a rebirth; a tectonic shift that brought with it renewed clarity, balance, and purpose. Her new album is the musical manifestation of that inner transformation: A bold, beautiful, genreless embrace of life, love, and everything that's good and right in the world, You'll Live Forever In My Songs shines as a radiant beacon of warmth, understanding, and raw human connection. It's a record that soothes, swells, and stirs us deep down inside, its stunning songs filled with tiny mantras that unlock the magic, the beauty, and the wonder of being alive.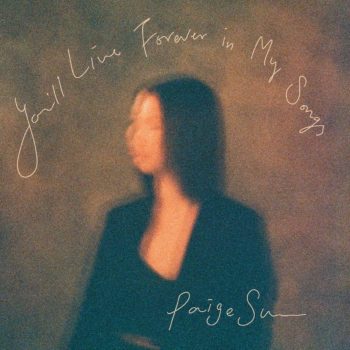 If you ever feel low
I want you to know
That you'll live in my songs
That you'll live in my songs
Keep this secret in your heart
I know, it's hard
But you really need to know
That you'll live in my songs
My songs
Released February 24, 2023 via Siren Song Music, You'll Live Forever In My Songs is sublime. Paige Su's sophomore album – her first all in English – sees the Taipei, Taiwan-based artist pouring her heart and soul into an enchanting, elegant collection of songs that capture her humanity in all its raw splendor. Mixing elements of jazz and avant-garde with everything from trip-hop and indie rock to classical and pop music, Su defies genre, creating a space that is wholly unique and completely her own. Unencumbered by expectations, labels, and boxes of all sorts, she invites listeners to join her and bask in a moment of reverie and revelry.
"I wrote this album after the rebirth from my cancer diagnosis and treatments back in 2020, and while the world was locked down with COVID-19," Su tells Atwood Magazine. "When everything is stripped away, you really feel the weight of life itself and the immense power of love. I wrote the whole album in about a month's time. Songs were just flowing out of me all the time. I wanted to keep everything as authentic to the demos as possible and not over-produce. I feel like me and my team did a good job of staying true to that initial vision. For each song, we tried to add only as much or as little as was needed. For example, on 'Next Lifetime,' we made a gorgeously lush arrangement recorded by the Czech National Symphony Orchestra. But for 'Things Will Never Be the Same,' we recorded my old piano at home and kept it as a piano solo accompaniment song, raw and to-the-point."
"As a concept album, the songs unfold in line with my "rebirth" journey from 2020. The album arch goes from darkness to light. I've always believed that the darker you go, the more beauty and light you'll find, so I think my artistry lives within these extremes. You can hear a lot of experimental elements and at times complex, chaotic sounds and rhythms in the record, but you'll also hear very simple, raw emotions and totally stripped-down, naked arrangements. Instrumentally, I also play almost everything on this record: Harp, piano, Rhodes, flutes, programmed beats, etc."
You'll Live Forever In My Songs arrives six years after Su's debut album, We Are All Lonely Souls (translated from 我們都是寂寞的), a Mandopop-leaning record released via Sony Music Taiwan. The two records are night and day from one another – once again speaking to the artist's evolution, as well as the freedom she's found as an independent.
There's a "huge, huge difference!" she exclaims. "My debut album was a bit of this and that, kind of all over the place. I was under a record contract, and although I wrote everything and arranged quite a few songs, I didn't have total say in the final product. It was more tailored towards the Mandopop market, too, which I realized just wasn't for me. Anyway, I wish I could redo my debut album, to be honest, and I'm definitely hoping to re-record some of those songs in the future."
"This album, on the other hand, is very authentic and honest. I have total control, and all the details are handled with lots of love and tender care. I'm super proud to put this one out into the world, and it actually feels more like a debut album to me, in the sense that I'm finally able to fully be me. Another big difference is that my debut album and previous EPs were mixed-language (English and Mandarin Chinese), and this new album is all in English."
Su describes her record as an "achingly beautiful adventure."
Even its title, You'll Live Forever in My Songs, is filled with special meaning: "People leave, but songs live on forever," she explains. "I may leave this world someday, but I'll always be singing in these songs."
Every single one of this album's songs is worth noting in some way, shape or form. A pure embrace of life and love, the title track "You'll Live Forever in My Songs" bookends the record, with a raw, minute-long voice memo setting the scene for the album to come, and the fully-produced four-minute track acting as its heartrending finale. Fair warning: If you've ever experienced seismic, life-altering loss; if you've felt the constant ache of a loved one's absence from your world; if there's a hole inside you that makes each day feel incomplete and unfulfilled, then this song will make you cry. Su's words come from a place of deep and everlasting connection – the kind that outlives us all, and reminds us that life is fragile and fleeting – something so special, that we have no choice but to cherish it:
Keep this secret in your heart
I know, it's hard
But you really ought to know
You'll live forever in my songs
I will always be singing right here for you my dear, my love
Whenever you need me, whenever you miss me
I'm right here
Don't forget who you are
Please always find your way back home
"You'll Live Forever in My Songs" finds a heart laid bare. It beats, it aches, it loves unconditionally – and it reminds us to be present with the ones we care about most, because they won't be here forever. As Su sings, "Love is the only thing that breaks through time and space."
---
Highlights abound throughout an album that doesn't so much challenge us, as it does open us up and inspire us. Su ensures many a head-turn right off the bat with the hushed, heavy, and all-consuming "Involuntary Adventures," a song that undergoes its own transformation over three and a half entrancing minutes, seamlessly marrying jazz and trip-hop in a way unlike any we've ever heard before.
I've been listening to Jeff Buckley
He captures beautifully
The heartache I've been feeling
Can you hear me? I can feel it
I can't feel it I'm losing it
I've been dreaming about that night
The booze, the lies, the loss, the broken trust
Love is dangerous; it entangles us
In these irresistible
Involuntary adventures
– "Involuntary Adventures," Paige Su
---
For lovers of avant garde and indie rock music alike, the epic eight-minute "This Is Trouble" is an instant, jaw-dropping standout with a hypnotic beat and a breathtaking series of electric guitar solos that would surely make both Thom Yorke and Joe Satriani smile. "I don't want this, I didn't ask for this," Su repeats in hushed tones, embroiled in a turmoil only she can truly feel. One seismic musical and emotional upheaval later, she unleashes her demons and lets it all spill out: "Someone stop this, stop this madness," she implores. "I can't control what I dream, I am falling, out of control, for you… This is trouble. Can someone stop this? Stop this…"
---
"This Is Trouble" segues its sonic cacophony into the serene and heart-wrenching "Things Will Never Be the Same," an intimate piano ballad that also serves as the "pivot point" in the album's journey from dark to light. Deft fingers gently press black and white keys as Su laments, "Things will never be the same, and I have forever lost a friend, and I will treasure the good times we've had, and I will miss you always." She chooses tenderness in her turbulence, coming to the poignant conclusion, "Things were never meant to stay the same anyways, and that's okay… and that's okay." Her resolve renewed, she goes on to uncover more light, warmth, and love in songs like the groovy, reassuring "Take It One Day at a Time," the mesmerizing "My Inner Palace," and the glistening "You're My Blessing" – another wondrous ballad, this time embellished by Su's stunning flute accompaniment that absolutely steals the show, enchanting and inspiring all in one breath.
I love you for seeing me as me
I love you for hearing me sing
I love you for loving my craziness
You are my blessing
You are my blessing
Thank you for listening
Thank you for believing in me
Waking up again at 5am
Feeling safe with you, my man
So grateful I am
– "You're My Blessing," Paige Su
For Su, every song is a meaningful favorite for one reason or another. "I've listened to this record over and over already, and I still haven't gotten tired of it," she smiles. "It has touched me differently every time." She highlights a few sets of lyrics that resonate deeply with her:
"If love is the answer to curing my cancer, then why are we tortured?" – "Involuntary Adventures"
"Life is full of little mistakes, so please don't dance with hate. When life brings you weight, just listen to fate and try to relate. You weren't a mistake." – "Take It One Day at a Time"
"Love is the only thing that breaks through time and space, and it takes all the stars to line up for you and I to meet." – "You'll Live Forever in My Songs"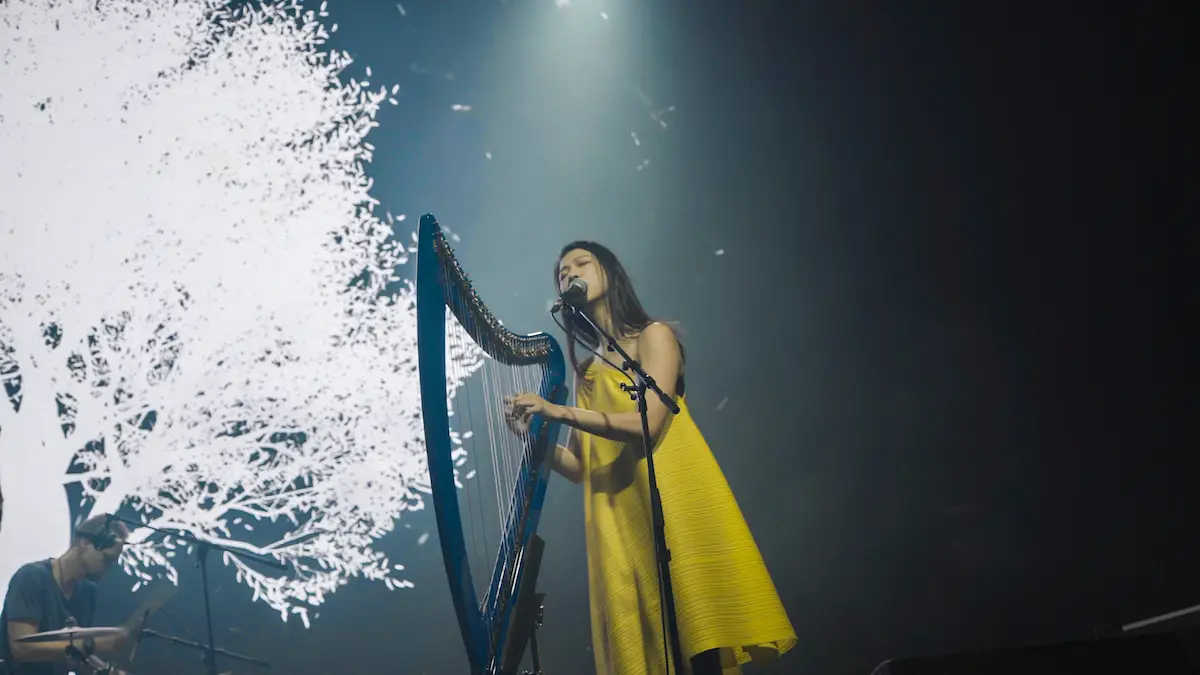 Rebirth has truly never sounded quite as beautiful, or as reachable, as it does on You'll Live Forever in My Songs.
Su's album reminds us to focus on the things that matter most in life. Rising up out of the darkness, she shakes off the specter of death and soars into a space of light, acceptance, and uncompromising love.
"I hope listeners will find this album a rewarding adventure," Su shares. "Maybe it'll take you to some hidden dark places, but ultimately you'll be surrounded by light and love. It feels really good knowing that this album will live on from now."
Experience the full record via our below stream, and peek inside Paige Su's You'll Live Forever in My Songs with Atwood Magazine as she goes track-by-track through the music and lyrics of her new album!
I am love
I am compassion
I am a ball of rainbow light
In no shape or form
Everything in its right place
The beautiful cherry tree
The red velvet book of life
The stone fireplace
The wooden office
Are calling me back to my inner palace
– "My Inner Palace," Paige Su
— —
'You'll Live Forever in My Songs' – Paige Su
:: Inside You'll Live Forever in My Songs ::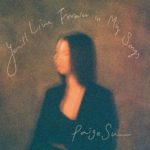 — —
You'll Live Forever in My Songs (Voice Memo)
This was an actual demo from when I wrote this song. I believe it was early in the morning with my boys (my husband and our son) chatting in the background while making breakfast. It goes immediately into "Involuntary Adventures" as a symbol that you never know what may interrupt a normal day. Anything can happen and your life suddenly takes an unexpected, involuntary turn.
Involuntary Adventures
Life itself is an involuntary adventure. Love, too. We seem to have very little control and no choice but to hop on this wild ride. It's a soundtrack to the chaotic yet beautiful moments of life. I wrote the bass line first and the whole song unfolded from there.
Don't Cut Me Away
When death knocks at your door, what can you do? This song is a plea communicating into the darkness, looking within and searching for salvation. The electric harp prelude is a soundscape painting of my inner thoughts and the vocals, obviously, are crying out for help.
This Is Trouble
This is bad news … Can someone stop this? I didn't ask for this … This is a wrap up of my journey battling with illness and darkness. No electric guitars used in this track – the distorted rock and roll electric harp represents the power I put into fighting the battle and the ultimate liberation of my soul once the battle was eventually won. The ending seven notes are like big bells ringing out to signal victory and bright light at the end of a dark, exhausting fight.
Things Will Never Be the Same
Change is the only constant, and things were never meant to stay the same. When you can accept that, you'll be able to let go. And by letting go, you'll see that goodness persists in other forms that are beautiful and golden.
Take It One Day at a Time
This song was written while I got up to go to the bathroom in the middle of the night. This seven beat melody came to me, so I grabbed my phone and recorded it and went back to sleep. The next day when I listened to the recording and flipped through a notebook of lyrics I'd been accumulating, I saw an immediate connection and finished the song. I wanted this song to have very lush chords and colors, so I asked Martijn Vanbuel, a wonderful jazz musician and bass player to arrange this song. It's probably the most 'happy' song I've ever put out.
My Inner Palace
It's based on actual events of all the things I saw during a hypnosis session. The harp, bansuri, and world music percussion beats (played and programmed by me) just seemed like a perfect soundtrack for tripping in an internal psychedelic universe. Super fun track.
You're My Blessing
Inspired by a Debussy piano piece. It's a love song for my man : ). Simple and sweet. Nothing much else to say.
Hold Me Tight
Darkness is still there, and I can't lie that I'm still scared sometimes. The dark tone of the Rhodes is a musical reminder of that persistently lurking fear.
Next Lifetime
Sometimes you meet people and they instantly feel familiar. So familiar that you don't ever want to be away from them. This song was inspired by the film "Café de Flore." The thought of souls recognizing each other throughout different lifetimes is so beautiful to me. It's incredibly sad but also beautiful. Adding the orchestra arrangement was appropriate to paint the picture of the grand universe and the time travel through multiple lifetimes, the colossal energy that we all feel but are yet unable to comprehend.
You'll Live Forever in My Songs
People leave, but songs live on forever. This song is written for my loved ones. In the bridge section, I actually have a choir consisting of several of my real friends and family singing along with me. Instead of getting everyone together in the recording studio, they recorded their parts on their cell phones, in true pandemic style. Because of that, I was able to invite friends from all over the world. It's a really powerful energy when the sound of the choir joins in. It makes the journey of life all so worthwhile and is a rewarding and touching way to close the album.
— —
— — — —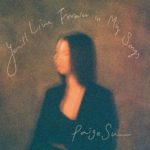 © Cody Byassee
:: Stream Paige Su ::
---